The Truth About Liza Minnelli's Relationship With Halston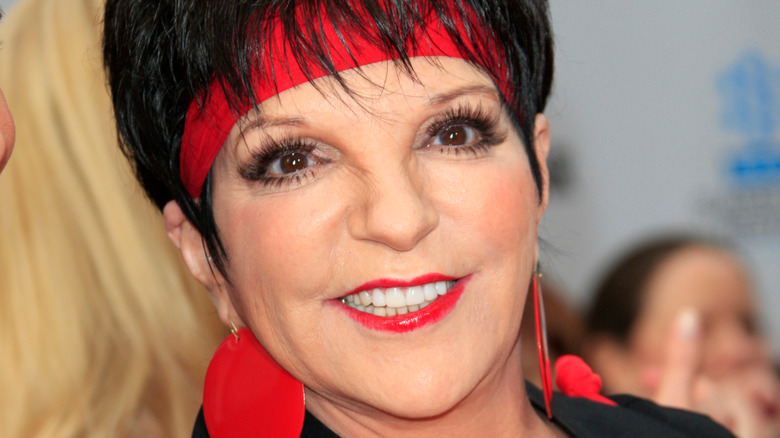 Shutterstock
Broadway star Liza Minnelli and fashion designer Halston were a regular sight together in the New York City nightclub scene in the 1970s and '80s. The two were pretty much inseparable, making regular appearances at all the top hotspots of the day, especially the infamous Studio 54. Their friendship was deep and close, a match made in heaven, and according to Vanity Fair, they got along instantly. The singer, dancer, and actress was enamored of the designs Halston made for her. "His clothes danced with you," she said. "We were joined at the hip from then on."
Born in 1932, Halston was 14 years older than Minnelli, and he played a somewhat avuncular role in their relationship. Minnelli described him at times like her "big brother" or her father, the Academy Award-winning director Vincente Minnelli. "[Halston] was like my dad in a way, because, when I was a little girl, my father would give me five costumes every year," she said. "It was a dress from An American in Paris, and perfectly made ... and I guess I got into appreciating how clothes changed the way you felt." And Halston understood perfectly just how a garment could affect the wearer. "He made women feel glamorous," Minnelli said.
Liza Minnelli and Halston helped each other both professionally and personally
Once their friendship had begun, Liza Minnelli and Halston were all but inseparable. He was her go-to designer for any kind of event where there would be photographers. He famously put her in a canary yellow gown for the 1973 Academy Awards, where Liza took an Oscar for Best Actress for the film "Cabaret." He also personally decorated her Manhattan apartment. And Liza supported her friend any way she could. She was always up for adding a bit of pizzazz to his runway shows, lending her charisma and star power to his work. According to WWD, she sang and danced at the famous fashion show known as the "Battle of Versailles," which pitted Halton and four other American fashion designers against five French couturiers, including the legendary Yves Saint Laurent. Minnelli's participation indeed helped out the American dressmakers, for after the show, WWD ran the headline: "Americans came, they sewed, they conquered."
Halston's hard-partying lifestyle eventually led to his ousting from his own design company in the 1980s, but Minnelli always stood by his side until his death in 1990. As Vanity Fair recalls, she was cohost at a 1992 tribute to Halston, where she remembered him as someone who was always "daring me to be better than I ever thought I could be."