The Least Popular Member Of AC/DC Might Surprise You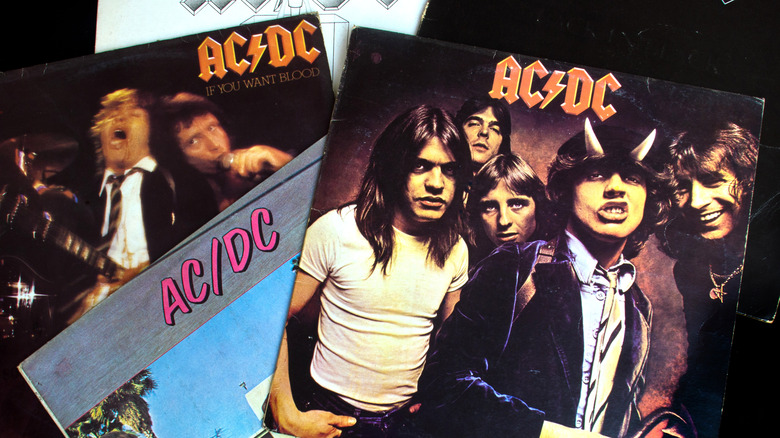 Shutterstock
One of the most popular and beloved rock bands out there is AC/DC. The Australian band reached superstardom in the '70s, the personification of sex, drugs, and rock and roll. Their music is widely celebrated globally and they're one of the most influential bands of all time. The band's hit songs include "Highway to Hell," "You Shook Me All Night Long," and who can forget that recognizable riff of their hit "Back in Black."
Founded by brothers Angus and Malcolm Young, the group saw several members over the years. There was a member that was replaced, an additional one that left, another that died, and one that was fired. But the group always found replacements, and it was always a band that had five members (via All Music).
When the group started out they had Dave Evans as lead vocalist, but he was later replaced with Bon Scott. However, Scott passed away at the age of 33, and he was succeeded by Brian Johnson, who would be recognized as the longest-lasting singer for AC/DC. The role of the band's bassist also saw a change. Mark Evans didn't spend a long time with the group before he was let go and replaced with bassist Cliff Williams. Drummer Phil Rudd left the band in the early '80s and was replaced with Simon Wright who, too, also left, to be replaced with Chris Slade. Rudd would return to play in 1994, only to get kicked out in 2015 (via Loudwire).
The least liked AC/DC member
After Malcolm Young's death in 2017, the group kinda went their own ways, in addition to some members having health issues. But last year AC/DC announced some past members were returning full time, reported Rolling Stone. Of all of the members, who did AC/DC fans like the least?
We polled 600 readers on which AC/DC member they liked the least and the responses varied. But it also revealed the most popular member of the bunch, which was none other than Malcolm Young. Only 15.33% of respondents chose the AC/DC co-founder as their least favorite member. Young died in 2017 after battling with dementia. His nephew, Stevie Young, would replace him in performances.
Following older brother Malcolm is Angus. Approximately 18.33% of those surveyed said he was their least favorite member. But nearly right behind him was Brian Johnson, with 19% of the votes.
The second least-popular was Cliff Williams. Roughly 23% of the survey-takers decided that the bassist was no favorite. But the number one least popular member of AC/DC turns out to be Phil Rudd (pictured above in 2017). About 24.33% of respondents dubbed the in-and-out again drummer as unpopular. A simple explanation might be because Rudd has actually been in quite the controversy in recent years. In the past he's made headlines for lashing out at his employees (Ultimate Classic Rock), and in 2014, he was arrested for a murder-for-hire plot, and subsequently sentenced to house arrest in 2015, according to The Hollywood Reporter.