The Truth About Casey Anthony's Relationship With Patrick McKenna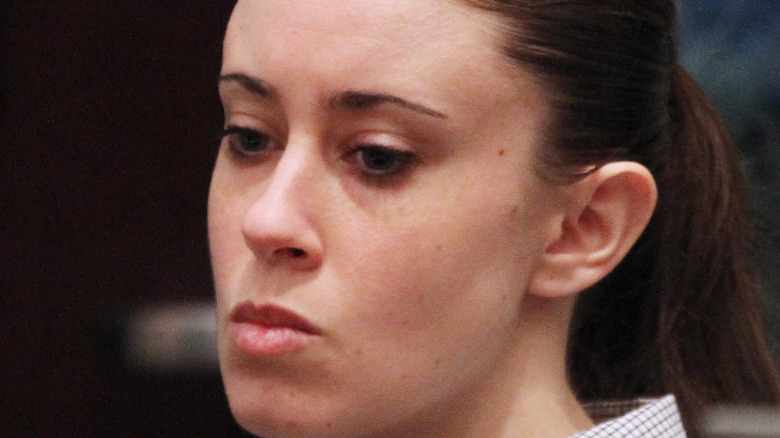 Pool/Getty Images
The 2011 trial of Floridian Casey Anthony, charged in 2008 with the murder of her 2-year-old daughter Caylee, brought the then 22-year-old single mother countrywide notoriety and saw her labeled "America's most hated mom," per the BBC.
Anthony's trial was deeply shocking, with coverage regularly receiving an audience of 40 million viewers as more lurid details of the case came to light, according to People. Prosecutors characterized Anthony as a neglectful mother, who, in a bid to return to the freedom she enjoyed before Caylee's birth, allegedly murdered her own daughter before hiding her body in her car and burying her body in nearby woods. Caylee's remains were discovered almost six months after Anthony's mother reported her missing. Anthony denied any wrongdoing, with her defense team instead blaming Anthony's father, George, claiming that Caylee had accidentally drowned in the family swimming pool and that George had attempted to cover up the death, according to Biography.
More than 400 pieces of evidence were examined in court, but despite witness testimony that a body had been left in the car and that chloroform may have been used in the murder, the jury found that there was no definitive evidence that Anthony was responsible. However, as noted by Biography, it was found that Anthony had lied to the police, but her four-year prison sentence was rescinded as the court found she had already served her time in custody.
Anthony's acquittal was deeply divisive, with more than a thousand protesters gathered to heckle her as she left court. But for many of her supporters, her innocence was never in doubt — as shown by the close relationship she has maintained with one member of her legal team, Patrick McKenna.
Casey Anthony's ongoing relationship with Patrick McKenna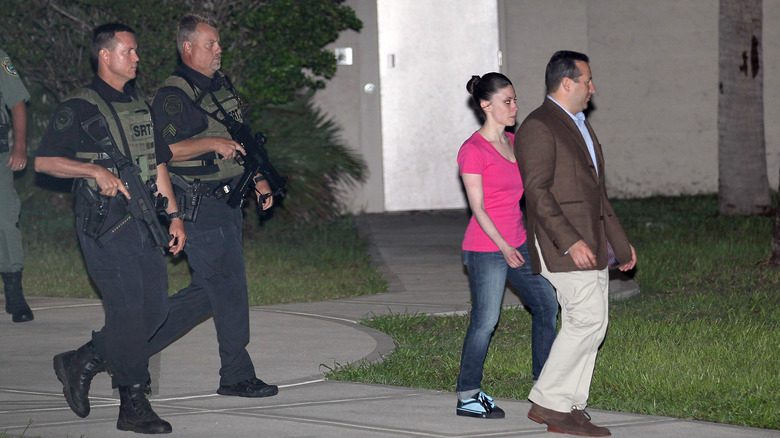 Joe Raedle/Getty Images
It is rare for professional relationships to develop into personal ones, particularly in the aftermath of a controversial trial. However, in the decade since Casey Anthony's acquittal, one figure has reportedly stayed by her side as she has attempted to get her life back on track: the lead investigator in her defense team, Patrick McKenna.
Patrick McKenna has experience in dealing with shocking cases. A longtime private investigator, McKenna also played a pivotal role in the defense team during the O.J. Simpson murder trial. Per ABC News, McKenna is credited with uncovering the audiotape of a police witness, Mark Fuhrman, that convinced the court of potential racial bias.
A 2017 Associated Press interview with Anthony confirmed that she had been living with McKenna, and that as well as sharing a roof, Anthony was involved in the veteran detective's investigative work. Per WPTV, in December 2020, Anthony decided to follow in her mentor's footsteps by filing paperwork to establish her own private investigation firm. The business address is given as the Palm Beach residence she has long since shared with McKenna, showing that their relationship is still intact.
There is no evidence that Anthony's relationship with McKenna has ever been a romantic one. However, what isn't in doubt is that McKenna has continued to support his still divisive client, whose trial he remembers as one of the finest moments of his professional career. "This case was the sweetest victory of all the cases I have ever worked because there was so much hatred toward Casey and her lawyers. We had no money, no resources, and we were working against a firestorm of bad press," McKenna said, per ABC News.