The Guinness World Record Jackie Chan Holds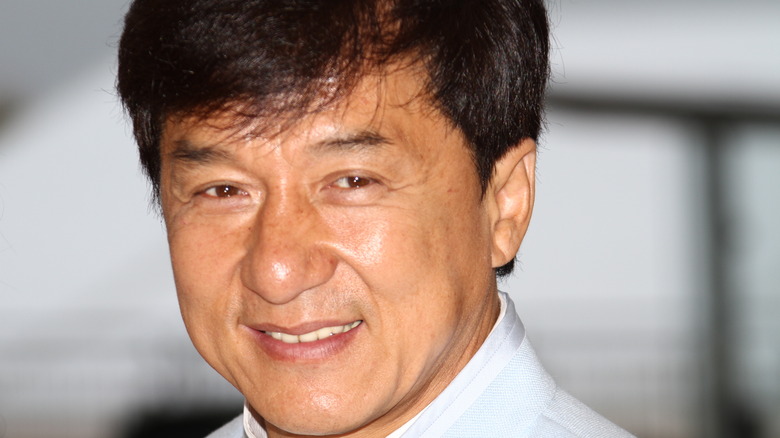 Shutterstock
The realm of Guinness World Records is a wild, wild place to be. As the official Guinness World Records site demonstrates, there's a record just waiting to be broken for every feat that can possibly be conceived, from Fastest Speed in a Body-Controlled Jet Engine Powered Suit to the Largest Horn Spread On a Living Steer. Granted, humans can't challenge the latter, but some of these records could be beaten rather easily in theory.
The knowledge that the beloved Jackie Chan holds not one but two of these records, then, is both intriguing and a little terrifying in equal measure. After all, there isn't much the multi-talented Chan can't do. From his incredible movies (stunts and all) to his singing career, and martial arts talents, he could break records in any field he put his mind to (with his bare fists, probably).
What are Jackie Chan's Guinness World Records, then? Well, they're both for incredible feats in his movies (in a roundabout way).
Jack(ie) of all trades, master of ... all of them too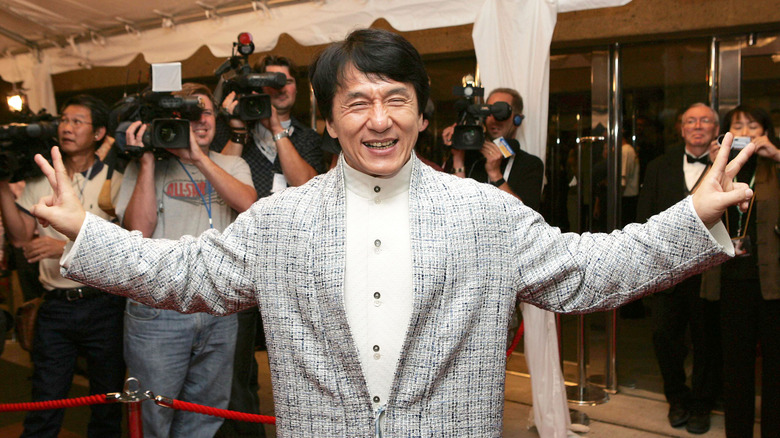 Shutterstock
Most Stunts Performed By A Living Actor was the first world record Chan was awarded in 2012. He has featured in more than one hundred movies, from the "Rush Hour" series to "Around The World In 80 Days." Along the way, the consummate professional has performed almost every stunt himself, risking his life, and seriously injuring himself on numerous occasions. Presenting him with this first record, Guinness World Records Greater China President Rowan Simons proclaimed "this world record is a tribute both to his creativity and his endurance," (per Guinness World Records).
Interestingly, Chan has used stunt doubles more as he has aged. In 2003, he told the Associated Press (via Entertainment Weekly), "I will use stunt doubles if you ask me to ride an F-16 jet fighter ... or to perform two 720-degree somersaults. But one somersault, I'll do it." In his younger days, Chan probably could have performed two 720-degree somersaults while still piloting a jet fighter, but that sounds more than reasonable.
Secondly, Chan was awarded Most Credits In One Movie, for the comedy/action "Chinese Zodiac" (he received both awards on the launch of said movie). Not only does he star as mercenary leader Asian Hawk, he serves as producer, director, and even composer and catering coordinator (per Screen Anarchy), claiming a total of 15 credited roles in the movie. How very like the multi-talented icon fans adore.