The Truth About King Henry VIII's Wives Who Died In Childbirth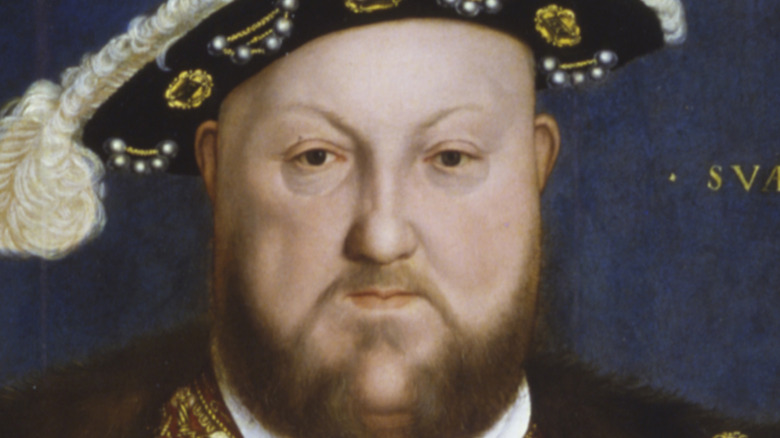 Heritage Images/Getty Images
King Henry VIII ruled England for almost four decades, but it's his love life, rather than his politics or religious reform, that made his name famous. Henry wasn't exactly a faithful man, but then again, few royal figures were back then. Mistresses, illegal children, and a chaotic love life were part of the royal "normal" in the 1500s.
Henry did it a little differently, though. He married six times, desperate to father a male heir, but also a slave to his passions. His first marriage, to Spain's Catherine of Aragon, lasted an impressive 23 years. Catherine had multiple miscarriages and stillbirths, and only one surviving child, a girl. Although that child would eventually become Mary I, Queen of England, King Henry was not happy about the lack of a male heir and eventually divorced Catherine. His next wife, Anne Boleyn, who happened to be one of Catherine's ladies-in-waiting, also gave him a daughter, Elizabeth. The marriage lasted three years before Henry had her executed (via History). The king would go on to marry four more times, never quite successfully or entirely happily. Henry's third wife finally gave him the male heir he so much wanted. But it came at a terrible price.
Henry married Jane Seymour in May 1536, just one day after Anne Boleyn's execution. Anne's and Jane's mothers were cousins, and Jane had also been Anne's lady-in-waiting, according to History.
His third marriage was a messy affair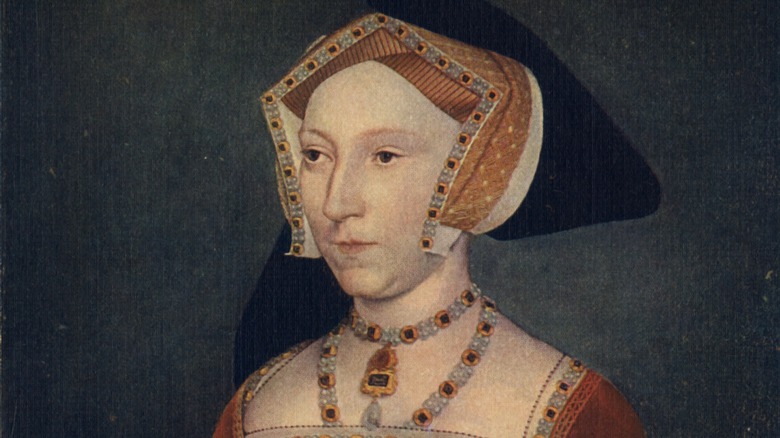 Print Collector/Getty Images
Jane (pictured above) became known as a silent, meek, and virtuous woman. She was also ready to do everything she could to give the King an heir. When she conceived seven months after their marriage, everybody was ecstatic (per Thirteen). Jane had a smooth pregnancy, during which she was spoiled and over-protected by the King and everybody else in court. However, according to Historic Royal Palaces, things started to go wrong as soon as she went into labor. After being in labor for over two days, she finally gave birth to Henry's only son, Edward VI.
The queen seemed to be doing fine for the first few days after the birth, but eventually developed a fever. For the next 11 days, she grew sicker and sicker, until she died in her sleep on October 23, 1537 (via Thirteen). For many years, the consensus was that Jane Seymour had died of puerperal fever, a name given to a number of postpartum infections that killed many women during the Middle Ages. However, new research published in Tudor Times suggests she could have died from a combination of factors, including food poisoning, dehydration, and embolism. In a dark twist of fate, Edward VI would die at the age of 16, six years after Henry's death.
Henry married two more times: first, to Anne of Cleves for six months, and almost immediately after their divorce to 19-year-old Catherine Howard. Neither one of them had children, and Catherine was executed less than a year later for adultery and treason (per History).
Henry's last wife was meant to be more of a companion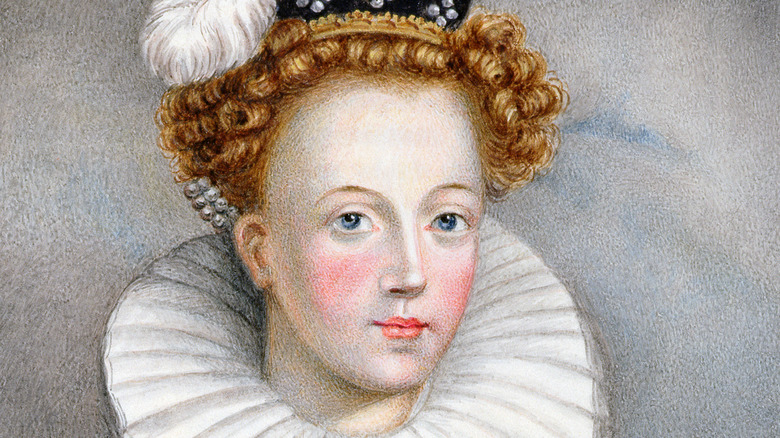 Heritage Images/Getty Images
In 1543, Henry married his sixth and last wife, twice-widowed Catherine Parr (pictured above). Catherine already had a new suitor — Thomas Seymour, the younger brother of former queen Jane Seymour — when Henry proposed marriage, according to Thirteen. Bound by duty to serve her country, she instead accepted the proposal and became an influential queen who brought peace and culture to the court.
She was a loving stepmother to Henry's children — Mary, Elizabeth, and young Edward — and she convinced Henry to restore his daughters to the order of succession (per History). This would one day change the course of history, as both Mary and Elizabeth would become queens in their own right.
Catherine stayed with Henry until his death in 1547, but four months later, she was back in the arms of Thomas Seymour. The two married in a secret ceremony, but it was soon obvious it was a troubled marriage; Thomas was behaving in an increasingly inappropriate fashion toward Henry's 14-year-old daughter, Elizabeth, according to History Extra. When Catherine unexpectedly became pregnant a few months into her marriage (her first pregnancy, despite three previous marriages), there were hopes things could get better. But soon after giving birth to a daughter in August 1548, Catherine died of puerperal fever. It was just one year after Henry's passing.