The Heart-Wrenching Death Of Jackie Mason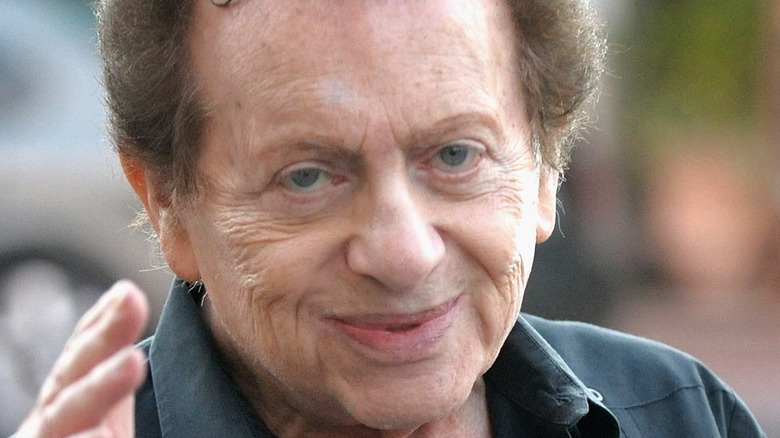 Gustavo Caballero/Getty Images
On Saturday, July 24, 2021, the world said farewell to legendary comedian and self-proclaimed "funniest ex-rabbi in the world," Jackie Mason (via Holywood Reporter). He was 93. Lawyer Raoul Felder, his longtime friend, confirmed the comedian's death, noting that Mason had been experiencing difficulty breathing and died in his sleep. 
Jackie Mason was one of the biggest names in comedy in the late 1950s and early '60s, with his fast-talking, finger-shooting, heavily Jewish-accented voice and incredibly wry, observational humor. Jackie rose to fame after repeated guest appearances on the "Ed Sullivan Show" after quitting his job as an ordained rabbi in 1958, because, as he said, "Somebody in the family had to make a living" (per the Jackie Mason website). He won three Emmys, including one for voice work on "The Simpsons," and wrote and performed in six one-man shows on Broadway, such as 1986's "The World According to Me," for which he won a Special Tony Award, as the Jerusalem Post says. 
He's participated in the Royal Variety Performance for Queen Elizabeth eight times, such as in 1991 (watchable on YouTube), when he said more folks used to come to his sermons for the jokes, rather than the messages. Mason's career hit a two-decade stumbling block in 1964 when, per The New York Times, he lost his $45,000-per-year "Ed Sullivan Show" contract (~$380,000 nowadays) because, in the midst of a frenetic routine, folks thought he flipped Sullivan off.
A former rabbi unashamed of his heritage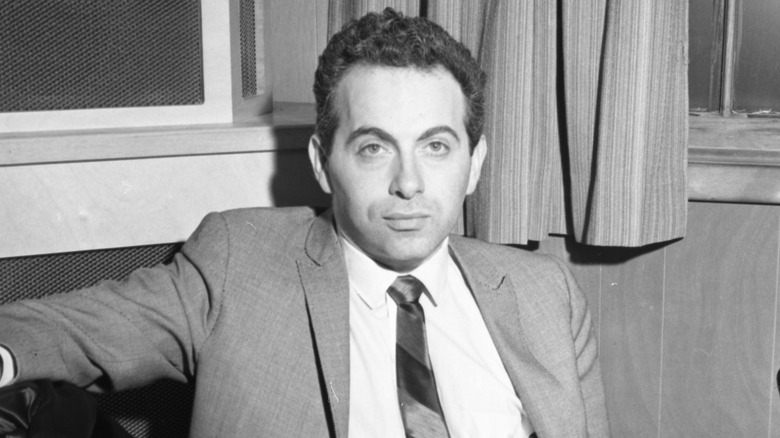 Donaldson Collection/Getty Images
As the Jewish Virtual Library says, Jackie Mason was born Yacov Moshe Maza in 1931 in Sheboygan, Wisconsin. His family moved to Manhattan's Lower East Side when Mason was 5, where Mason eventually became ordained as a rabbi at age 25. As the Jackie Mason website says, not only was Mason's father a rabbi, but Jackie was the last of five generation of rabbis in an extremely devout lineage. It was only in 1957, after Mason's father passed away, that he started focusing on comedy in what was called the "Borscht Belt," a Jewish-only set of mountain resorts in upstate New York, which have since fallen into complete ruin (per Business Insider). Within a couple of years, Mason's signature brand of humor netted him his regular Ed Sullivan show gig.
Even though Mason shifted away from teaching about Judaism as a profession, Mason never strayed too far from his roots. He quit his Broadway show in 1991 to perform in Tel Aviv during the Persian Gulf War in an act of solidarity, and again in 1996. Such performances, viewable on YouTube, and later appearances such as 2017's interview on Israel Radio Hour (also on YouTube), illustrate not only Mason's very vocal pride about his heritage, but his willingness to go on the offensive for it. In 2014, for instance, Mason spoke out against Selena Gomez, Rihanna, and more for criticizing Israel for its role in the never ending Gaza conflict, as The Hollywood Reporter describes.
A vocal supporter of Israel and Donald Trump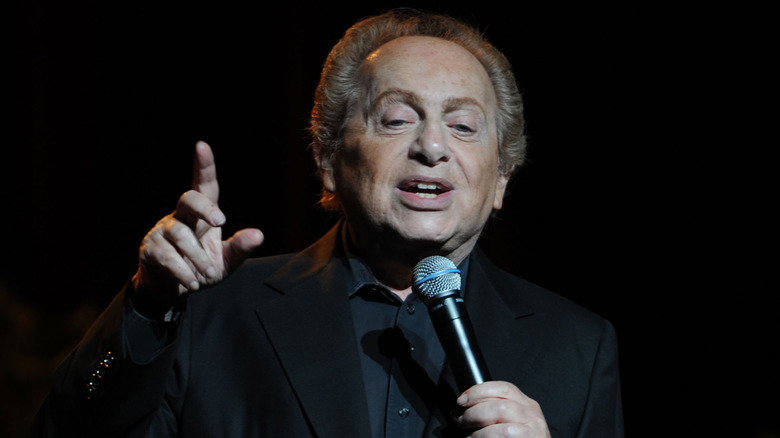 Larry Marano/Getty Images
In his later life, Jackie Mason was one of the few celebrities who supported Donald Trump's vie for presidency. On The Hollywood Reporter, Mason called Trump a "colorful, dynamic character" and said, "He never even prepares what he is going to say and every time he talks he says something wrong that offends everybody, and 10 minutes later he gets more popular." He went on to satire the GOP's then-distaste for Trump, saying, "He has no right to run for office. He has no right to be commander in chief. He has no right to exist. He should have passed away last Thursday."
Aside from his stage work, per the Jackie Mason website, Mason hosted numerous talk radio shows in the 2000s such as PBS's "Crossing the Line" with his friend Raoul Lionel Felder, with whom Mason also wrote several books, like 2008's "Schmucks!: Our Favorite Fakes, Frauds, Lowlifes, and Liars." Mason was also a regular writer for outlets such as the U.K.-based Jewish News, where in 2021 he wrote in defense of Israel, "You don't hear anyone screaming about the 50 Afghani schoolgirls who were blown up by the Taliban last week. No, you just hear the one off-key, off-kilter continuous blast about the terrible human rights violators, the Israelis."  
Jackie is survived by his wife Jyll Rosenfeld, whom he married in 1991, and a daughter, Sheba Mason, from a previous relationship with Ginger Reiter.