The Surprising Way Serial Killer Earle Nelson Was Caught
Yeas before the Federal Bureau of Investigation was aware of the existence of serial killers, Earle Nelson quietly became the first known serial sex murderer in America in the mid-1920s. According to Murderpedia, Earle's early years were defined by compulsive masturbation and daydreaming that made way for his life of sex crimes, which took hold when he was 21 years old. His descent into depravity and murder came after the loss of his parents at just 2 years old, and his disturbing childhood would mirror the dysfunction and chaos seen in the early years of other, similar serial killers.
Nelson, also known as the "Gorilla Man," moved fast to avoid falling into the grasp of authorities. Like murderer Charles Sobraj after him, Nelson used fake names to prolong his life on the run, but like his descendant in crime, he ultimately fell victim to his own blunder.
While Sobraj was able to escape prison on multiple occasions, Nelson's first and only breakout led to his final arrest and eventual execution. After a getaway from a Wakopa, Manitoba jail in Canada, Nelson hopped a train in hopes of continuing his life on the run. What he didn't realize was the train was also transporting Winnipeg police officers, one of whom recaptured him the next morning.
Nelson was executed by hanging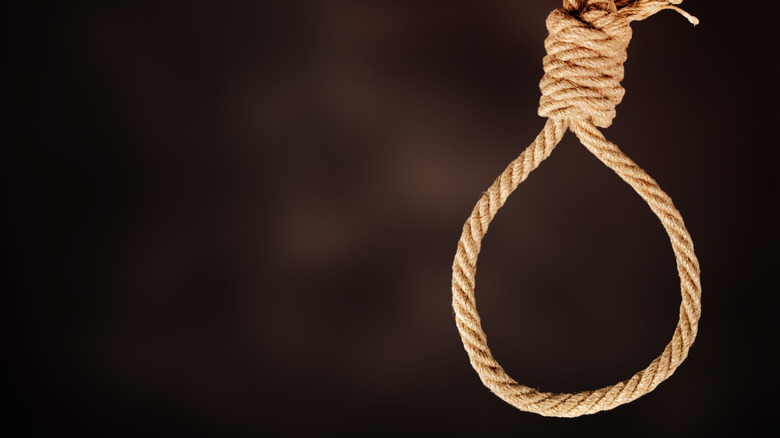 Shutterstock
After Nelson's lawyers failed to convince a jury that the killer was severely mentally ill and thus incapable of bearing responsibility for his reign of terror, he was found guilty of the murder of Emily Patterson. Nelson was executed by hanging in Winnipeg on January 13, 1928.
The disturbing legacy that Nelson leaves behind is unique in the field of crime. In particular, his string of sex-infused murders took place before "serial killer" was an official classification, per All That's Interesting. According to NPR, it was FBI investigator Robert Ressler who coined the term "serial killer" and was responsible for the advent of the process of criminal profiling in the 1970s that is now used to link different murders to the same suspect.
The rise of profiling and probing of serial killers was explored in Netflix's "Mindhunter." Without this investigative technique, murderers like Nelson and their victims would likely still be enigmas that make up a mysterious puzzle impenetrable to law enforcement and criminal science.