The Tragic Death Of Jackie Robinson's Son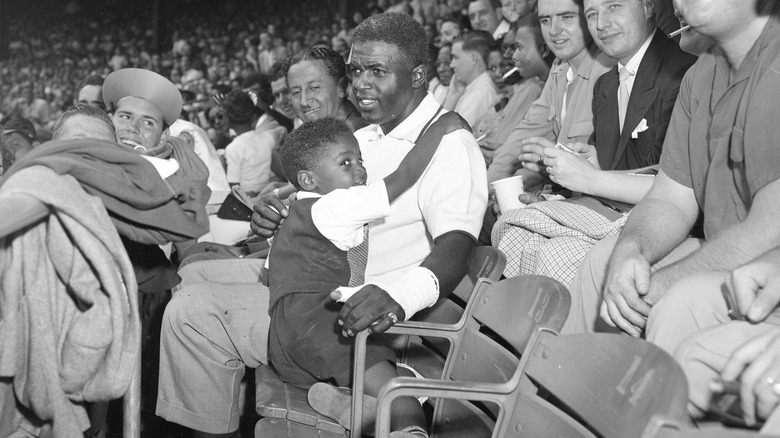 Transcendental Graphics/Getty Images
The accomplished Jackie Robinson certainly experienced much adversity when becoming the first Black man to break the color barrier in Major League Baseball (MLB), which he did with unwavering dignity. He endured countless incidents of racism and hate, but one of the most difficult things he ever experienced was saying goodbye to his son, who was just 24 years old when he tragically died.
Jackie Robinson Jr. died in a car accident on June 17, 1971. According to state police, he was speeding near the Merritt Parkway, off Route 123, bound for Stamford, Connecticut, when he lost control and crashed into a fence, then into an abutment (via The New York Times). He was pronounced dead at the scene.
Robinson Jr., born on Nov. 18, 1946, in Los Angeles, California, was the first child for Jackie Robinson and Rachel Isum, a UCLA nursing student, who married in 1946 (via Biography). She went on to become an Assistant Professor of Psychology at Yale University. The couple also had a daughter, Sharon, and another son, David, who all survived Robinson Jr. at the time of his death.
Prior to his untimely death, Robinson Jr., following his combat service in Vietnam, was admitted into the Daytop Inc. Rehabilitation Center, located in Seymour, Connecticut for two years to conquer his drug addiction in 1965. Additionally, he would go on to become the Assistant Regional Director at the facility, helping young adults battle their drug addictions as well.
Robinson Jr. is buried next to his father and grandmother at the Cypress Hills Cemetery in Brooklyn, New York.
Jackie Robinson died 16 months after his son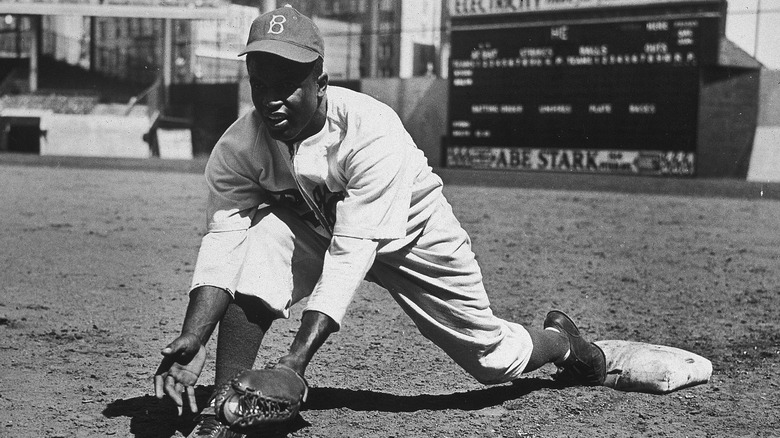 Hulton Archive/Getty Images
On October 24, 1972, Robinson, just 16 months after losing his son, died of a heart attack from complications brought on from his battle with diabetes and heart disease (via The New York Times). He was 53 years old. 
Robinson made his MLB debut on April 15, 1947, at the age of 28, for the Brooklyn Dodgers (via Biography). He garnered Rookie of the Year honors in 1947, National League Most Valuable Player in 1949, and was a six-time All-Star over his 10-year career. In fact, Robinson accomplished all of this having not played professional baseball from age 21 to 26 because he served in the U.S. Army during World War II (via History). The legend was inducted into the MLB Hall of Fame on July 23, 1962.
MLB recognizes the icon every year on April 15, while his number, 42, is retired in each of the 30 MLB stadiums. He landed on the MLB All-Century Team in 1999 and was also awarded for his numerous civil rights campaign initiatives in receiving the Presidential Medal of Freedom in 1984 and a Congressional Gold Medal in 2005.