What You Didn't Know About Joseph Bell And Florence Nightingale's Friendship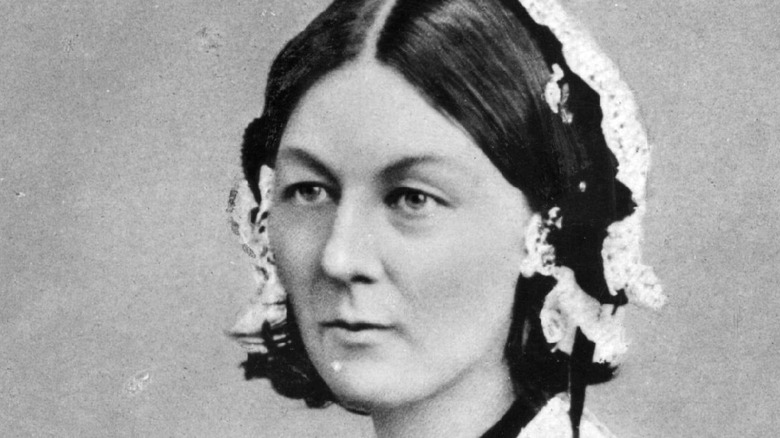 London Stereoscopic Company/Getty Images
You probably remember Florence Nightingale (pictured above) from social studies class. "The Lady with the Lamp," as she was known, changed the field of nursing. A dedicated practitioner, she saw terrible medical conditions during the Crimean War, when five out of six deaths occurred from infections and diseases perpetuated by the uncleanliness of the battlefield hospitals, said Primary Homework Help. Nightingale organized the nurses, who sanitized the surroundings, even digging latrines. She received her nickname because Nightingale rarely rested; instead, she patrolled the corridors, visiting the soldiers at night as she carried her lamp.
But what about Joseph Bell? Does the name, well, ring a bell? Dr. Joseph Bell was a prominent surgeon (the first one at Edinburgh's Royal Hospital for Sick Children) in the late-1800s. He'd also become a professor at the University of Edinburgh, where one of his students was Arthur Conan Doyle, the author of Sherlock Holmes stories. The good Doctor Bell believed fervently in the importance of using observational methods during diagnosis. He also appreciated deductive reasoning and creativity, and that became a regular part of his practice and his teachings. Dr. Bell became the inspiration for Conan Doyle's famous character, said Stanford University. 
Like his fictional counterpart, Dr. Bell also solved crimes, but on a part-time, amateur basis. Crime Traveller reports that he may have worked on several cases, including the 1888 Jack the Ripper investigation, aiding the police with his keen observational skills. Dr. Bell and Nightingale became friends when he spearheaded a lecture series for nurses.
Two friends fight for better training for nurses
In the late 1800s, Dr. Bell became an early advocate for women's rights and fought to change medical school admittance so they could study medicine, according to the National Galleries. He founded the Queen Victoria Jubilee Institute of Nurses, and wrote a book, "Notes on Surgery for Nurses," which he dedicated to his friend, Florence Nightingale. He also taught the first female med students in Scotland at the Royal Infirmary, something quite controversial at the time, according to Scottish Field. Nightingale also embraced progressive views. She created the Nightingale School of Nursing in 1860, the first training school of its type that emphasized science and the importance of patient comfort during care, according to Britannica.
The two social reformers often corresponded by letter, including a missive from Nightingale (posted at Brigham Young University) that thanked Dr. Bell for his notation to her in his nursing manual. "How could I delay a single day answering your most kind note and your wish to do me the honor of dedicating to me those invaluable lessons," she wrote. 
Both Bell and Nightingale helped establish the roots of what nursing could and should be, with Bell asserting all the while, according to the Nursing Standard, that good nurses' training could cut patient death rates by 50%.