A Look At Brandon Lee's Rebellious Teenage Years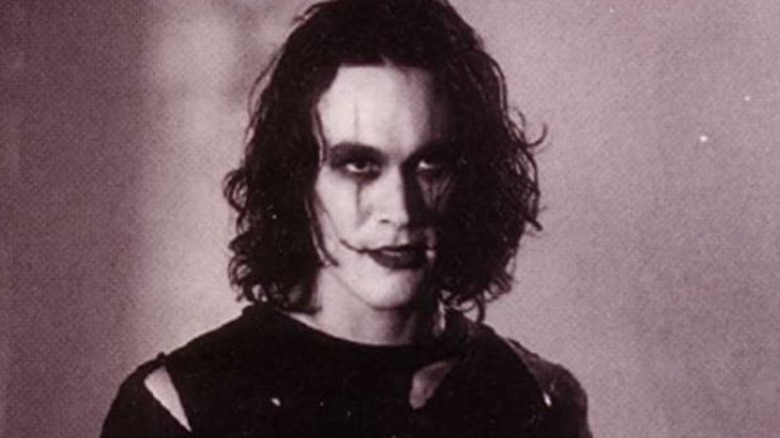 Miramax Films
It can be difficult following in the footsteps of a famous father, but that is what Brandon Lee, son of Bruce Lee, attempted, despite numerous roadblocks he encountered along his tragically-shortened life.
Lee was born in Oakland, California, on February 1, 1965, to martial arts expert Bruce Lee and Linda Lee Cadwell (via Biography). He garnered skills in martial arts and an enthusiasm for acting at a young age in Hong Kong. He lost his father when he was just 8 years old, prompting his mother to uproot him and his sister, Shannon, to Seattle.
His teenage years were tumultuous, though, having been removed from two different high schools for organizing protests and other antics. Additionally, a former teacher believed, "He didn't need school and thumbed his nose at the rules."
His reasoning for his expulsions for insubordination and misbehavior? According to a statement in People, he said, "I always had a pretty good knack for raising hell."
He elaborated in an interview with Bobbie Wygant, via YouTube. "The little piece of paper they gave me when I was kicked out said that I had a bad attitude toward the educational process and was a poisonous influence upon the minds of my fellow students," he explained. "I guess the higher-ups didn't like what I had to say. It was certainly nothing more than foolish pride that got me thrown out."
The 17-year-old then began hitchhiking across the country to learn more about himself and what he ultimately wanted to achieve in life.
The Lee men both died tragically and amid conspiracy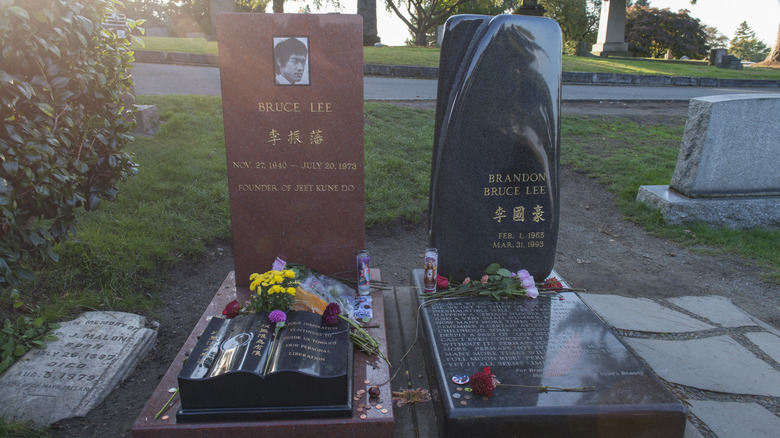 Shutterstock
Lee eventually earned his GED, attended Emerson College, and transferred to the Lee Strasberg Theatre and Film Institute (via Hollywood Death and Scandal Sites).
Much like his father, Lee's death was mired in mystery and confusion, but what each incident ultimately shared was that both father and son were taken much too early, and some Hollywood experts and fans alike wondered if the family was cursed.
The elder Lee died at 32 years old, in the prime of his career, shortly after the premiere of his most famous film performance, "Enter the Dragon." While living in Hong Kong, he died suddenly from brain edema, triggered from a prescription painkiller that he was taking for a nagging back injury (via Biography).
His son, Brandon, appeared in his first film at age 21, playing Chung Wang in the made-for-television "Kung-Fu: The Movie" starring David Carradine. However, his Hollywood career was cut tragically short. Lee was killed on set in 1993, at just 28 years old, during the filming of his career-defining performance in "The Crow." During the filming of his death scene for the film, he was shot in the abdomen with an actual bullet that had been accidentally lodged inside a prop gun. Following several months of investigations, it was determined a case of accidental death because the gun was not properly checked between uses (via Biography).
Both father and son are buried together at Lake View Cemetery in Seattle, Washington, a site that is widely considered a global tourist attraction (via CinemaBlend).