How NFL Player Carl Nassib Just Made History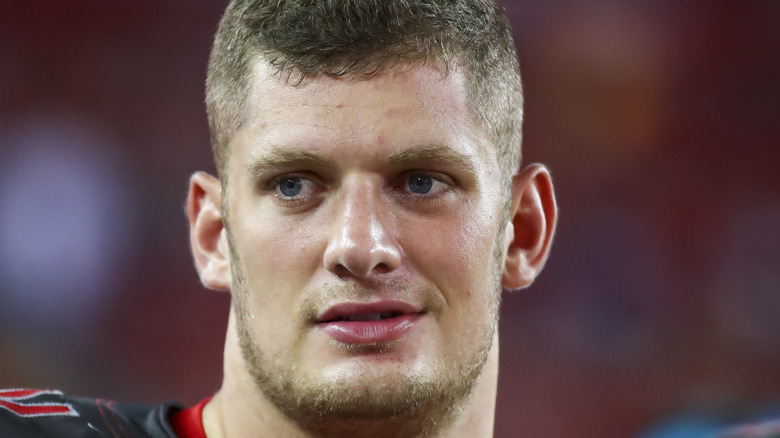 Will Vragovic/Getty Images
On June 21, Las Vegas Raider's defensive end Carl Nassib made history by becoming the first active NFL player to openly come out as gay. He made the announcement via Instagram (which was cross-posted to Twitter by the NFL) saying, "What's up people? I'm at my house here in West Chester, Pennsylvania. I just want to take a quick moment to say that I'm gay. I've been meaning to do this for a while now, but I finally feel comfortable enough to get it off my chest." In the approximately one-minute post, Nassib went on to state that he's a private person, and was coming out because "representation and visibility are so important," and that he hoped one day these kinds of ceremonious "coming out" confessions will no longer be necessary. The official NFL account chimed in, "The NFL family is proud of you, Carl."
Additionally, Nassib announced that he will be donating $100,000 to The Trevor Project, a crisis intervention and suicide hotline organization that supports LGBTQ+ youths. As one testimonial on The Trevor Project's website says, "Trevor provides valuable resources to young people nationwide who may not have anywhere else to turn to for help. That's why their work is so incredible — thanks to Trevor's programs, LGBTQ youth are not alone." As ESPN reports, the Trevor Project said that Nassib's donation will help "scale our life-saving crisis services to reach the more than 1.8 million LGBTQ youth who seriously consider suicide each year in the U.S."
Nassib's announcement is a fantastic addition to Pride Month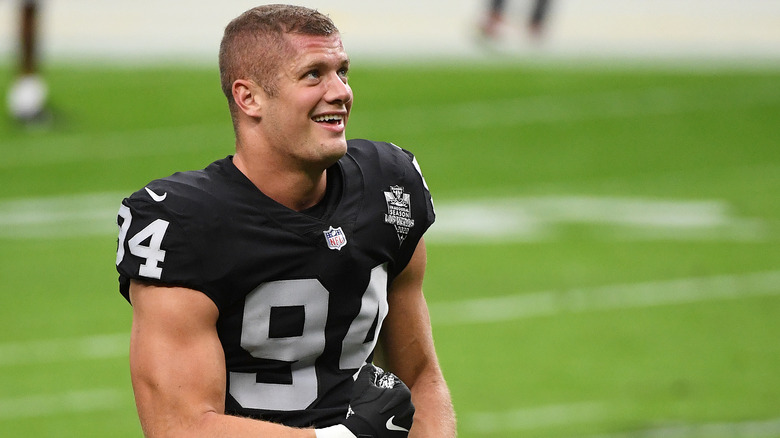 Ethan Miller/Getty Images
Nassib's announcement coincides with Pride Month and in the true spirit of that celebration and the equal rights and inclusion the month promotes, Nassib also promised to "do my best and do my part to cultivate a culture that's accepting and compassionate." 
On a personal level, as Nassib's full statement on Twitter says, he'd agonized about coming out for 15 years, but now sits in "a moment of gratitude and relief." Nassib acknowledged not only his exceptionally good fortune, but the difficulties faced by the LGBTQ+ community even to arrive at the point where he can safely and confidently talk about who he is, saying, "I really have the best life. I've got the best family, friends, and job a guy could ask for," and, "I cannot understand why I have been blessed with so much," continuing, "I stand on the shoulders of giants, incredible people who paved the way for me to have this opportunity."
Within the NFL — a professional, nationwide, multibillion-dollar sport watched by millions — the significance of Nassir's announcement cannot be overstated.
If you or anyone you know is having suicidal thoughts, please call the National Suicide Prevention Lifeline​ at​ 1-800-273-TALK (8255)​.