The Truth About Beethoven's Father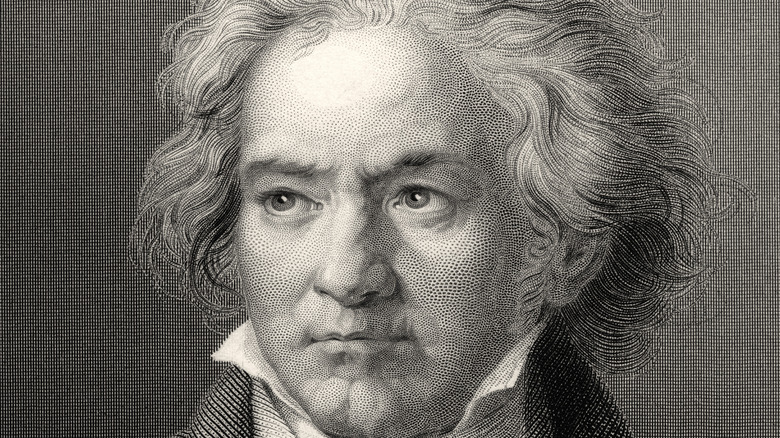 Print Collector/Getty Images
Ludwig van Beethoven's father, Johann van Beethoven, came from a musical family. According to Magellan TV, his father was Kapellmeister, or court music director, of the German city of Bonn. According to Classic FM, Johann was a musician in the court in his early 20s and was expected to succeed his father in the Kapellmeister role in 1773.
Johann and Maria Magdalena Keverich of Ehrenbreitstein welcomed their second son, Ludwig, on December 16, 1770. At the time, Johann was supporting the family by giving piano and singing lessons. In the 1770s, a neighbor described Johann as giving "piano and voice lessons to the sons and daughters of the English, French, and Imperial embassies, to the masters and daughters of the local nobility, as well as to those of esteemed burghers; he often had more to do than he could do," via Classic FM.
According to Magellan TV, Johann was a family man who attended church and loved teaching music. But perhaps his most powerful love was for alcohol; as a result, he ended up being an insufficient father to his child prodigy, Ludwig.
Johann van Beethoven's alcohol addiction caused problems for the family
In 1784, an elector named Maximilian Franz described Johann van Beethoven as having "a very stale voice, has been long in the service, very poor, of fair deportment and married," per Classic FM. Over time, Johann descended deeper into the depths of alcoholism. As a result, he became the butt of the joke in his city. He occasionally dipped into crime: He once forged a signature in an attempt to claim a faux fortune; another time, he was almost taken into custody, and his prodigal teenage son, Ludwig van Beethoven, had to intervene.
On July 17, 1787, Johann's wife and Ludwig's mother died of tuberculosis, per the Foundation for Economic Education. "She was such a good loving mother, my best friend!" Ludwig wrote at the time. With his father preoccupied by alcohol, Ludwig became the head of the household. In 1789, the local elector agreed to have half of Johann's salary paid to Ludwig for household expenses, but he also threatened to banish Johann from Bonn, per Classic FM.
Johann died on December 18, 1792.
If you or anyone you know is struggling with addiction issues, help is available. Visit the Substance Abuse and Mental Health Services Administration website or contact SAMHSA's National Helpline at 1-800-662-HELP (4357).