The Tragic Deaths Of Jerry Lee Lewis' Sons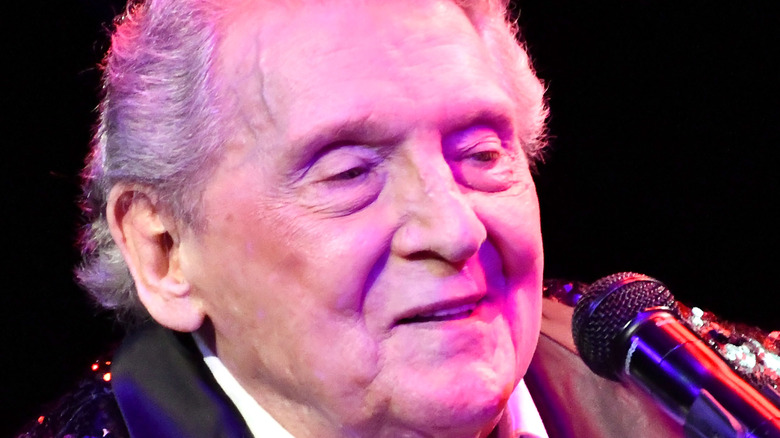 Scott Dudelson/Getty Images
Piano rocker Jerry Lee Lewis rose to fame in the 1950s, and he was one of the early rock 'n' roll artists at the genre's inception. He is best known for popular songs "Great Balls of Fire" and "Whole Lotta Shakin' Goin' On" (via Wide Open Country). Like a lot of the first rock stars, Lewis had a signature style that he was known for. Sister Rosetta Tharpe was known for her guitar skills, Elvis for his dancing, and Little Richard for his piano-playing and flamboyance. Similar to Little Richard, Lewis was also celebrated for his talents on the keyboard, along with his animated stage style.
Born in Ferriday, Louisiana, on September 25, 1938, to Elmo and Mamie Lewis, he was one of four children. Lewis had two sisters and one brother, per Geneanet. Touching the keys of the piano for the first time around 9 years old, Lewis showcased a lot of talent on the instrument. So much so that when he turned 10, his parents mortgaged some property to purchase him his own piano, says Biography. From then on, he honed his skills and slowly became a rising talent. Lewis made his music debut when he signed with Memphis-based Sun Records in 1956, according to his website.
Lewis' controversial marriage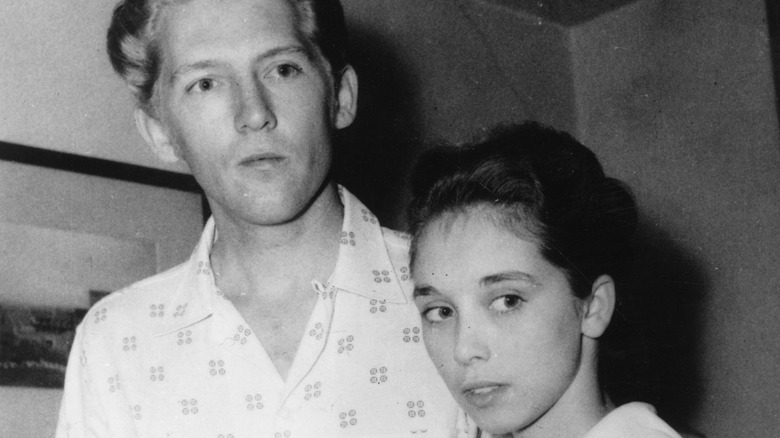 Keystone/Getty Images
However, music wasn't all that Jerry Lee Lewis would be known for. He was also known for his several marriages, even causing quite the stir with one particular nuptial. 
By 1957, Lewis had already been married twice, and he was going to get married for a third time. And perhaps ironically, his three times down the aisle was indeed a charm because this third marriage nearly cost him his career. On December 12, 1957, Lewis wed a woman named Myra Gale Brown (pictured above), who was also his cousin. People didn't know it at the time that they wed, but although she was listed as a 20-year-old, legally Brown was actually only 13 (via Biography). When fans learned of this while Lewis was on tour overseas in 1958, it exploded into a controversial story; a 22-year-old artist had married a 13-year-old relative. It led to a massive boycott of his music and very vocal disapproval from fans, which led to his tour being cut short (per History).
Jerry Lee Lewis loses two of his sons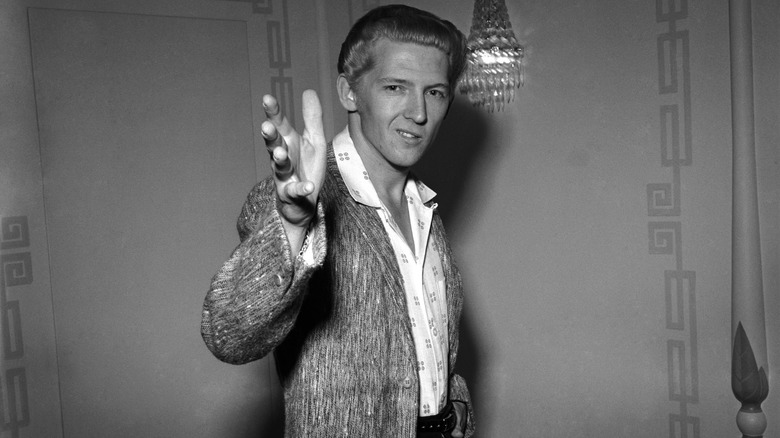 V&a Images/Getty Images
Still, Lewis continued with his life and his music as he had to comply with a recently signed five-year contract, says IMDb. In 1959, the couple had their first child together — a boy named Steven Allen Lewis. This child would be the first for Brown, but the third for Lewis, who already had two older sons from his previous marriage to Jane Mitchum. But a young Steven would barely get to live out his toddler years. In 1963, Brown and Lewis welcomed another child, a daughter named Phoebe. But a year before her birth, their oldest Steven died at the age of three. He had drowned in a swimming pool, says The Guardian. And sadly, it wouldn't be the only child Lewis lost. Nearly a decade later his oldest son, Jerry Lee Lewis Jr., died at the age of 19 in a fatal car crash in Mississippi, reported The New York Times.
He currently has four living children: Jerry Lee Lewis III, Lori Lee Lewis, Phoebe Lewis, and Ronnie Guy Lewis.