What Was John McAfee's Net Worth At The Time Of His Death?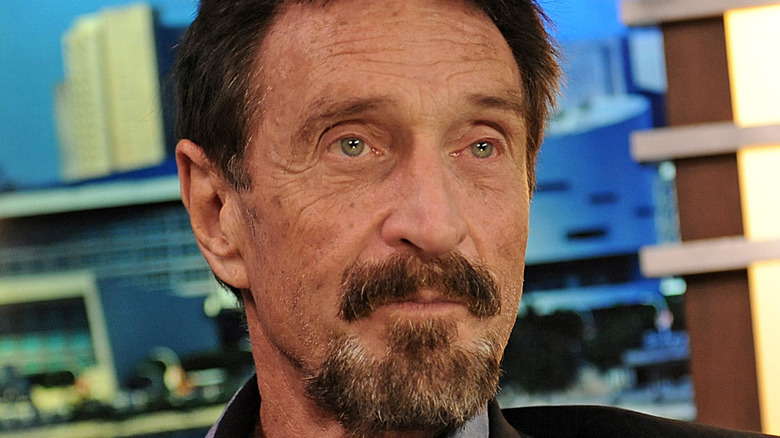 Bloomberg/Getty Images
John McAfee was a British-American tech entrepreneur whose first notable success came after he founded the anti-virus software company McAfee Associates in 1987. McAfee was the CEO until 1994, when he left to pursue other ventures. He founded multiple other tech companies, including Tribal Voice, QuorumEx, and Future Tense Central, per Cypher Hunter. He also served as the CEOs of MGT Capital Investments and the cryptocurrency company Luxcore, as well as ran for president as a libertarian in 2016 and 2020. 
However, his promising career was marred by multiple run-ins with the law. In 2021, the tech mogul was charged with "commodities and securities fraud conspiracy, wire fraud conspiracy, wire fraud, touting fraud conspiracy and money laundering conspiracy," for running a cryptocurrency fraud scheme with a co-conspirator, his bodyguard, Jimmy Gale Watson Jr., per CNBC. McAfee and Watson were accused of using his Twitter account to artificially inflate the price of a cryptocurrency called "alt-coin," which he then promptly sold off, "pumping and dumping" the currency to the tune of $2 million. Authorities further alleged McAfee and Watson also promoted the coins while concealing the fact that they were receiving payments from startup cryptocurrency issuers, making over $13 million in total from their scams, as The Guardian reported.
So where did that leave his money at the end of all this?
John McAfee had an estimated net worth of about $4 million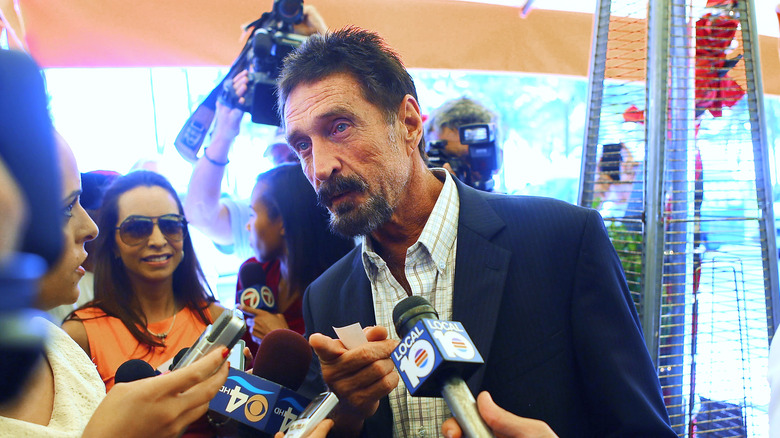 Joe Raedle/Getty Images
In October of 2020, McAfee was hit with tax evasion charges. He was indicted on 10 counts by the Western District of Tennessee for failing to pay income taxes on millions of dollars between the years of 2014 to 2018. He was arrested in Spain and detained in a Spanish prison, where he awaited trial with the possibility of facing up to 30 years in prison, per EMEA Tribune. On June 23, it was announced that the Spanish high court had decided he would be extradited to the U.S. to face federal for his financial crimes. However, just hours after the news broke, McAfee was found dead in his Barcelona prison cell of an apparent suicide, according to the New York Post. He was 75 years old.
Despite his criminal charges, at the time of his death, McAfee was still worth an estimated $4 million, according to Celebrity Net Worth. However, at the height of his career in 2007, McAfee was worth about $100 million, after selling his stake in the McAfee anti-virus software. Following the financial crisis of 2008 and a series of bad investments, much of McAfee's estimated wealth plummeted by about $6 million, according to Celebrity Net Worth.
If you or anyone you know is having suicidal thoughts, please call the National Suicide Prevention Lifeline​ at​ 1-800-273-TALK (8255)​.