John McAfee's Sudden Death Explained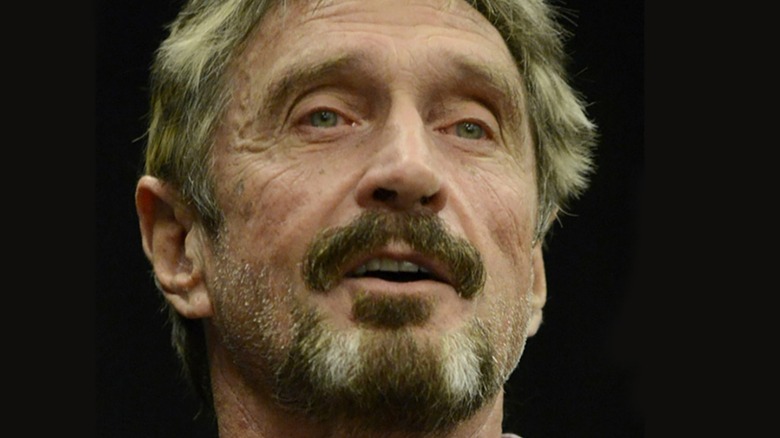 Tim Mosenfelder/Getty Images
John McAfee, the innovator behind McAfee Antivirus software, died in prison in Barcelona, Spain, on Wednesday, June 23, 2021. According to El Pais, McAfee was found dead in his jail cell and "everything points to suicide," though there is no additional information regarding the circumstances at this time. However, McAfee, 75, had just recently learned that he was to be extradited back to the U.S. to face federal charges for tax evasion.
"John was and will always be remembered as a fighter," his attorney Nishay Sanan said (via New York Post). "He tried to love this country but the U.S. government made his existence impossible."
Mcafee, a British-born computer programmer and entrepreneur, was born September 18, 1945. He ran McAfee Associates from 1987 to 1994. In addition to creating the first commercial anti-virus program, he created a number of smartphone apps and business ventures. He married his wife, Janice Dyson, who was 37 years his junior, in 2013 after hiring her as a prostitute in 2012 in Miami Beach (via Heavy). 
John McAfee talking to reporters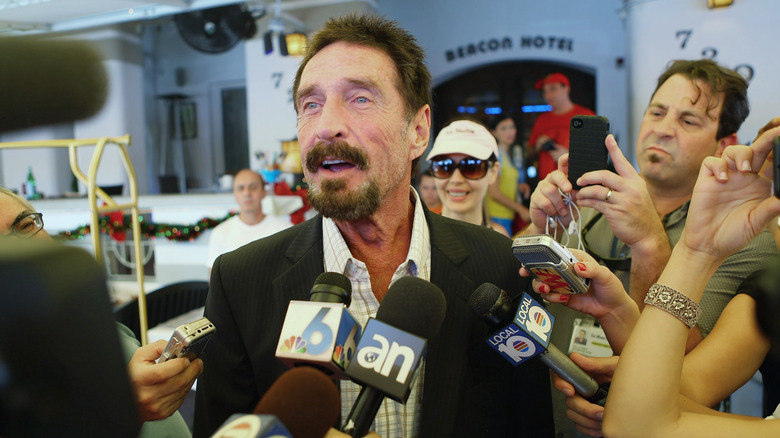 Joe Raedle/Getty Images
According to the New York Post, McAfee was awaiting extradition to face a 10-count indictment for tax evasion in Tennessee, and another indictment involving a $13 million pump-and-dump cryptocurrency scheme in Manhattan. He insisted at a recent extradition hearing that the tax evasion charges were politically motivated.
"The Rise and Fall of John McAfee," an ABC 20/20 documentary chronicled John McAfee's time as a fugitive (via YouTube). The infamous entrepreneur was constantly on the run, first from lawsuits in the U.S. in 2009, then to avoid questioning from police regarding the murder of Greg Faull, his neighbor in Belize whom McAfee claimed poisoned his dogs, in 2012. While on the run, he frequently contacted the media alleging Belize authorities set him up. McAfee spent time in Guatemala, Canada, and even ran for president in 2016 as a Libertarian (via CNN). He was arrested in Barcelona in October 2020, as he was preparing to board a flight to Istanbul with a British passport, according to Spanish police (Reuters).
On Twitter, McAfee claimed he had 47 children, 61 grandchildren, and 19 great-grandchildren. (via Heavy).
If you or anyone you know is having suicidal thoughts, please call the National Suicide Prevention Lifeline​ at​ 1-800-273-TALK (8255)​.