Why Charlie Watts Once Punched Mick Jagger In The Face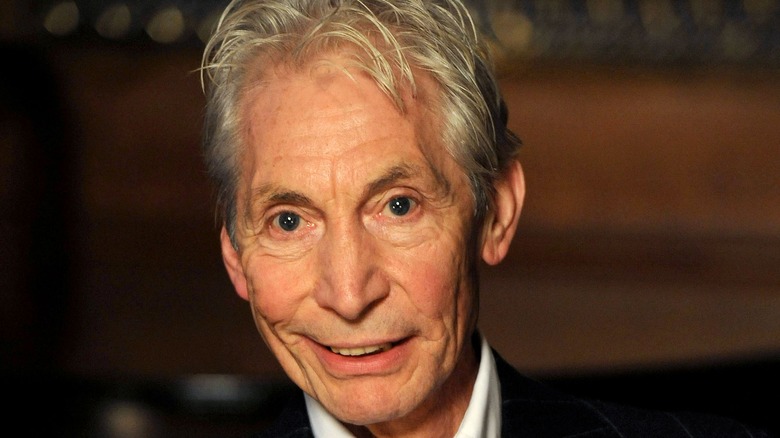 Brian Rasic/Getty Images
Just think about it — the Rolling Stones have been making music longer than most of us have been alive, and they have yet to show any signs of wanting to call it a day. This is a band that has stuck it out without any interruption since they first formed in 1962, and they've survived decades of hardcore drug use (albeit mostly on Keith Richards' side of things), lineup changes, and changing trends in music and pop culture. And you better believe it when we say that they're still capable of filling stadiums and attracting new fans — even those who might have first heard of Mick Jagger (and his moves) through Adam Levine and the rest of Maroon 5.
Much like any other band, regardless of where they may be in the rock 'n' roll pecking order, the Stones have endured personnel conflicts that, at multiple points, threatened to tear the group apart. Many of these conflicts have centered around frontman Jagger and rhythm guitarist Richards, the so-called "Glimmer Twins" who have been with the band since the very start. Likewise, drummer Charlie Watts is the only other founding member of the Stones who remains with the group to this day, and he, too, did have some serious issues with Jagger, issues that culminated when he punched the singer in the face. Here's the story of that incident and the events that led to this now-infamous moment in Rolling Stones history.
Jagger's 'lead vocalist syndrome' was too much for Watts to handle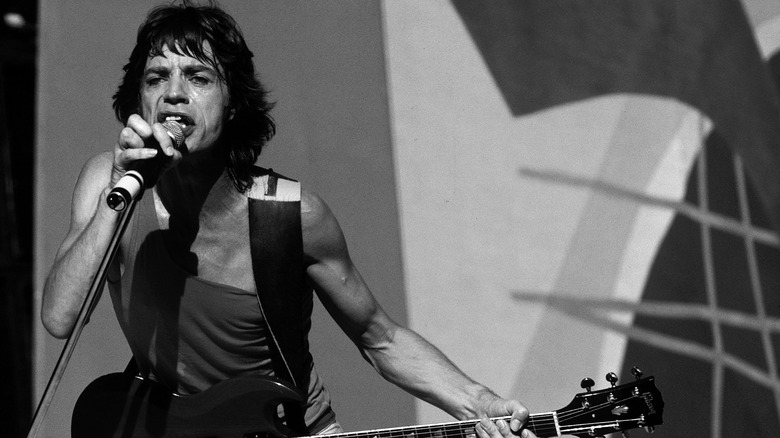 Larry Hulst/Getty Images
As recalled by Far Out Magazine, the incident in question took place in 1984 in Amsterdam as tensions within the Rolling Stones were reaching an all-time high. In his autobiography, "Life," Keith Richards set the stage by describing how Mick Jagger's case of "LVS," or "Lead Vocalist Syndrome," was getting worse and worse as the frontman was isolating himself from his bandmates and acting like he was bigger than the rest of the group. 
But what would set Charlie Watts off to the point that he slugged Jagger square in the face? Before we get to the main reason why, we have to consider how Jagger's LVS (some others call it "LSD," or "Lead Singer Disease" — same difference) purportedly drove him to use his band's potentially lucrative deal with CBS to secure a recording contract for himself as a solo artist. This, according to Richards, was the last straw for the normally calm Watts.
"It became clear how much earlier the plans had been laid," the guitarist wrote. "Mick was the big star, and [CBS Records president Walter Yetnikoff] and others were fully behind the idea of him taking off on a solo career — all of which flattered Mick and encouraged his takeover plans. So the real purpose of The Rolling Stones deal was for Mick to ride in on top of it." 
Jagger to Watts: 'You're only my drummer'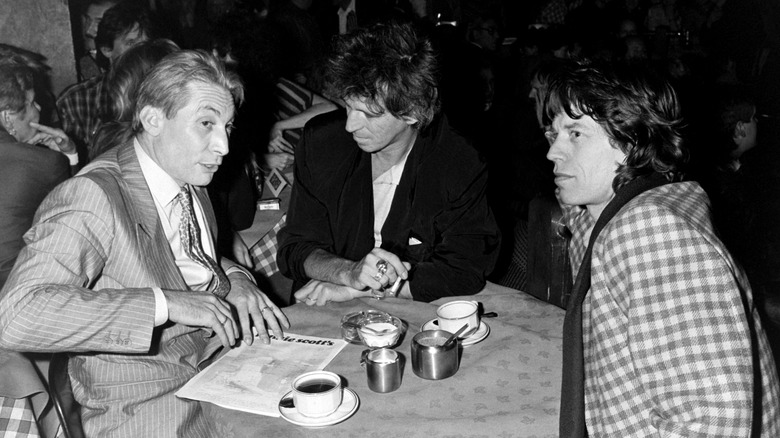 Dave Hogan/Getty Images
In addition to Mick Jagger's supposed LVS-fueled power play, there was something more upsetting that made Charlie Watts angry enough to punch the frontman. Rolling Stones fanzine editor Bill German alleged in his 2009 book "Under Their Thumb" (via The Week) that Watts was unhappy with comments Jagger made during a meeting where the Stones were discussing whether they should continue as a band or not. "[Jagger said] something like: 'None of this should matter to you because you're only my drummer,'" German wrote.
"[Watts] kept it bottled inside until he got back to his hotel room," he continued. "He then clicked off his TV, put on his shoes, walked down the hall and knocked on Mick's door. When the lead singer of the Rolling Stones opened it, his drummer clocked him on the jaw. Charlie then turned round and calmly walked away."
Keith Richards offered more details in his memoir, noting that right before the incident, a drunken Jagger further provoked Watts by calling his hotel room and repeatedly shouting the words "where's my drummer" on the phone. As quoted by Far Out Magazine, a dressed-to-the-nines Watts confronted Jagger in his room, told him to "never call me your drummer again," and punched the singer so hard that he "fell back onto a silver platter of smoked salmon on the table."