Derek Chauvin's Prison Sentence Explained
Brandon Bell/Getty Images
A Minneapolis judge sentenced ex-cop Derek Chauvin to 22 ½ years in prison on June 25, reports CNN. In April, a jury of 12 found Chauvin guilty of three charges: second-degree murder, third-degree murder, and second-degree manslaughter, in the death of George Floyd (via USA Today). It was a case that ignited a racial reckoning in the U.S., sparking huge protests nationwide and internationally, details The New York Times — all during the midst of a restrictive pandemic caused by COVID-19.
On May 25, 2020, former officer Derek Chauvin, was seen kneeling on George Floyd's neck for nine minutes during an arrest in the Minneapolis' Powderhorn Park neighborhood. Floyd did not survive the ordeal and the incident was captured on video tape by passersby, which later triggered a massive response once it was shared on social media and news outlets. Chauvin was fired the following day and arrested and charged a few days later for murder.
The sentence for Derek Chauvin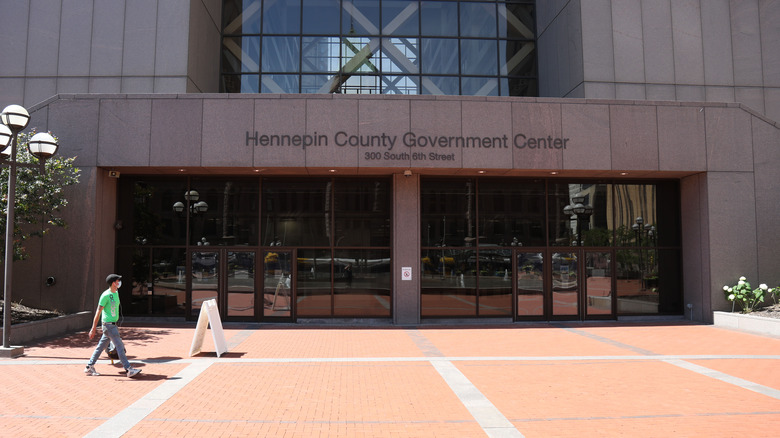 Bloomberg/Getty Images
At the June 25 sentencing of Derek Chauvin, the court listened to statements from family members of both Chauvin and George Floyd — including a victim impact statement from Floyd's 7-year-old daughter and a statement from Chauvin's mother — as they pleaded for the respective sentences they wanted. Just hours earlier, Chauvin was denied a new trial as a last ditch attempt, per USA Today.
The convicted former police officer also spoke for the first time in court, delivering his condolences and an arcane message about some potential new information (via the Star Tribune). "...Due to some additional legal matters at hand, I'm not able to give a full formal statement at this time. But very briefly, though, I do want to give my condolences to the Floyd family. There's going to be some other information in the future that would be of interest and I hope things will give you some peace of mind," said Chauvin.
After a recess, Judge Peter Cahill emerged with his final decision and sentenced Derek Chauvin to 270 months, or 22 ½ years. He was facing 40 years as the maximum punishment (via NBC News). Judge Cahill said the sentence was based on Chauvin's "abuse of position of trust and authority" and "particular cruelty to George Floyd" (via the Star Tribune). The judge also credited him for the 199 days that he's already served in prison.
Also part of his sentence, the judge stated that Chauvin can never own any guns, has to surrender his DNA if required, and register as a predatory offender.