Why Rage Against The Machine Was Banned From SNL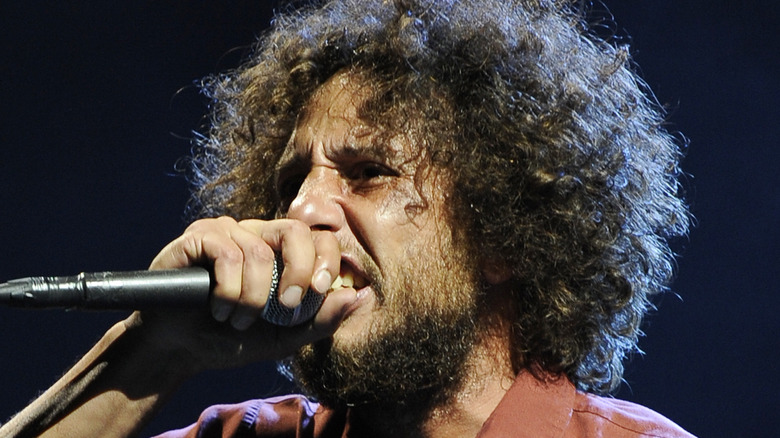 Tim Mosenfelder/Getty Images
Rage Against the Machine is a band that's just as known for being one of the first to effortlessly blend rap and heavy metal as they are for their controversial reputation. Led by charismatic frontman Zack de la Rocha, RATM never shied away from expressing their political beliefs through their music across their four studio albums — and yes, that includes their all-covers release from 2000, "Renegades." Of course, that also extended to their actions away from the studio, which included one particularly notorious incident that got them banned from "Saturday Night Live."
Despite its long-running status as one of the funniest programs on television, "SNL" means serious business when it comes to musical performers who earn the ire of the show's producers, or the viewers themselves. In 1986, for instance, the Replacements were banned after a drunken, shambolic performance that ended with singer Paul Westerberg swearing on-air (via Alternative Press). Six years later, Sinead O'Connor caused nationwide outrage when she tore up a picture of Pope John Paul II and told the audience to "fight the real enemy," and she likewise got a lifetime ban. That brings us to Rage Against the Machine and their 1996 appearance on "SNL," one that was so on-brand for the Los Angeles-based rap-rockers, yet so controversial that they, too, were asked never to return to the show again.
Rage against the SNL guest host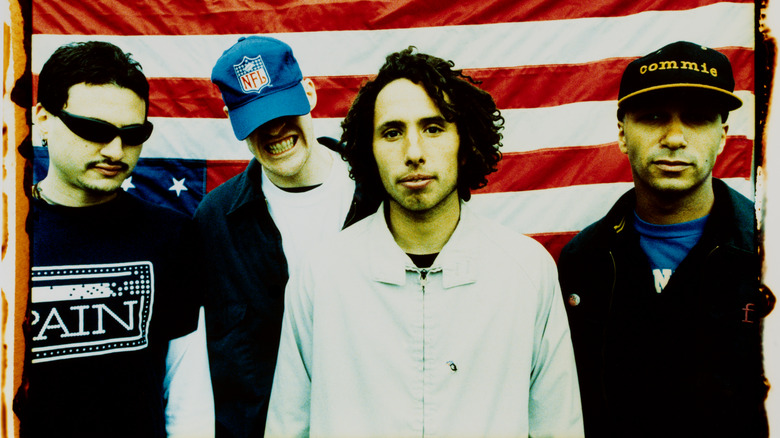 Niels Van Iperen/Getty Images
As opined by Alternative Press, the whole Rage Against the Machine incident on "Saturday Night Live" was one that the show's producers arguably brought upon themselves. That's because they invited billionaire Republican presidential hopeful Steve Forbes to host the April 13, 1996, episode. This was not to the band's liking, as they decided to use their guest appearance to stick it to the business executive-turned-politician. "We knew that he was going to be making a statement–it was going to be all about how charming to have a billionaire telling these jokes and promoting his flat tax," guitarist Tom Morello said in an interview with the Los Angeles Times. "And we wanted to stand in sharp juxtaposition to that by making our own statement."
In an act of protest against Forbes, RATM hung a pair of upside-down American flags from their amplifiers before playing what was supposed to be the first of two songs for the night, their new single "Bulls on Parade." Fans watching at home, however, never got to see the protest take place, as stagehands frantically ran onstage to remove the flags just seconds before their performance. As the band waited in the dressing room and prepared to play their second song, the similarly incendiary "Bullet in the Head," they were told by "SNL" officials that they had to leave the building. 
The band wouldn't go quietly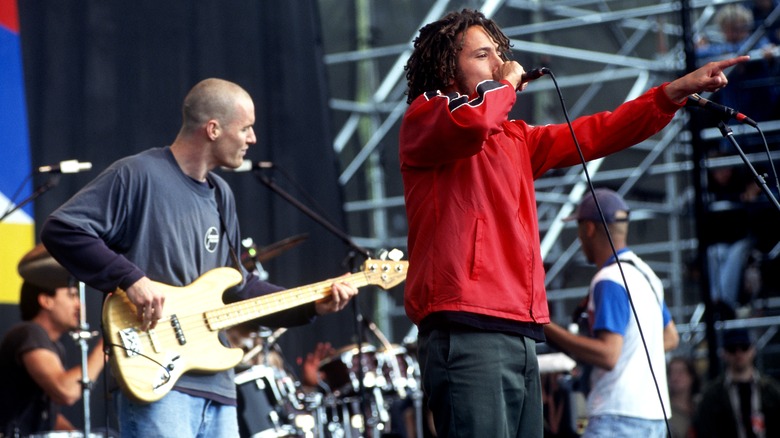 Tim Mosenfelder/Getty Images
After essentially being banned from "Saturday Night Live" for a protest that never really happened in earnest, Rage Against the Machine wasn't done living up to its name. The band refused to leave the building just yet, as bassist Tim Commerford took one of the flags and ripped it to shreds, barging into Forbes' dressing room and throwing pieces of the flag at the presidential candidate's entourage, according to the Los Angeles Times. 
"'Saturday Night Live' censored Rage, period, and they could not have sucked up to the billionaire more," Morello told the publication. "The thing that's ironic is, 'Saturday Night Live' is supposedly this cutting-edge show, but they proved that they're bootlickers to their corporate masters when it comes down to it. They're cowards."
Looking back on the incident in a separate interview, Morello claimed that members of the "SNL" team "expressed solidarity with our actions" and felt sorry that RATM had to be banned from the show, as quoted by Far Out Magazine. However, an unnamed official expressed a totally different sentiment to the Los Angeles Times, angrily dismissing Morello's comments to the outlet and suggesting that the group was merely trying to pull a "publicity stunt."
As for "SNL" executive producer Lorne Michaels, let's say he refused to rage against his musical guests — at least in public. "We really enjoyed having Rage Against the Machine on our show," he told the Los Angeles Times.