What Was Donald Rumsfeld's Net Worth When He Died?
Jason Merritt/Getty Images
Donald Rumsfeld, who served as secretary of Defense for two presidents, has died at the age of 88. The family released a statement regarding his death on Twitter. "It is with deep sadness that we share the news of the passing of Donald Rumsfeld, an American statesman and devoted husband, father, grandfather, and great-grandfather. At 88, he was surrounded by family in his beloved Taos, New Mexico."
Rumsfeld's long history of service to the country began in 1958 when he worked as an assistant to Ohio Congressman Dave Dennison. Along with his service as the secretary of Defense for President Gerald Ford — where he was the youngest defense secretary ever at the age of 43 — he also served in that same role under President George W. Bush (via The New York Times). 
During his time with President Bush, he was responsible for helping determine the U.S. response to the attacks on September 11th, which resulted in the years-long wars in Afghanistan and Iraq, as well as the death of Iraq's President Saddam Hussein. The death of the corrupt leader was something Rumsfeld was proud of. In his 2011 book "Known and Unknown," Rumsfeld stated, "Ridding the region of Saddam's brutal regime has created a more stable and secure world."
Rumsfeld served many roles in multiple administrations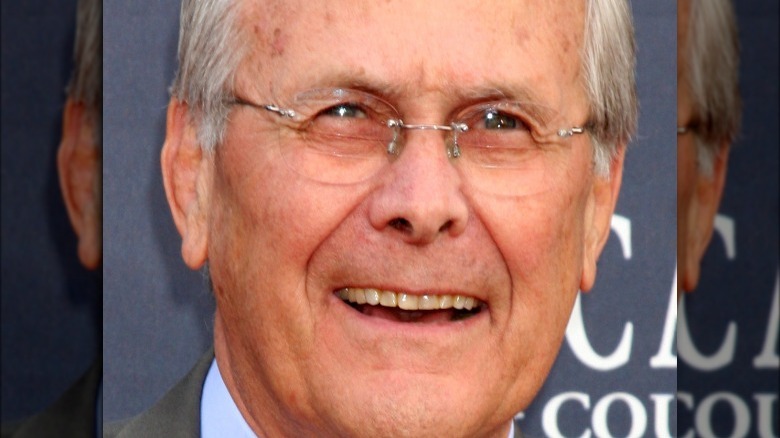 Shutterstock
Rumsfeld served many roles in the government over his lifetime. He was elected to four terms at the U.S. House of Representatives for Illinois, which he left to serve in President Richard Nixon's cabinet as the Director of the Office of Economic Activity. He also served as a counselor to President Nixon, an ambassador to NATO, and White House chief of staff for President Gerald Ford before becoming Defense Secretary (via the Department of Defense). 
After Ford's administration, he served as CEO, and eventually Chairman, of pharmaceutical company G.D. Searle & Company, and then went into private business, before returning to Washington, D.C. under President George W. Bush. During his time in private business, however, he remained active in public service, serving as presidential envoys and on various advisory committees and commissions. He was also the author of many books and papers, including "When the Center Held: Gerald Ford and the Rescue of the American Presidency."
Rumsfeld was worth approximately $20 million when he died, according to Celebrity Net Worth.
"History may remember him for his extraordinary accomplishments over six decades of public service, but for those who knew him best and whose lives were forever changed as a result, we will remember his unwavering love for his wife Joyce, his family and friends, and the integrity he brought to a life dedicated to country," the family's statement continued.
He received the Presidential Medal of Freedom in 1977 from President Ford. Rumsfeld is survived by his wife, Joyce, as well as their three children and many grandchildren and great-grandchildren.