The Death Of Donald Rumsfeld Explained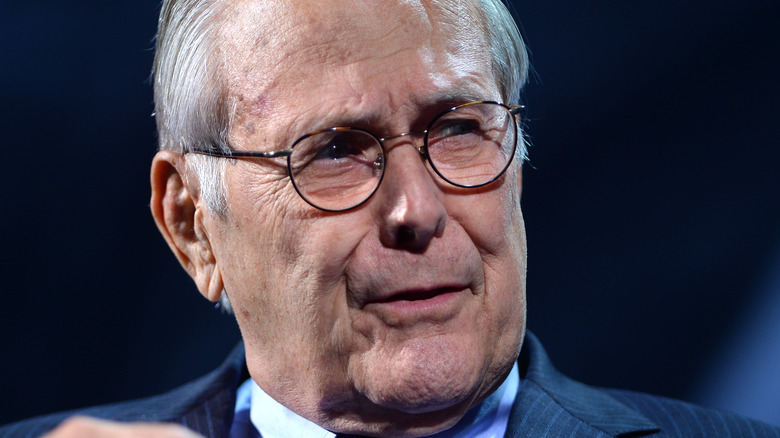 Riccardo Savi/Getty Images
Donald Rumsfeld, the former U.S. Secretary of Defense, died on June 29, reports CNN. He was 88 years old. A statement from his family that was shared on his personal Twitter account read: "It is with deep sadness that we share the news of the passing of Donald Rumsfeld, an American statesman and devoted husband, father, grandfather and great grandfather. At 88, he was surrounded by family in his beloved Taos, New Mexico," it said.
The statement also praised Rumsfeld for the years he spent as a former government official, and how he will be remembered.
"History may remember him for his extraordinary accomplishments over six decades of public service, but for those who knew him best and whose lives were forever changed as a result, we will remember his unwavering love for his wife Joyce, his family and friends, and the integrity he brought to a life dedicated to country."
Rumsfeld was the secretary of defense during the Bush administration. He served from 2001 to 2006, overseeing the Department of Defense and the U.S. policy regarding the armed forces, their deployment, and global threats posed to the country. He previously held that job title before under President Gerald Ford's administration from 1975 to 1977. Rumsfeld became known to many because he was one of the main directors of the Iraqi war, which started in 2003. It earned him a lot of criticism, which led to his resignation in 2006 (Politico). 
Donald Rumsfeld had a long career in politics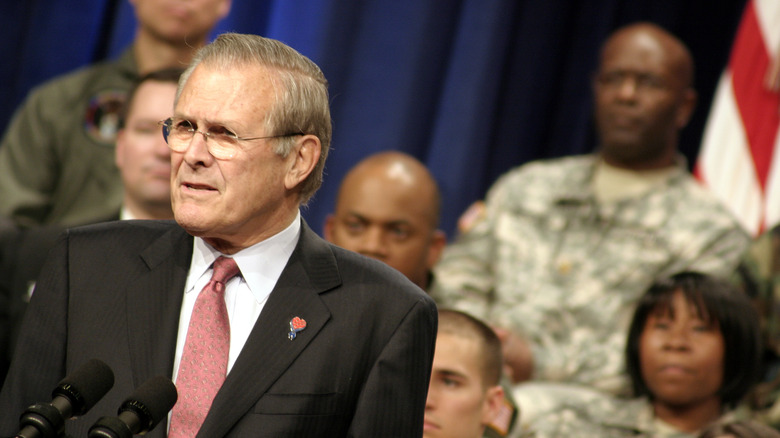 Shutterstock
Donald Rumsfeld's cause of death was multiple myeloma, family spokesman Keith Urbahn told The New York Times. It's not clear how long Rumsfeld was fighting cancer before his death on June 29. Prior to his passing, Rumsfeld had a long, storied career in politics and business.
His political career began when he was elected as a Republican congressman representing Illinois in 1962. He would hold that role for four terms before resigning in 1969 for a title in President Richard Nixon's administration as the director of the Office of Economic Opportunity (via the Office of the Secretary of Defense). While in Washington D.C., Rumsfeld would hold many roles in the White House, serving as a counselor to the president and eventually as an ambassador. When Nixon resigned in 1974 and was succeeded by President Gerald Ford, Rumsfeld at the time was serving as the American ambassador to NATO in Belgium (via the State Department). He returned to the U.S., and the following year he'd make history by becoming the youngest Secretary of Defense at the age of 43. He served for three years. 
When he left, he worked a few business jobs, but Rumsfeld returned to this role as the secretary of defense two decades after his first gig. However, his tenure during the Iraq war left him at odds in the public eye and he resigned before his term was up. He quietly left the public spotlight until 2011, when he wrote his memoir titled "Known and Unknown: A Memoir."