What The Deadliest Avalanche In US History Was Really Like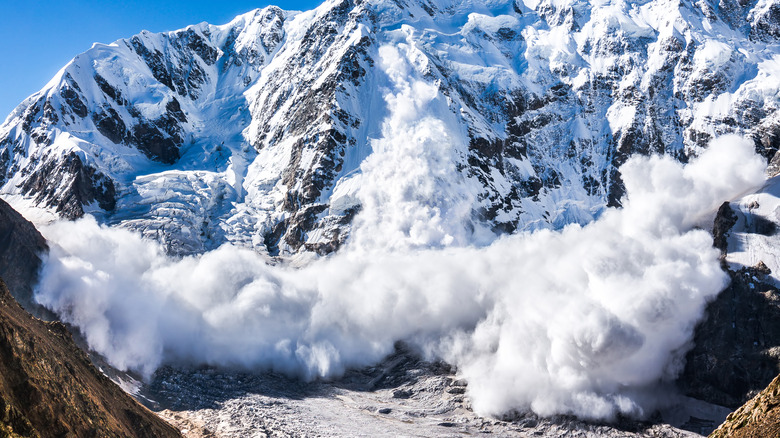 Shutterstock
In March of 1910, a nine-day blizzard blanketed the Cascades mountain range in Washington, causing an avalanche that claimed the lives of dozens of train passengers stuck on the tracks near Stevens Pass. It remains the deadliest avalanche in U.S. history.
The storm produced as much as a foot of snow in the mountainous area each hour at some points during the storm, resulting in an accumulation of over 132 inches, equal to 11 feet. Two trains that normally traveled through the area had been forced to stop temporarily. As the temperatures climbed, much of the snow melted, leading to a devastating avalanche that pummeled everything below it at speeds north of 80 miles per hour. The force of the avalanche derailed two of the trains and sent helpless passengers flying, many of whom were crushed under the weight of heavy and dense snow or fell to their deaths when the trains were thrown into a 150-foot-deep gorge (via History).
Among the 100-plus passengers, 23 lucky souls emerged from the trains alive. Meanwhile, the weather was so dangerous that season that it put a damper on recovery efforts, and the final body was not found until almost the end of July, 21 weeks after the incident (via NBC King 5). 
The tragedy of the Stevens Pass Avalanche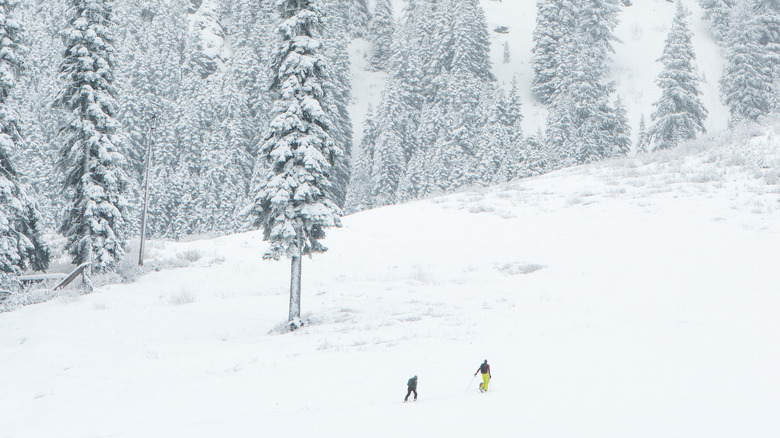 Shutterstock
The avalanche occurred near the town of Wellington, which was on the mainline of the Great Northern Railway. Despite the devastating ending to a seemingly routine trip across the Cascades, the situation could hardly have been anticipated. The Great Northern Railroad's trainmaster, William Harrington, along with his crew, were known for plowing snow on a steady routine, which kept the trains on schedule.
The conditions, however, proved far too difficult for the normally adept team — which endured numerous work stoppages and train delays. While forcing the trains to wait out the storm, Harrington's crew took on the snow, but because of the poor wages, eventually walked off the job, forcing the trains to maintain course and ultimately, setting the stage for the coming disaster.
Fortunately, some good did come from the incident. After the tragedy, the state built concrete snowsheds over the exposed areas of track to protect trains from the danger of avalanches. Washington also built an almost eight-mile-long tunnel through the lower mountains, which offered a safer journey through a critical part of the route.