What Allison Mack's Life In Jail Will Be Like After NXIVM Conviction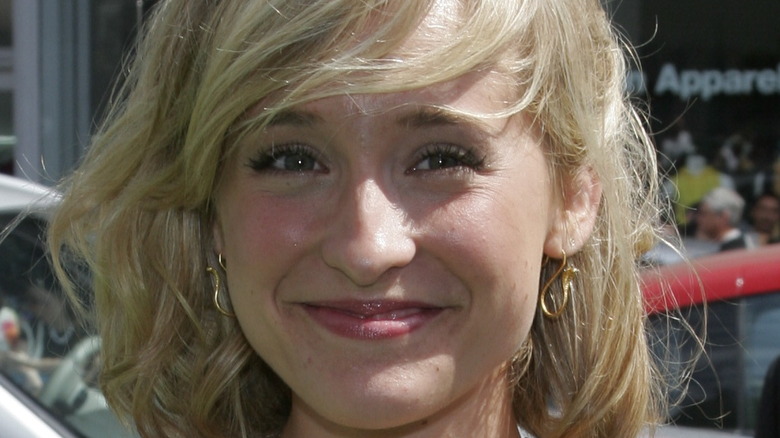 Shutterstock
Allison Mack, the actress who played Clark Kent's bestie Chloe Sullivan on the very popular CW series "Smallville," was sentenced to three years in prison for her participation in NXIVM. Mack pleaded guilty to crimes connected to her role as a high-ranking member of the upstate New York organization, including racketeering conspiracy and forced labor in 2019 (via CNN). She was facing 14 to 17.5 years behind bars but got a lighter sentence plus a $20,000 fine and 1,000 hours of community service because her cooperation proved vital to investigators. She has been under house arrest since she was taken into custody three years ago.
NXIVM was led by Keith Raniere, who is currently serving a 120-year prison sentence for sex trafficking, racketeering, wire fraud, and conspiracy (via Fox News). Raniere reportedly had a knack for taking in lost souls and convincing them he could help find their higher purpose as well as the enlightenment, peace, and happiness to be more successful. Members purportedly paid a great deal of money to hear him speak and take his courses. NXIVM sold itself as a self-help group, but prosecutors say it was, in fact, a sex cult (per NBC News).
Mac apologized profusely in her written statement to the federal judge. "I am sorry to those of you that I brought into NXIVM," stated Mack. "I am sorry I ever exposed you to the nefarious and emotionally abusive schemes of a twisted man."
Allison Mack's future life behind bars
According to Zoukis, a consulting firm that helps people adjust to the prison system, she will need to get her financial affairs in order and give someone — a parent, lawyer, or business manager — power of attorney. Allison Mack can expect to lose the freedom to wake up and go to bed when she wants. She will need money for commissary and phone calls, which are limited. She may also want to improve her physical shape and take care of any dental or health issues before her incarceration.
Fellow prisoners will prepare her meals, and it will be whatever they serve that day, not what she wants. She won't be able to take her time either; if you miss mealtime, you are out of luck until the next meal unless you have money for the commissary. Because she is a celebrity and due to the nature of her crimes, they will probably keep away her from the other inmates. 
If she is allowed into the general population, she will have to watch her back and become hyperaware. She will get paid next to nothing for jobs such as cleaning the bathrooms or working in the laundry room, per Zoukis. Prison will definitely be a culture clash and a wake-up call for someone who had a privileged life and the freedom to do and go where they wanted (via Medium). Where Mack will serve her time is undetermined, but her attorneys have requested that she be sentenced to a federal prison closer to her family in Orange County.