The Truth About Andy Kaufman's Imaginary Feud With Jerry Lawler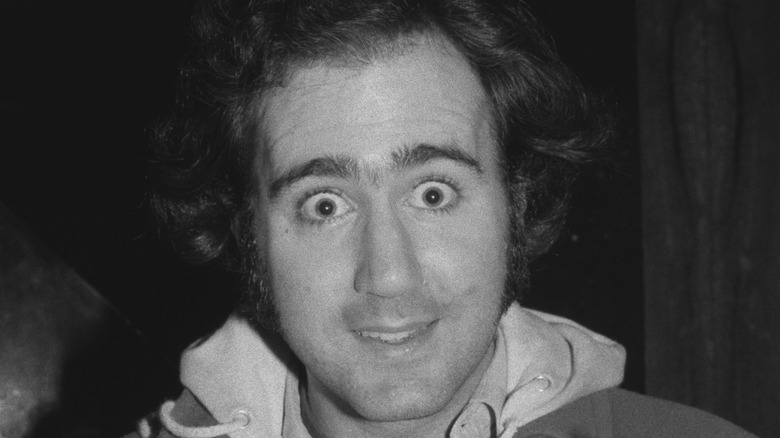 Michael Ochs Archives/Getty Images
What do comedy and wrestling have in common? Stagecraft, trickery, dramatic flair ... And the historic feud between professional wrestler Jerry Lawler and entertainer Andy Kaufman.
In the early 1980s, Kaufman was describing himself as the "Inter-Gender Wrestling Champion of the World" and exclusively wrestling women, as noted by the Daily Beast. His feud with Memphis-area pro wrestler Jerry "The King" Lawler came to a head in 1982, when the pair fought a wrestling match and subsequently appeared on "Late Night with David Letterman" (posted, with language uncensored, on YouTube). During the show, Lawler slapped Kaufman, apparently knocking the comedian out of his chair, and after a brief cutaway, Kaufman returned to the stage to launch a string of curse words — and a glassful of water — at Lawler.
The Los Angeles Times described the feud as "a 'meta' feud if ever there was one." The report described how the feud had certain political undertones, giving voice to the red versus blue divides of post-Vietnam America. Lawler, then a local celebrity in Memphis and an embodiment of macho, represented red; Kaufman, an avant-garde creative who ridiculed certain institutions, was blue. But — as with most things Andy Kaufman — there was more to the feud than met the audience's eyes.
In true Andy Kaufman fashion, his feud with Jerry Lawler was staged
Many years after Kaufman and Lawler appeared on "Late Night," Lawler revealed their feud was entirely staged and that the pair were actually close friends, according to The Los Angeles Times. It made sense: The theatrical nature of Kaufman's work and that of the wrestling world were a match made in hoax heaven.
Kaufman died in 1984, so he was never able to comment on the false feud or his friendship with Lawler. But ever since, rumors have swirled that his death, too, was a hoax. This conspiracy, and dialogue around the Kaufman-Lawler hoax, was renewed in 2013, when a girl appeared onstage at a New York comedy club claiming that Kaufman was her father and he was still alive, per CNN. She was later discovered to be an actor.
"I would like nothing better than to know that Andy was still alive and been with us all this time," Lawler told CNN that week. "But like anybody else, I really don't know any more than what I've heard." And if Kaufman ever does reveal his death to be an extremely elaborate and drawn-out prank, Lawler is game for a rematch. "There should be a WrestleMania rematch between Andy and The King," he told CNN. "We could rekindle the feud with no problem."