What Was NHL Player Matiss Kivlenieks' Net Worth When He Died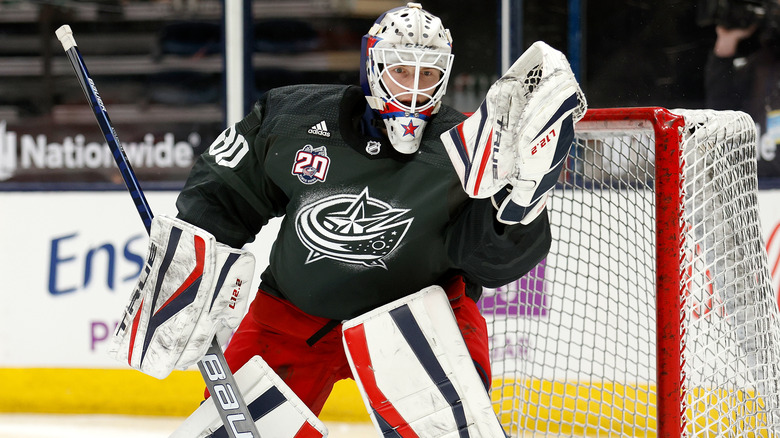 Kirk Irwin/Getty Images
Professional hockey player Matiss Kivlenieks, a goaltender for the Columbus Blue Jackets, sadly died on Sunday, July 4, after he was the victim of a freak accident involving a malfunctioning firework. According to CNN, he had been celebrating Independence Day at a party when an explosion caused fatal chest trauma and internal injuries. He was 24 years old.
Kivlenieks, who was born in Latvia, was first signed as a free agent to the Columbus Blue Jackets in 2017 for a three-year contract. The offer came after Kivlenieks was named the United States Hockey League's Player of the Year and Goaltender of the Year in 2016-17, per the official NHL website. During his time with the Columbus Blue Jackets, he often played for the team's American Hockey League affiliate, the Cleveland Monsters.
Though his salary in his first year was less than $18,000, he had a substantial sign-up bonus of $277,500 — meaning his total earnings for his first year were an estimated $295,307.  According to SpotRac, the hockey player's salary was $447,600 in his second year and $126,714 in his third. In total, Kivlenieks received around $869,000 from his deal with the Columbus Blue Jackets. The team then resigned Kivlenieks for a two-year deal through the 2021-22 season, per NHL.com.
Kivlenieks's new salary was impressive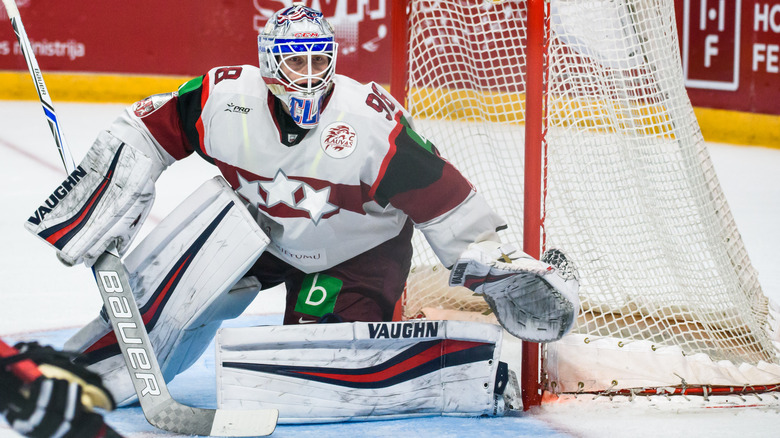 Shutterstock
According to PuckPedia, Kivlenieks' new two-year contract with the Columbus Blue Jackets was worth a total of $1,450,000. He received $700,000 for his first year and $750,000 for his second. It was anticipated that Kivlenieks would play in even more games in the future and could have depended on another substantial contract.
"His love for life and passion for the game will be deeply missed by all those who have been fortunate to have him as a teammate and a friend," noted NHL Commissioner Gary Bettman, per CNN.
In addition to his time in the NHL, Matiss Kivlenieks had also played for his native Latvia in numerous international competitions. He had most recently played for the Latvian national team during the 2021 IIHF Men's World Championship, which took place from late May to early June, according to ESPN.
When taking all of his revenue streams into account, PuckPedia estimates that Kivlenieks had career earnings of around $4,225,000 at the time of his death.