The Truth About The 82-Year-Old Female Pilot Who's Going To Space
Captivated by aviation since her youth, Wally Funk's career as a pilot began with her first flying lesson at age 9 (via The Guardian). In true pioneer fashion, she was the first woman to be certified by the FAA, receive a position with the NTSB, and serve as a flight instructor for the military. Perhaps most impressive, however, was her success during the completion of the NASA-backed First Lady Astronaut Trainees program. Despite being the youngest applicant, she was among the 13 accepted members, called the Mercury 13. While the 22-year-old performed better than not only her female peers but several men of the concurrent Mercury 7, the program was canceled. 
In spite of her background, NASA's acceptance of female astronauts the following decade, and a deep desire to go to space, Funk's subsequent applications were repeatedly turned down. In 1983, Sally Ride became the first American woman in space, while Eileen Collins became the first woman to pilot a space shuttle in 1995. Although Wally Funk was considered too old by NASA to go to space when these accomplishments took place, private space exploration in the 2020s will ultimately give her the opportunity to reach the stars.
Wally Funk is set to become the oldest astronaut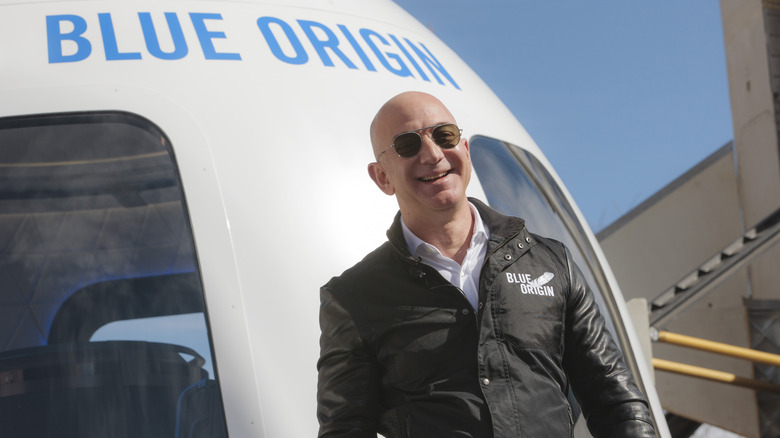 Bloomberg/Getty Images
As are other private companies like Elon Musk's SpaceX and Richard Branson's Virgin Galactic, Amazon CEO Jeff Bezos has an ongoing space program with the aim of establishing affordable space tourism. Although the program, named Blue Origin, is technically available to private individuals, tickets are currently sold at auction and have accumulated multimillion-dollar price tags (via Inverse). For Wally Funk, however, this is not an issue; according to Smithsonian Magazine, she will be joining their first manned space mission. 
Bezos personally approached Funk, sharing in an Instagram post that he wishes to fulfill her decades-long dream. This month, she will take off alongside Jeff Bezos, Mark Bezos, and the auction winner (via BlueOrigin). Not only will she be able to finally go to space after so many years, but going at this point in her life, she will set yet another record. At 82 years old, she will be the oldest person to go to space, beating out former Mercury 7 member John Glenn, who last went at 77 (via Space.com).