The Truth About NASA's Newest Chief Bill Nelson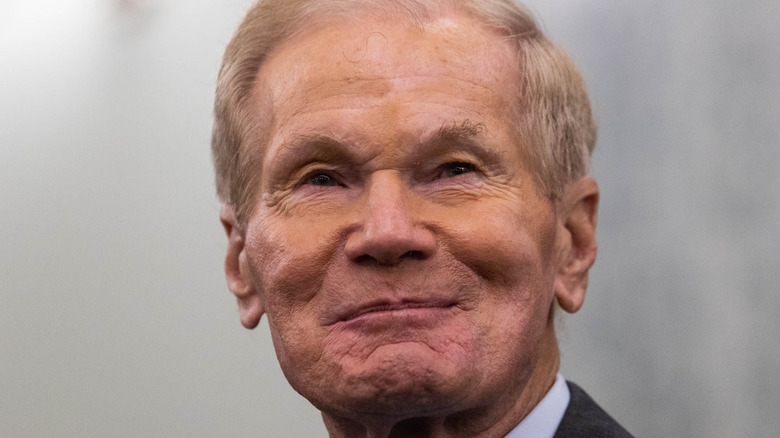 Pool/Getty Images
In April, former Senator Bill Nelson was confirmed by the Senate as the new administrator for the National Aeronautics and Space Administration, or NASA, per Associated Press. He was sworn in to his new role by Vice President Kamala Harris in May (via YouTube). Nelson was nominated for the role by President Biden. The Florida politician entered government in the early '70s by joining Florida State politics as a Democrat. He served from 1972 to 1978, and then later, he was elected as a U.S. Representative in 1978, where he served until 1991, says Britannica.
Nelson returned to his home state's politics when he was elected as the treasurer, insurance commissioner, and fire marshal of Florida in 1994 (via Astronautix). He operated from that position until 2000, when he left to become a U.S. Senator — a position which he held for almost 20 years, until 2018, when he lost his run to Republican Rick Scott. Since then, Nelson had quietly left politics — up until a few months ago.
Bill Nelson's space experience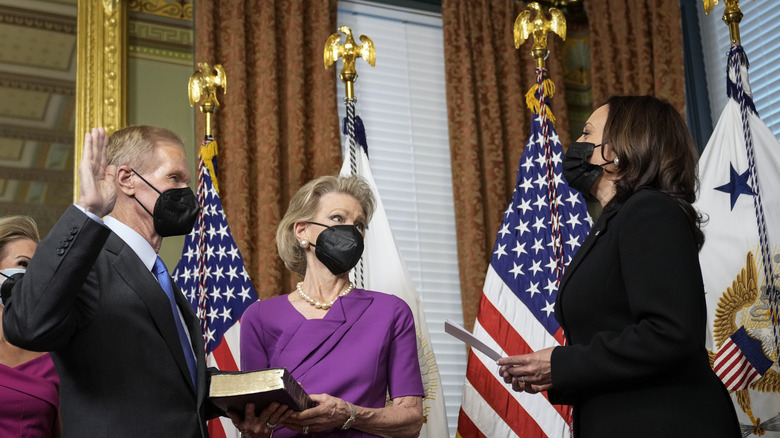 Drew Angerer/Getty Images
Now in his new role as NASA administrator, Nelson will head all of the agency's operations and communicate with the president, says NASA. Nelson recently told Space that he is honored and likened his excitement to a kid about to enjoy the ride. "It's a wonderful privilege to have the responsibility of leading this can-do agency. If you really want to know the truth, I'm like a kid in a candy store," said Nelson.
It is a job that Nelson is more than qualified for. In his years in Congress, Nelson flew to space (per Astronautix). In 1986 he was aboard Space Shuttle Columbia in a flight that lasted six days (via Britannica). The trip made him only the second active congressman to fly to space. He also represented Florida's Space Coast during his tenure as a congressman, and he's been a critical person in ensuring that space initiatives are advocated for in the government. In a White House statement via NPR about his nomination, it stated that Nelson has a pretty decent track record when it comes to American space-related issues, making him their best choice. "Most every piece of space and science law has had his imprint, including passing the landmark NASA bill of 2010," the statement read.