The Truth About Paul McCartney's Relationship With Ringo Starr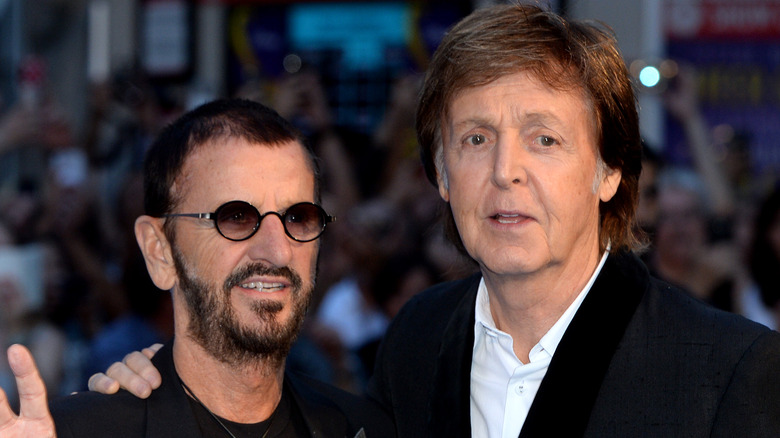 Anthony Harvey/Getty Images
As the last two surviving members of the Beatles, Paul McCartney and Ringo Starr continue to carry on the iconic band's legacy. Half a century since the Beatles' split, McCartney and Starr continue recording and performing as solo artists. The single, sensational decade of Beatles magic is presumably a lot for any individual to live up to, and the fact that McCartney and Starr shared that singular experience bonds them as musicians and friends.
"It was a super-incredible connection of peace and love," Starr said of the Beatles in a 2021 interview for Gulf News. "It was so great. I still miss John and George, but that's how life is. Paul and I are still great friends and we support each other."
Whenever McCartney and Starr reunite onstage today, a little bit of Beatles magic is revived, and a little bit more Beatles history is made. But what has the musicians' relationship been like offstage and behind the scenes? Here's a look back at the past six decades of the McCartney-Starr friendship.
Paul McCartney and Ringo Starr bond over 'coming from hardship'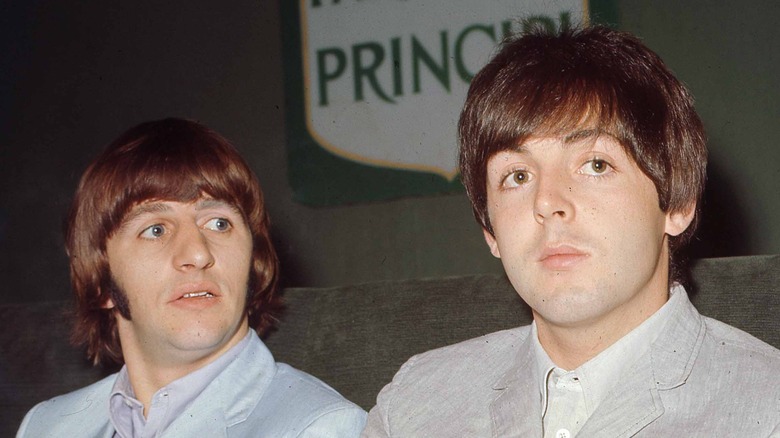 Umberto Cicconi/Getty Images
Paul McCartney's mother died when she was 47 and he was 14, of complications relating to breast cancer, per the BBC. Ringo Starr also grew up primarily in a single-parent household after his father abandoned the family when Starr was four, according to Biography. Starr also suffered from illnesses including tuberculosis and peritonitis, which led to him spending three years of his childhood in the hospital. The bond between the four members of the Beatles was ultimately strengthened by the respective tragedies they faced.
"I don't want to bring in the violins, but we all came from hardship," McCartney said during a 2015 interview for Rolling Stone. "All of us except for George lost someone. I lost my mum when I was 14. John lost his mum. But Ringo had it worst. His father was gone; he was so sick they told his mum he wasn't going to live. Imagine making up your life from that, in that environment. No family, no school. He had to invent himself. We all had to come up with a shield, but Ringo came up with the strongest shield."
Paul McCartney has praised Ringo Starr's versatility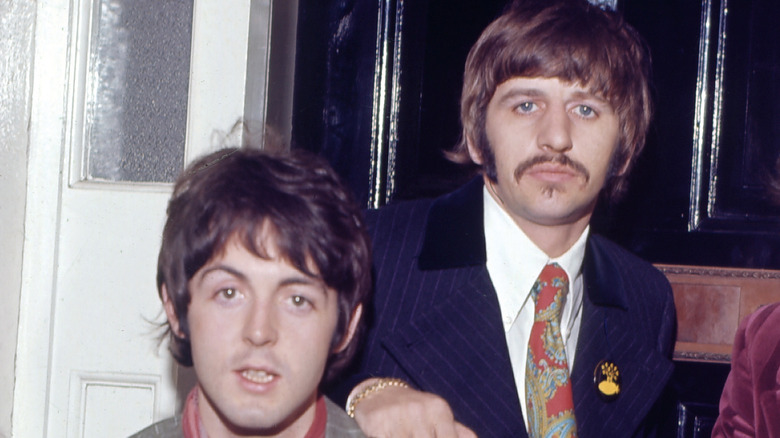 Icon And Image/Getty Images
"What would you think if I sang out of tune?/Would you stand up and walk out on me?/Lend me your ears and I'll sing you a song/And I'll try not to sing out of key." 
So goes the Beatles' 1967 hit "With A Little Help From My Friends" (via Genius). It's apt that the Beatle singing those lines was Ringo Starr, who rarely took the mic. "We wrote the line 'What would you do if I sang out of tune?' for [Starr]," Paul McCartney told Rolling Stone in 2015. "When you think about it, how many people in rock 'n' roll can sing? But Ringo can deliver a song."
McCartney has said that Starr was more game to tackle lead vocals than a drum solo. "Sometimes there'd be a dispute about, I don't know, the instrumentation or how a drum should go," he said on The Howard Stern Show. "We'd say, 'Okay Ringo, now you gotta do a drum solo,' and he'd say, 'No, I'm not going to,' and he'd refuse and that was it."
But when Starr agreed to play a solo, as McCartney told Rolling Stone, it was worth it. "We had to beg him to do it. The point where 'Carry That Weight' goes into 'The End' [on 'Abbey Road'], I told him it's a dramatic change in energy and tempo — we need just a few seconds. And he finally agreed to do it. And Ringo was great."
Paul McCartney has played a role in Ringo Starr's photography projects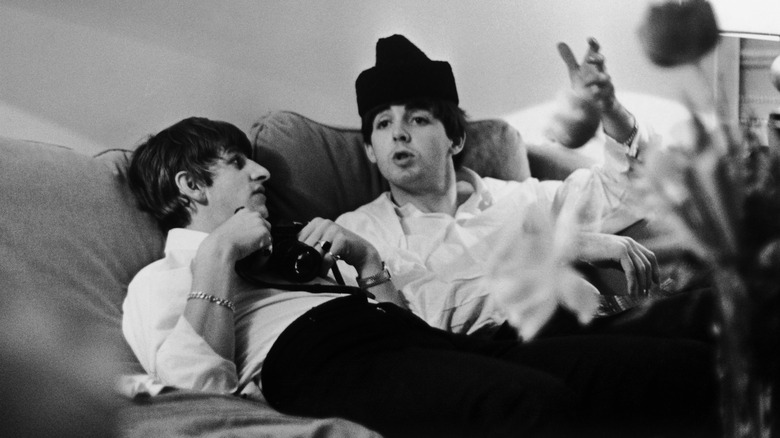 Harry Benson/Getty Images
Photography is one of Ringo Starr's hidden talents. According to Den of Geek, the first time the Beatles toured in Japan, Starr bought a Pentax camera that sparked a passion for photography he carries to this day. "I love taking photos of random things, and seeing how they all fit together," Starr said in 2018. "Whether it is at home or on the road, certain things catch my eye — and when I see something that interests me, that's the emotion of it, and I want to capture it. I am a photographer as well as a musician."
When Paul McCartney embarked on the creation of his own passion project, the 1967 made-for-TV musical "Magical Mystery Tour," Starr was credited as the movie's director of photography under his birth name, Richard Starkey. In recent years, Starr has released successful books of his photography, including 2003's "Postcards from the Boys," 2013's "Photograph," and 2018's "Another Day in the Life." "Another Day in the Life" featured photographs of McCartney among members of Starr's All-Starr Band.
Ringo Starr once quit the Beatles because Paul McCartney criticized his drumming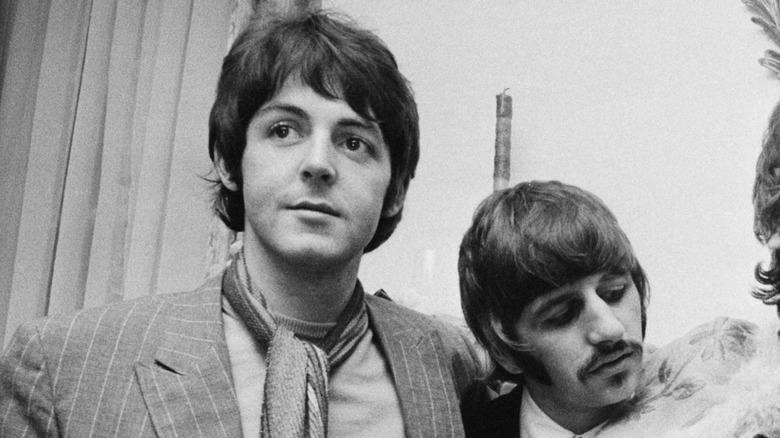 John Downing/Getty Images
In the Beatles' later years, the band's members took turns quitting — if only briefly. With George Harrison emerging as a songwriter on par with the iconic duo of John Lennon and Paul McCartney, Ringo Starr felt left out and decided to quit. "I went to see John ... [and] I said, 'I'm leaving the group because I'm not playing well and I feel unloved and out of it, and you three are really close.' And John said, 'I thought it was you three!'" Starr is quoted as saying in "The Beatles Anthology" (via Far Out magazine). "So then I went over to Paul's and knocked on his door. I said the same thing ... And Paul said, 'I thought it was you three!'"
According to The Beatles Bible, Starr left during an argumentative recording session for McCartney's "Back in the U.S.S.R." According to Far Out, Starr's departure was fueled in part by endless notes from McCartney regarding a tom-tom part. McCartney was left playing the drums in Starr's place, per This Day in Music.
After a family vacation to the Mediterranean island of Sardinia, Starr returned to the Beatles' recording studio refreshed. "I got a telegram saying, 'You're the best rock 'n' roll drummer in the world. Come on home, we love you,'" Starr said, per "Anthology" (via The Beatles Bible). "And so I came back. We all needed that little shake-up."
Paul McCartney and Ringo Starr once had a dispute about their albums' release dates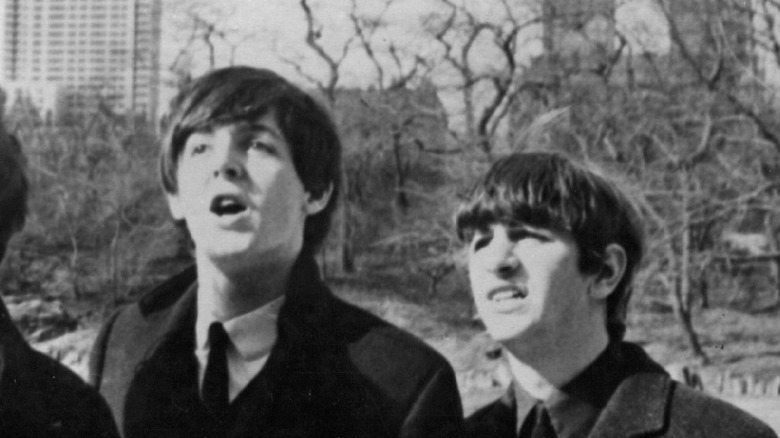 Keystone/Getty Images
In March 1970, Ringo Starr said during an interview on BBC Radio 2 that the Beatles would reunite once they'd finished their respective solo projects, according to The Beatles Bible. The band's record company, Apple, was set to release the 12th — and ultimately final — Beatles album, "Let It Be," the following month, postponing the release of Paul McCartney's solo debut album "McCartney" by two months. John Lennon and George Harrison wrote a letter breaking the news to McCartney, citing the competing release dates of "Let It Be" as well as Starr's solo debut album.
Starr decided to hand-deliver the letter to McCartney's doorstep, and McCartney was furious. "It was the only time I ever told anyone to GET OUT!" McCartney recalled later, as quoted in "The Beatles Anthology" (via The Beatles Bible). "It was fairly hostile. ... It hadn't actually come to blows, but it was near enough." Starr recalled the interaction during the 1971 court hearings regarding the Beatles' dissolution. "I went to see Paul," read Starr's statement. "To my dismay, he went completely out of control, shouting at me, prodding his fingers towards my face, saying: 'I'll finish you now' and 'You'll pay.'"
McCartney had his small victory: "McCartney" was released on April 17, while "Let It Be" was pushed to the following month. But the dispute reportedly soured relations between him and Starr for years.
Paul McCartney wrote the song Little Willow for Ringo Starr's late wife Maureen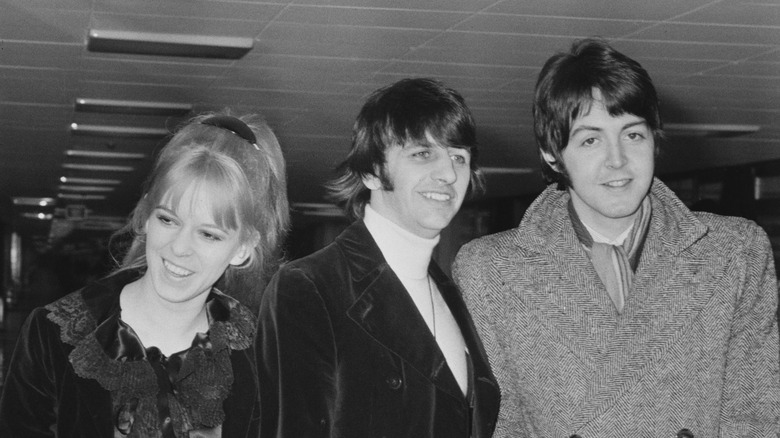 George Stroud/Getty Images
Ringo Starr's first wife, Maureen Cox, died in December 1994 due to complications from a treatment for leukemia, according to The Seattle Times. In 1995, Paul McCartney wrote the song "Little Willow," a tribute to Cox which appeared on the musician's 1997 album "Flaming Pie." "'Little Willow' was written after Paul learned of the death of a dear friend," read the album's liner notes. "He created the song not only as an immediate personal response to the sadness but, hopefully, as a salve for his late friend's children." The liner notes also included a quote from McCartney: "I wanted to somehow convey how much I thought of her. For her and her kids. It certainly is heartfelt, and I hope it will help a bit."
McCartney called the song "Little Willow" to make it more universal. "I know I was very affected by Maureen's death, and again I remember just going into a room and putting those sentiments into that song," he said (via The Paul McCartney Project). "The sort of fragility of life is in that song. But it wasn't called 'Maureen', it was called 'Little Willow'. I always prefer to conjure up some story or tale or some bit of imagination around something, because then I can get my emotions out but it's not quite as raw."
The song was later included on a tribute album to Princess Diana, who died in August 1997.
Ringo Starr and Paul McCartney recognize each other's important roles in the Beatles dynamic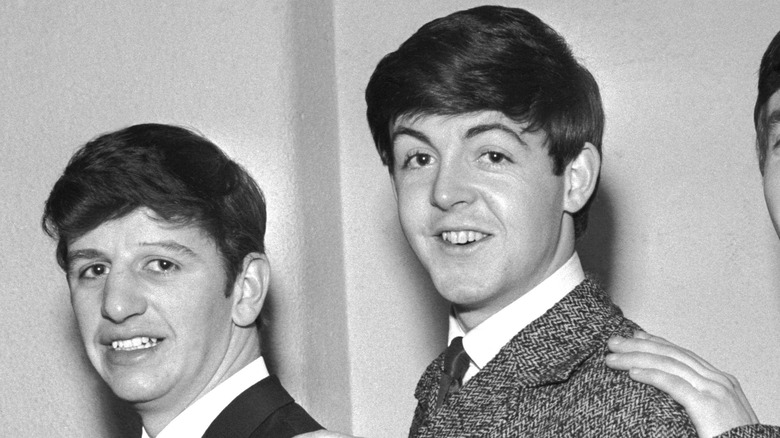 V&a Images/Getty Images
As the Beatle behind the drum kit and the band's least prominent songwriter, Ringo Starr doesn't always get as much credit as his bandmates. According to Rolling Stone, Starr and Paul McCartney shot a promotional video for a charity in 2011, in which McCartney said he was the "only Beatle left" before Starr pops up, asking, "What about me?"
Despite the tongue-in-cheek banter, McCartney has recognized Starr's essential role in the Beatles. "It's family," he told Rolling Stone. "Sometimes we get pissed off at each other. I'll want something from him and he won't give it to me, and I'll get pissed off. But then it passes. Brothers fight sometimes. There's this revisionist history that it was all John and Paul. But it was four corners of a square; it wouldn't have worked without one of the sides. Ringo was the right angle."
Starr, in turn, has recognized McCartney's importance in the band beyond songwriting, singing, and instrument-playing. "We would not have made as many records if it hadn't have been for Paul," he told Rolling Stone. "John [Lennon] and I lived very close, and we could get lazy. And Paul would call: 'Hey, lads. Time we went back in the studio.' So we've got to thank him that you've got 12 records."
Paul McCartney has deemed Ringo Starr the best drummer in history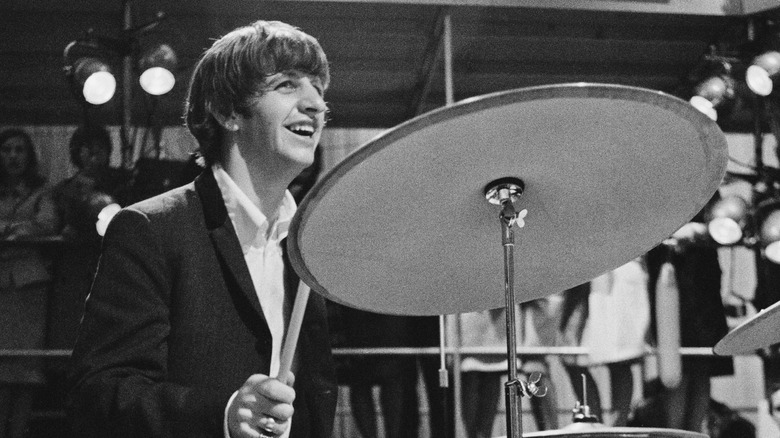 Jim Gray/Getty Images
During a 2020 interview on The Howard Stern Show, Stern asked Paul McCartney who he thought was "the greatest drummer in rock 'n' roll history." "I'd go Ringo top — he's something else," McCartney replied. "Second, I'd go Bonzo [Led Zeppelin's John Bonham]. And third, [the Who's] Keith Moon. I mean, that's mine. I'm going from that generation. Those are pretty good drummers, those boys."
The Beatles played their first show with Ringo Starr on drums in 1962 at the Cavern Club in Liverpool, England. "The first few minutes that Ringo is playing, I look to the left at George and to the right to John, and we didn't say a word, but I remember thinking, 'Sh*t, this is amazing,'" McCartney told Rolling Stone in 2015. "Look, I love Led Zeppelin, but you watch them playing and you can see them looking back at John Bonham, like, 'What the hell are you doing — this is the beat.' You could turn your back on Ringo and never have to worry. He both gave you security and you knew he was going to nail it."
Ringo Starr has deemed Paul McCartney an 'incredible' bass player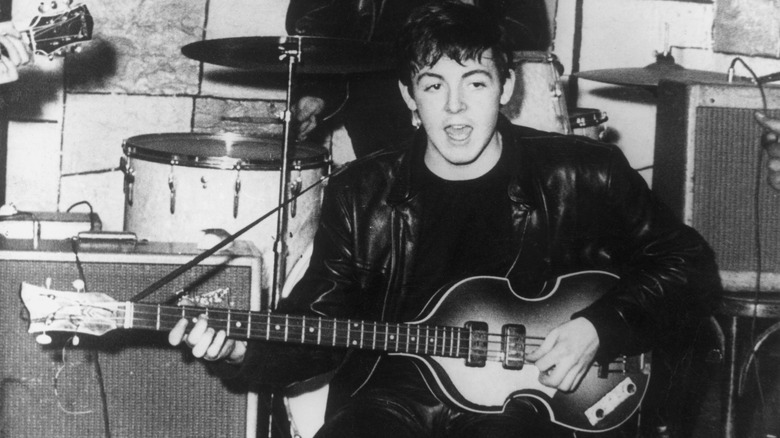 Keystone/Getty Images
Paul McCartney may be one of the best-known songwriters of all time, but Ringo Starr has highlighted a less obvious area of McCartney's musical expertise: the bass guitar. "When Stu Sutcliffe left the band, we needed a bass player," Ringo recalled of their Beatles days during a 2015 interview for Rolling Stone. "And John certainly wasn't going to play bass, and neither was George. So Paul did it. And he played incredible bass. People think, 'Oh, that's easy,' but the bass player and the drummer have to be friends, you know?"
Starr touched on McCartney's skills as a bassist in another Rolling Stone interview two years later. "He's an incredible musician," Starr told the outlet. "He's incredible at singing too and as a writer, but for me, as a bass player, he is the finest and the most melodic. It's always fun when we're playing together."
Referring to his relationship with McCartney at the time, Starr added, "We are still pals, but we don't live in each other's pocket."
Paul McCartney helped get Ringo Starr inducted into the Rock & Roll Hall of Fame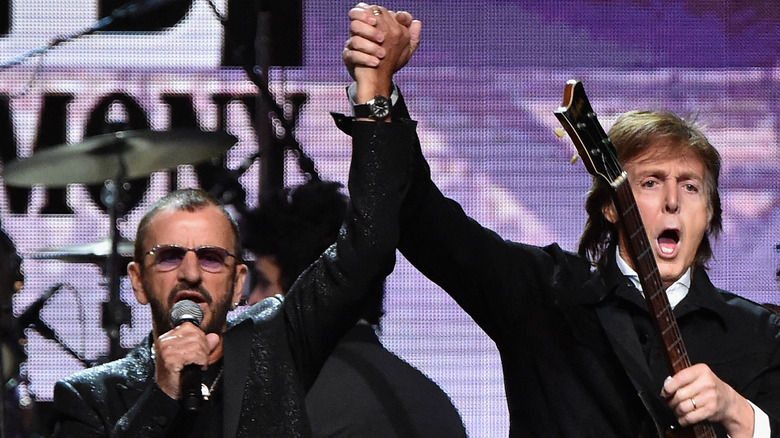 Mike Coppola/Getty Images
The Beatles were inducted into the Rock & Roll Hall of Fame in 1988, the same year as fellow legends Bob Dylan and the Beach Boys, according to the Hall of Fame website. John Lennon was posthumously inducted as a solo artist by Paul McCartney in 1994. McCartney was inducted himself five years later, in 1999, and George Harrison was inducted posthumously in 2004.
One night, McCartney was having dinner with former The Band guitarist Robbie Robertson when the latter pointed out that Ringo Starr had not been inducted into the Hall of Fame as an individual artist. According to Rolling Stone, even Beatles manager Brian Epstein was in the Hall of Fame by then. McCartney set out to right the wrong. "I said, 'Let me see what I can do,' " McCartney told Rolling Stone. "And I talked to Bruce Springsteen and I talked to Dave Grohl, and they both thought he should be in. And I said I'd do the induction. That took care of it."
"Paul said he's going to do the Hall of Fame speech," Starr told the magazine, adding as a joke, "I really think I'm doing it just to give Paul a night out. He likes to keep busy." In 2015, McCartney inducted Starr as an individual artist and a recipient of an Award for Musical Excellence.
Ringo Starr and Paul McCartney frequently reunite onstage (and sometimes offstage)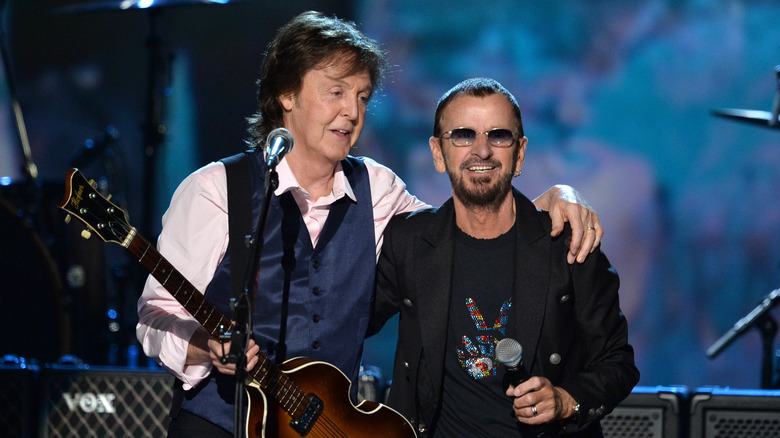 Kevin Winter/Getty Images
"If I get a chance now to play with Ringo, it's magical," Paul McCartney said during a 2020 interview for The Howard Stern Show. "Half the time, the minute I finished a line of vocals, I kind of wanted to just turn around and look at him and just drink it all in and go, 'This is Ringo, man. This is my brother. I love this guy.' And I'll tell you what, we listened to the tapes afterward and when he comes in on the drums, boy, it makes a huge difference."
Starr joined McCartney onstage for multiple tour dates in 2018 and 2019, from London to Los Angeles. "I love that, getting up with him," Starr told The Irish News in 2021. "And it's magic for the audience as well as us ... It lifts everything, in a joyous way. So, yeah, I had a great time."
Referring to the dynamic between himself and McCartney, Starr added, "We're still pals. We don't hang out with each other a lot. But if we're in the same country, and if we're in the same town we always have a dinner, and we say hi or he comes over here or I go over to his house."
Ringo Starr and Paul McCartney have collaborated continuously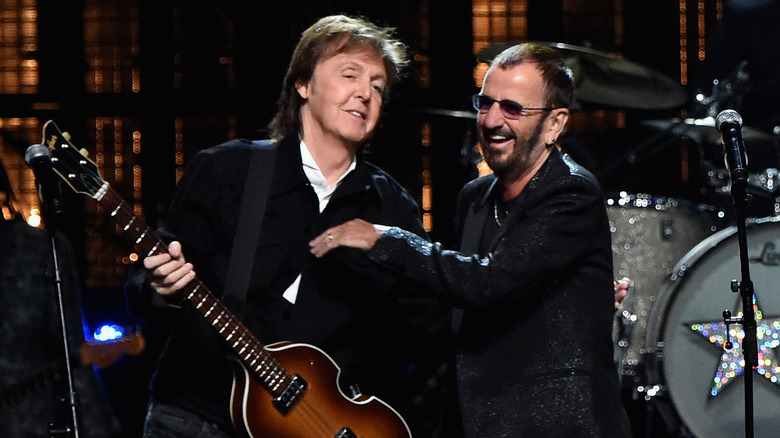 Mike Coppola/Getty Images
As the last surviving members of the Beatles, Paul McCartney and Ringo Starr have collaborated on a number of projects and Beatles tributes, including recordings and live performances. In 2019, the pair collaborated on a recording of the song "Grow Old With Me," which John Lennon wrote in 1980 before he was fatally shot, per The Guardian. McCartney also contributed his vocals and bass playing to two tracks on Starr's 2017 album "Give More Love" and his 2020 track "Here's To The Nights." According to People, the pair have been collaborating as solo artists for around 25 years, starting with McCartney's 1997 song "Beautiful Night."
"To sit down with Ringo is always a great thing," McCartney told GQ in 2020. "It's always worthwhile. It's always fun ... I'm thinking, 'My God, you know the memories across this ten yard gap here, him on the drums and me on the bass, the lifetime that's going on here.' So, you know, it's a sort of magic. And he and I these days get quite emotional about it, because we should. We ought to. It's a bloody emotional thing, the years, if nothing else."