Is The Curse Of The Wheaties Box A Real Thing?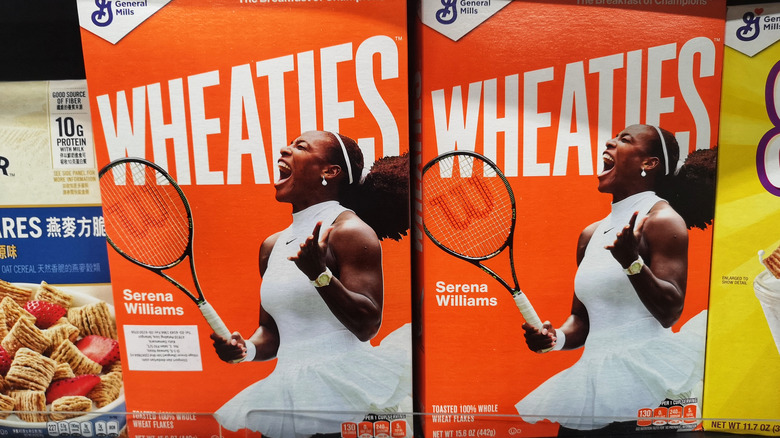 Shutterstock
Being selected as a Wheaties endorser has long been a badge of honor for competitors across different sports. It is, after all, the "breakfast of champions." However, some fans claim that those who appear on the iconic cereal box are cursed to suffer misfortunes after their boxes become available. It may be a series of subpar performances or career decline, a serious injury (or several of them), or some sort of public scandal. Regardless of how it strikes, there are those who believe that such a curse exists.
As a point of comparison, we need to look at the arguably far more infamous "Madden Curse." Although Tom Brady and Patrick Mahomes are among those who were unaffected after appearing on the cover of EA Sports' best-selling football video game, others struggled through subpar years but quickly rebounded (Drew Brees, Larry Fitzgerald), quickly washed up due to injuries and other factors (Peyton Hillis, Vince Young), or faced career-threatening legal issues (Antonio Brown) in the season(s) after becoming "Madden" cover athletes, as documented by Digital Trends. 
The players we named are far from the only ones who were seemingly worse for making the cover of "Madden." But what about the Wheaties box? Should one's appearance on the box be a cause of concern for fans? Or is it one where fans unnecessarily focus on the 10% or so who were supposedly "cursed" as opposed to the 90% who weren't?
Most top athletes have proven immune to the Wheaties Curse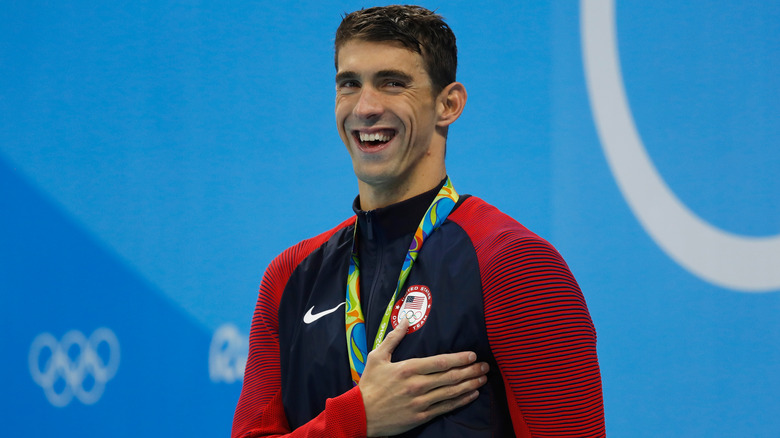 Shutterstock
If the Wheaties Curse does exist, one has to look a lot harder for examples of it. As you may notice in USA Today's partial list of the popular cereal's endorsers through the years, almost all of them kept enjoying sporting success after they appeared on the box. Swimmer Michael Phelps, who was featured in 2004, kept winning Olympic gold until the 2016 Games, and he is currently the most decorated Olympian of all time, with 28 medals. And while Peyton Manning was definitely overshadowed by Tom Brady in terms of Super Bowl wins, he did win two championships during an 18-year NFL career. He was then selected as part of the Pro Football Hall of Fame's class of 2021, per the Indianapolis Colts website. 
You've also got Kevin Garnett, who was on the Wheaties box to commemorate the Boston Celtics' 2008 NBA championship win. He never won another title, but he did play in three more All-Star Games before his retirement in 2016 (he retired with 15 appearances) and was likewise inducted into the Basketball Hall of Fame as part of its 2020 class, via Basketball-Reference.
If there's anyone in USA Today's list who could be considered "cursed," one could mention sprinter Justin Gatlin, who received an eight-year ban from competition for a second failed drug test in 2006 (via Yahoo Sports), and gymnast Carly Patterson, who retired soon after the 2004 Olympics due to a back injury, according to Inside Gymnastics.
Other athletes who may have been 'cursed' by the Wheaties box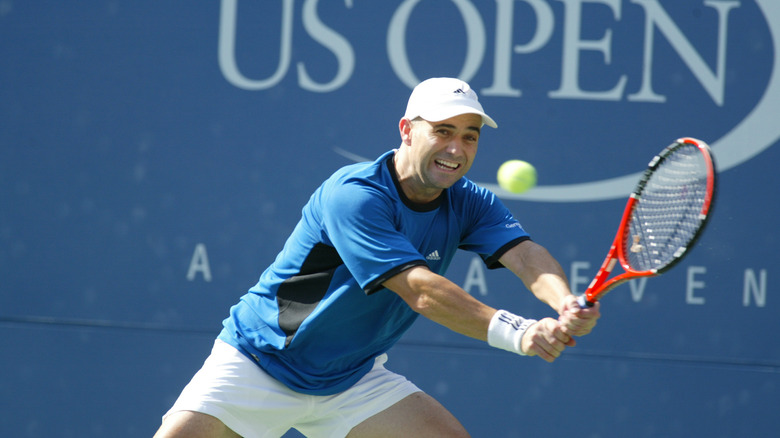 Shutterstock
Based on what we mentioned above, appearing on the Wheaties box doesn't seem to be a harbinger of future failure, injury, or scandal on the same level as being featured on the cover of "Madden." But there have been a few other instances where a Wheaties endorsement preceded an athlete's decline. As detailed by Gothamist, tennis legend Andre Agassi was shockingly upset by the then-271st-ranked Jerome Haehnel in the first round of the 2004 French Open; this came shortly after it was announced that he would be appearing on a special edition Wheaties box to mark the tournament's kickoff. While he did have some solid outings after that, injuries and age ultimately led to his retirement after the 2006 U.S. Open, according to Britannica.
Another athlete purportedly affected by the Wheaties Curse is Anthony Pettis, as pointed out by several members on Sherdog's forums. In 2014, he became the first MMA fighter to appear on a Wheaties box, and he successfully defended his lightweight title against Gilbert Melendez at UFC 181 not long after his box's unveiling. At that point, he had an 18-2 record, but after losing the championship at UFC 185 in May 2015, he was never quite the same. At the time he left the UFC in late 2020, Pettis' record had dropped to 24-10, and he has since lost two more fights since joining the Professional Fighters League (PFL).