The Untold Truth Of Nyjah Huston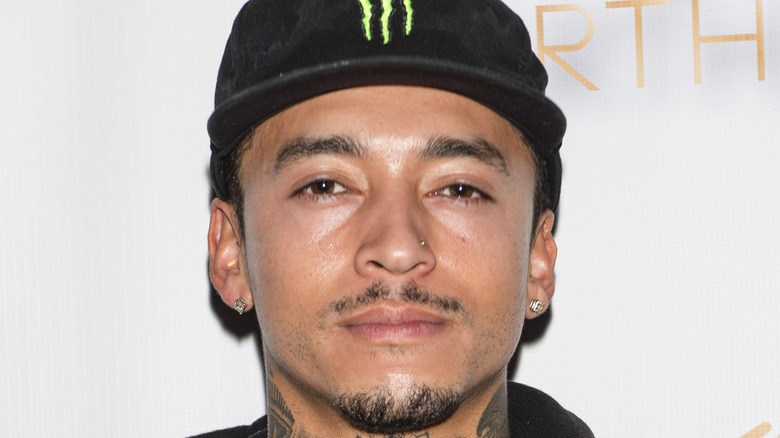 Michael Bezjian/Getty Images
Qualifying for his first-ever Olympic Games, Nyjah Huston is not only set to make his debut at the Tokyo Olympics, but he is also leading the first U.S. Olympic skateboarding team, per ESPN. The skateboarder will be part of a team of a dozen Olympians who will represent the American flag in the sport, which is also making its debut appearance at the international sporting event, reports NBC News.
The 26-year-old qualified last month after nearly clinching another skateboarding title at the Street Skateboarding World Championships. Currently, he is one of the top professional skateboarders in the U.S. and one of the most decorated. In the last decade he's picked up five gold medals for competing in the World Skateboarding championships. His last three medals were consecutive wins from 2017-2019 (Sportsmatik). However, he still stands the chance to win a different type of gold medal in a whole new arena this summer as he goes for gold with Team USA's skateboarding team. So who exactly is Nyjah Huston?
Huston's early life and childhood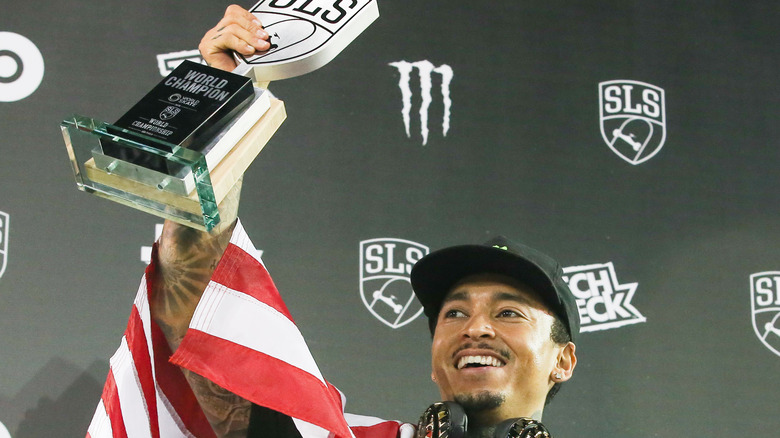 Alexandre Schneider/Getty Images
Huston was born as Nyjah Imani Huston in Davis, California on November 30, 1994. He is one of five children that his parents, Adeyemi and Kelle Huston, have together. He is also smack-dab in the middle as the third child, with two older brothers, and a younger brother and sister, per NBC Olympics.
His first go with a skateboard started at a very young age all thanks to his father, who was a skater himself. Huston was a mere toddler when he first discovered his father's skateboard and pushed it around before he could actually start balancing himself on it. The elder Huston even bought a skate park and all of the Huston kids picked up skateboarding skills as a result, says Rolling Stone.
Nyjah's skills were so outstanding that when he was seven years old, his talents on the board were unmistakable. At the start of his pre-teen years, he was gearing up and partaking in several competitions. Then at 10 years old, he took home his very first prize — the first of many to come.
He grew up extremely isolated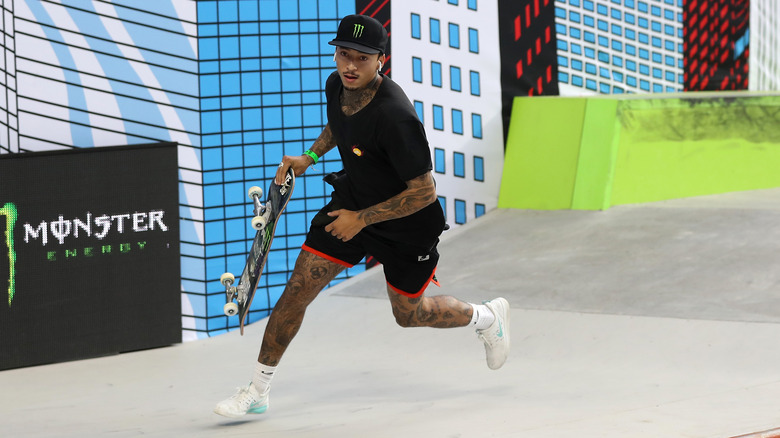 Sean M. Haffey/Getty Images
While Huston's talents were financially supporting his family very well, things took a turn when his father uprooted the family and relocated everyone to Puerto Rico. One could assume life on a Caribbean island would be swell, but his life there would be anything but. It was pure isolation. In Puerto Rico, Huston and his family lived away from any city center or large town. Instead they lived in a mountainous area, completely isolated from locals. Nyjah told Rolling Stone that he and his siblings often had to fetch water and even went without power sometimes. Huston also added that he remains bewildered about that particular stage of his life. "...To this day, I still don't really understand why my dad moved us all there. It felt super random. I would say my dad wanted to keep his kids isolated from social influences like going to school and making friends," said Huston.
Magnifying the sense of boredom he experienced there, Huston says the island wasn't an ideal place for continuing his love of skateboarding. And he also wasn't taking part in as many competitions. When his parents divorced, Huston was sent to live with his mother back in his home state of California where he reintegrated with the community he'd been missing.
Huston used to have super long hair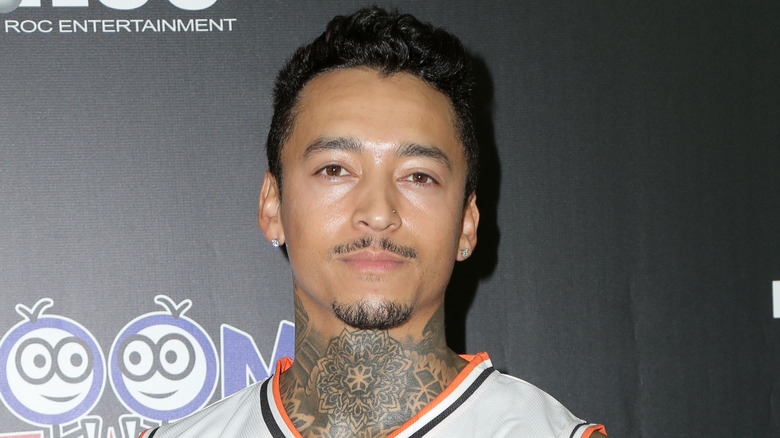 Shutterstock
Huston is recognizable to most fans now with a shorter haircut, but once upon a time the skateboarder had some long locks. Ever since his days as a young skater, Huston had a lot of hair. He took after his father, who also had dreadlocks, which is a symbol of his Rastafarian belief that hair shouldn't be cut. Despite the type of challenges one might think you'd come across with knee-length hair, the locs never interfered with a young Huston; in fact it was the opposite. His hair was so long that it became a recognizable feature of his and even helped him become more noticeable to potential sponsors, says X Games.
But not long after moving back to California to be with his mother after his parents' divorce, he made the decision to chop it all off. His parents' separation was messy and in the process, his father refused to give up skateboarding videos of Nyjah. It saddened Nyjah, but as a symbol of his start on a new chapter of his skateboarding career — without his father — he took some scissors to his hair. The action was an aesthetic one, as much as it was also his official departure from Rastafarianism, a religious belief he grew up in, and by extension, a connection with his father. (He no longer has a connection with his father.)
Nyjah used to be a vegan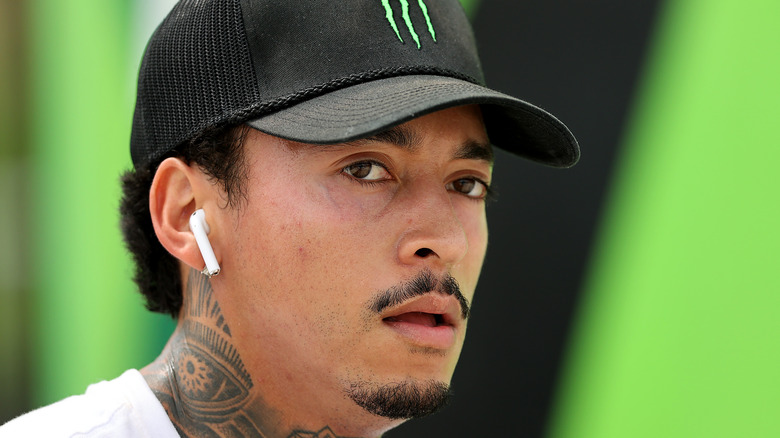 Sean M. Haffey/Getty Images
Rastafarianism is a religion and movement founded in Jamaica (via Britannica). Its practitioners are often called Rastas, and along with their belief that former Ethiopian Emperor Haile Selassie I is a god, there are several principles that are followed. One of them is health consciousness, which asks for a diet that excludes alcohol, dairy, processed foods, and most meats. While some diets vary, Huston's was purely vegan growing up, reports NBC. Although he currently has a much more diverse palate than the one he was raised on, the health awareness instilled in him continues to be a mainstay in his life, he told NBC.
"I was raised as a pure vegan and ate home-cooked meals for the first 15 years of my life. I now eat lean proteins like fish and chicken combined with a good amount of carbs and lots of vegetables. I do not eat fast food or junk food. Fortunately, my parents raised me with a very healthy diet and educated me about the value of nutrition," said Huston.
He might possibly have 200 tattoos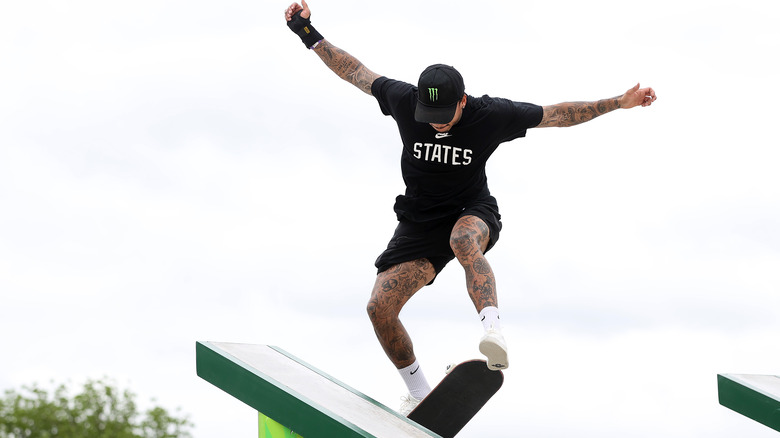 Sean M. Haffey/Getty Images
From head to toe, you can spot a tattoo on Huston's body. He told GQ Magazine (posted on YouTube) that he got his first ink design when he was 18 years old. It's a tattoo of a common saying among skateboarders that reads "Skate and Destroy." But since then he hasn't stopped, and now he's lost count and can only estimate that the number of tattoos he has is in the ballpark of 200. Huston is a perfect example of someone who ensured their body is a canvas (for tats, that is). His designs run the gamut, and for the most part they are random images that he just spontaneously chooses. It happens so often that he even dedicated his left leg just for random ink. Designs include things like skulls, fruits, food, and even horror film characters.
Huston maintains that he prefers black-inked tattoos above all, and rarely chooses colored ones. Nearly every limb and body part he has showcases several tattoos, which makes him more tattooed than bare skinned. "I feel like I have so many tattoos that probably 90 percent of my body is covered at this point," said Huston to GQ.
And while it sounds like he takes pleasure in tattooing everywhere, surprisingly, his face is ink-free. So far, anyway.
This summer's Olympic games are scheduled for July 23-August 8 in Tokyo, Japan.