The Disturbing Discovery Made 100 Years After The Tulsa Race Massacre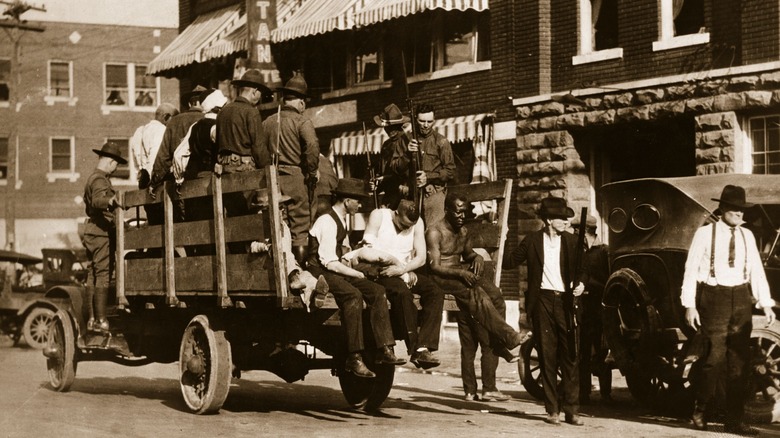 Hulton Archive/Getty Images
The Tulsa Race Massacre is considered one of the worst racial massacres in American history. On June 1, 1921, the Oklahoma city of Tulsa lay smoldering from being set ablaze the night before by a white mob that overran the thriving Greenwood neighborhood — nicknamed "Black Wall Street" for its wealth. The bodies of dozens of massacred Black residents also filled the streets, as armed white men had invaded the neighborhood and shot at any Black person they saw. The origin of the carnage: anger over an alleged incident between a Black man and white woman on an elevator two days earlier. Police arrested the Black man, but an article calling for his capture led to a mob forming outside the courthouse he was being held in (per Tulsa World). Unable to get to him, the mob invaded Greenwood.
It was an onslaught that destroyed 35 city blocks, which included homes and businesses, says History. After the massacre it was reported that fewer than a hundred people died; 10 white victims and 26 Black victims (via Britannica). There was never an official or accurate number of casualties documented. Historians today, however, estimate that as many as 300 lives were lost.
Unearthing Tulsa's dark past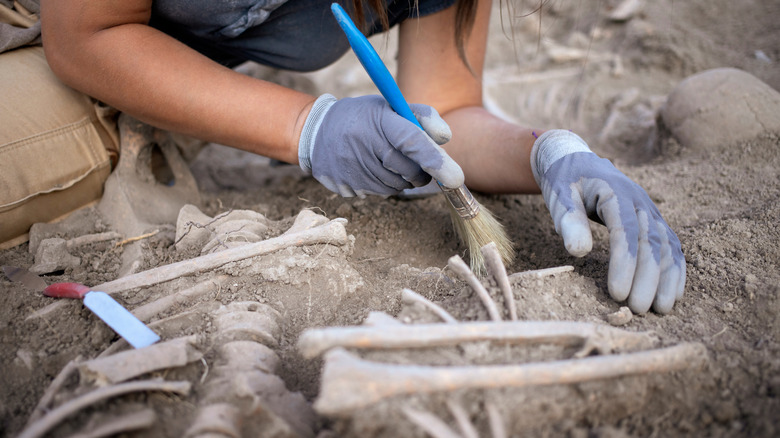 Shutterstock
An official number might never be recorded but 100 years after the massacre, experts may possibly be able to learn and trace the identities of several Tulsa Race Massacre victims. Last year, researchers discovered a mass grave in a Tulsa cemetery, reported ABC News. They unearthed 12 coffins inside that grave, adding to the number of additional sets of remains they'd found nearby the previous day. 
The discovery was made as part of a city-backed effort to find possible mass graves that existed but were never researched or examined. In 2018, Tulsa Mayor G.T. Bynum initiated the investigative project called 1921 Graves Investigation to bring some closure and truth to one of the darkest moments in the city's history. The Oaklawn Cemetery has been the sole site of these excavations, as it is also the only cemetery with marked graves of just two of the Massacre's victims. Last week, Tulsa officials announced that the first phase of their investigation has concluded, and in total, the human remains of 19 people have been found. But recently, they've also made another discovery.
A new discovery reveals unsettling details of the Tulsa Race Massacre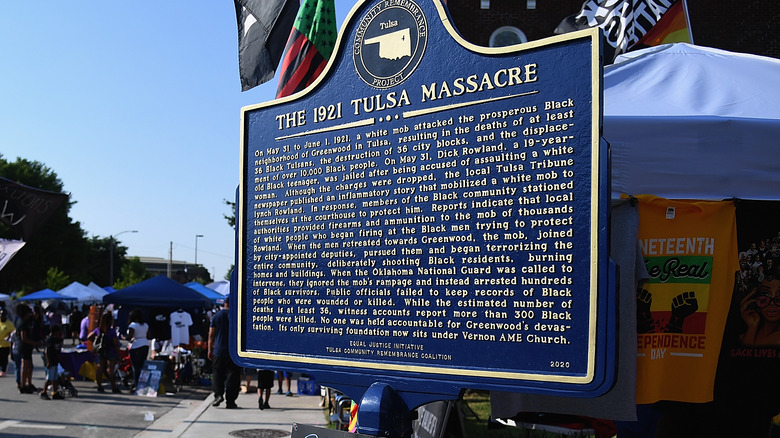 Michael B. Thomas/Getty Images
Currently, forensic experts are conducting a month-long analysis on the remains at an onsite lab inside the cemetery and determining the identities, race, and cause of death. This process has only revealed the cruel and shocking ways that victims of the massacre died. 
Recently, experts made a disturbing discovery in determining that one victim was a Black male who had several gunshot wounds to his head and shoulder, reported The Washington Post. Another male victim was the source of so many gunshot wounds that a century later, experts found a bullet still intact in his shoulder bone. In addition, they also revealed that five sets of remains were those of children, along with those of an old woman. As researchers continue to examine the skeletal remains, more unsettling details are likely to come out. Of the 19 remains found since, only nine have been analyzed. After analysis, DNA will be tested to possibly link them to any living descendants.