This Is What Makes The Hammerhead Worm So Horrifying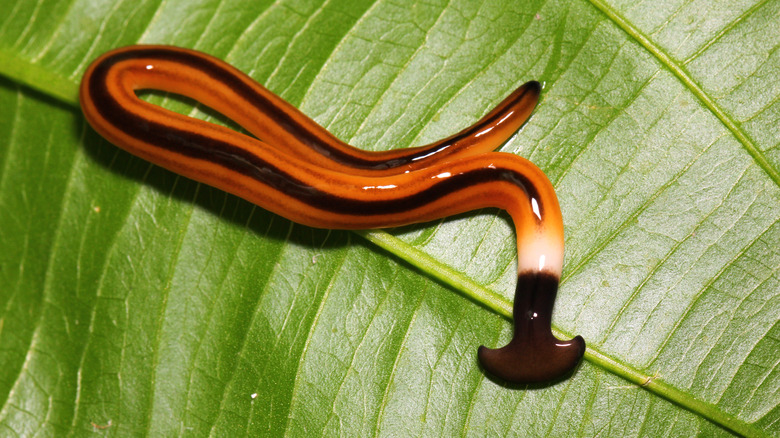 Shutterstock
Meet the hammerhead worm. It falls within the Platyhelminthes family, or flatworms, which is widely considered one of the most primitive animal groups on our planet. These predatory worms actually feed on earthworms, which are beneficial to all of our respective gardens. While not presenting any direct threat to us humans, they can really harm the creatures who tend to our flowers and trees (via Australian Geographic).
The hammerhead worm slithers about, sans both circulatory and respiratory systems, a skeleton, and even doubles up its mouth as an anus. It's the life of the party!
These carnivorous worms are named for their distinctive hammer-shaped heads. The hammerhead typically sports earth-tone hues, like brown, gray, and green, while growing to nearly 3.1 inches in length if it is a small hammerhead (B. adventitium), or north of nine inches for B. kewense, for adult hammerheads.
The hammerhead worm is a rare invertebrate that produces tetrodotoxin, a neurotoxin, and is also believed to be nearly immortal. In fact, a hammerhead possesses the ability to detect and track its food, which it will then pin against the surface, and wrap them in a slimy secretion of digestive enzymes, before eating its prey. When it has fully digested its food, its mouth then becomes the anus. When food is light, it will also actually treat its tissue as food and cannibalize itself (via Thought Co.).
The Hammerhead Worm is a scientific anomaly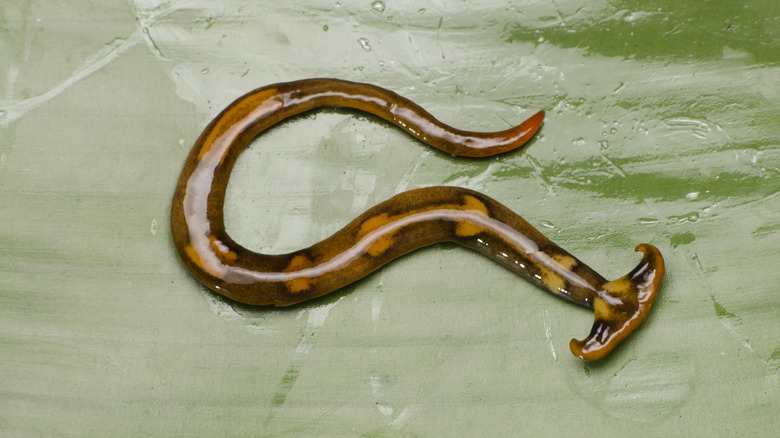 Shutterstock
The hammerhead worm uses an extended pharynx to secrete its digestive enzymes on its prey, sucking the liquefied and melted tissue by way of its cilia. It then stores food in vacuoles. 
These worms also possess both testes and ovaries, making them hermaphrodites. When they reproduce sexually, each of them exchanges secreted gametes with one another. After three weeks of egg capsule formation, they hatch and the worms then mature but fluctuate colors based on their life phase.
However, the hammerhead worm typically tends to reproduce asexually, by fragmentation, and is left behind as a slimy tip stuck on a leaf. Additionally, if the tip were to be cut into sections, each could potentially regenerate into other adults as well, just like how injured worms regenerate (via Thought Co.).
The hammerhead species is believed to be detrimental to the earthworm species but also keeps it in check as well. It is essentially a double-edged sword.