AC/DC's New Business Venture Includes A Subtle Nod To Satan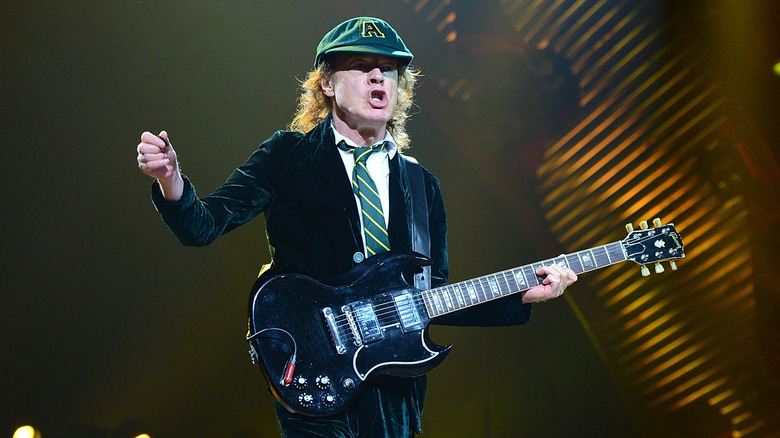 Lisa Lake/Getty Images
The classic rockers of AC/DC are known for their hard-partying ways, but not all of them. According to The Sound, original co-founder and guitarist Angus Young doesn't drink alcohol at all. But it's not because he's a recovering alcoholic. He has actually never been able to hold his liquor. Rolling Stone reports that Judas Priest singer Rob Halford once saw a single glass of champagne make Young go "utterly legless within seconds" on tour in 1979. "He changed before my eyes," Halford recalled.
But even if their favorite shredder is a teetotaler, it is well known that AC/DC fans are by and large not. The Australian rockers are well aware of how their fans like to enjoy a case or three of cold ones as they listen to hits like "Hell's Bells," "Highway to Hell," "Back in Black," and so many more. (Some would argue being drunk is essential to still enjoying AC/DC's music this far into the 21st century.) So the band has decided to release a product that's perfect for their fans who never seem to get tired of the same thing over and over again.
AC/DC's latest brew is of the devil
If you need a little help getting through their latest full-length studio release — 2020's "Power Up" — AC/DC has just the thing for you: two new beers marketed with themes taken from their albums. According to Loudwire, the band collaborated with the Calicraft Beverage Co. to create two IPAs, one of which includes a subtle nod to the band's adopted mascot. The PWR Up Juicy IPA will boast a devil-approved 6.66% alcohol per volume. However, for those of us who require a drink as stiff as our upper lips in order to make it through an entire AC/DC album, there's the TNT Double IPA, with an APV of 8.2%, which is themed on the band's classic 1976 record "High Voltage."
Calicraft CEO Blaine Landberg said that the collaboration is "inspired by the band and is designed to be paired with their music," which we assume means there's little variation between the two. This isn't the first time the Australian rockers have gotten into the beer game. In 2015, they released tallboys and mini kegs of a brew called Rock or Bust Premium Lager. Despite its members creeping closer toward senility, AC/DC continues to choose rock over bust, and now with the help of their two new Beelzebub-recommended brews, you can too.