Insane MTV Shows You Forgot About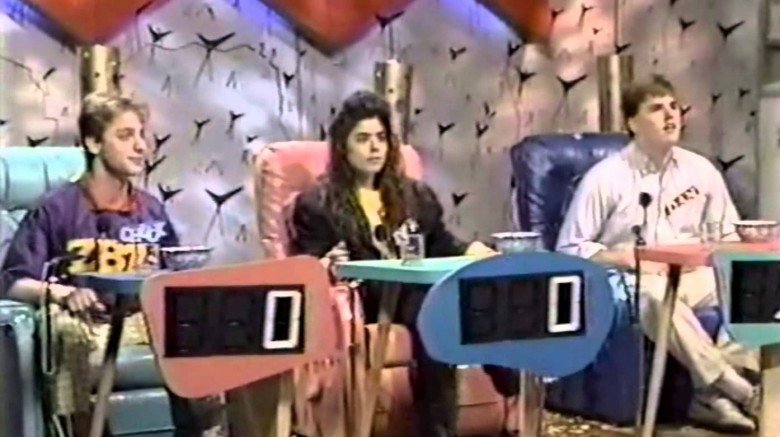 Contrary to what today's teens might think, the MTV generation wasn't just about the music videos: we had a ton of insane shows, too. Our MTV just had way fewer pregnant teens and werewolves, and a just bit more music. Here are some of our favorite old-school MTV shows that you may have forgotten about.
FANatic: Heartwarming tales of obsessed fans
After the internet had been around for a couple of years, the late-1990s seemed like a time when anything was possible, especially if what you're wishing for was the opportunity to meet one of your favorite artists completely by surprise. On FANatic, unsuspecting super-fans were allegedly fooled into believing that they were going on a completely ordinary errand, when they were really on their way to meet their favorite stars.
From 1998-2000, fanatics met everyone from Drew Carey to Ben Stiller, to Hootie and his Blowfish. Whomever your obsession, this was the show that put obsessed fans face to face with their idols. Today we're lucky enough to be a 140 character tweet away from getting a retweet from Biebs. Justin — can we call you Justin? Okay, Justin, you can go ahead and retweet us now.
Undressed: If after school specials were actually great
Before the internet, '90s kids probably had to get their sex education from more creative sources such as magazines, R-rated movies, and television, and MTV had the perfect show simply for this. Undressed was on MTV for six titillating seasons from 1999-2002, and followed the trials and tribulations of a cast of fictional young people as they discovered the neat new things that puberty allowed their bodies to do.
It wasn't just two-bit pornography on cable either: Undressed tackled issues including safe sex, drinking, sexually transmitted diseases, homosexuality, consent, and, you know, other real life issues that young adults actually were experiencing. The show had virtually no budget, but made history with its controversial storylines and was nominated for several and even won an actual GLADD Award. Hey teens, ever wonder how your favorite Teen Mom became pregnant? You would have known if you could have been watching Undressed instead.
Yup, Snoop Dogg had his own sketch comedy show
Doggy Fizzle Televizzle was written, produced, and starred everyone's favorite magic dragon puffing rap superstar whose nickname was actually given to him by his Grandmother in homage to Charlie Brown's beloved beagle. Snoop's 2002-2003 sketch comedy show both created original narratives and spoofed popular shows while often hosting all-star celebrity guests.
The show opens with Snoop lethargically surfing channels when he imagines himself into creating his own ideal show. Doggy Fizzle Televizzle was Snoop's utopia where rap and comedy converge in the most epic of ways. Snoop may have a cooking show with Martha Stewart now, but we'll never forget Doggy Fizzle.
Let's listen to live music and talk about it, too
120 Minutes debuted on MTV in 1986 and was originally hosted by J.J. Jackson, Martha Quinn, Alan Hunter, and dozens of others in the years to follow including Dave Holmes and Henry Rollins. In 1995, 120 Minutes was hosted by musical black-belt Matt Pinfield and focused primarily on some of the greatest alternative music from the '80s and '90s. On the show, rock artists had the chance to both get interviewed and perform live. Pinfield's encyclopedic musical schema and palpable passion for the genre was the perfect catalyst for hosting some of the greatest musician interviews of all time. The show was canceled in 2000, when MTV became much more of a haven for reality television, but was brought back for two short-lived stints in 2001 and 2011 on MTV2.
Wanna see what happens when he doesn't land that kick flip?
At the height of the popularity of MTV's Jackass, it's likely that producers probably found themselves with a unique new problem, despite the high ratings and millions of dollars flowing in: tons of dumb kids all over the world were hurting each other trying to send in videos of themselves acting like a barrel of jamokes. Perhaps to combat this new trend of DIY-self-destruction "comedy" videos, MTV released a brand new show: Scarred. The show highlighted Steve-O's outtakes: the pain, the injuries, and all the "What in the name of Joe Namath! Knees don't bend that way!" moments that might make you think twice before you try to ollie off your neighbor's roof.
The show left little to the imagination and really shed some light on the secret of that disclaimer you hear before every episode of Jackass, or Wild Boyz, because yes, legally they have to say that because so many people hurt themselves in a desperate effort to be the next Party Boy. Fair warning, though: Scarred features clips that you cannot un-see and might permanently alter your perception of extreme sports for all time. So if you're okay with seeing some kid's foot on backwards, check this one out.
Yes, THE Andy Warhol
One of the most famous quotes from the pop art phenomenon that brought us all of those delightful soup cans and banana prints was about how every person will, at some point in his or her life, experience their very own fifteen minutes for fame. We may not all get to enjoy our fifteen minutes as a living meme like Alex from Target or the "Cash Me Ousside" girl, but Warhol's philosophy was brought to life in one of MTV's earliest programs.
Airing sporadically from 1985 to 1987, Andy Warhol's Fifteen Minutes showcased new artists, creating the space for them to enjoy their "fifteen minutes," accompanied by one of the most famous names in pop, and pop art, of all time. The show hosted dozens of famous names in its five thirty minute episodes, including Debbie Harry, the Ramones, Courtney Love, Ian McKellen, William S. Burroughs. It's just like that other Warhol quote, "Art is anything you can get away with," and right up until his death in February 1987, he was able to pull this off.
The Ben Stiller Show
The Ben Stiller Show was a sketch comedy show that most modern viewers would agree was clearly ahead of its time. To be fair, it was a comedy show that did not have a laugh track, so when were we supposed to laugh? Oh, when things are funny. Yeah, because we really don't need to be told when to laugh after all, do we?
Stiller's show included a star-studded lineup of some of the greatest character actors and comics you've ever seen on a late-night rerun of a '90s comedy movie you forgot about, including Janeane Garofalo, Bob Odenkirk, John F. O'Donohue, and Andy Dick. The show premiered on MTV in 1989 and was canceled after only one year. In 1992, FOX tried to revive the show, to no avail. The Ben Stiller Show did, however, somehow manage to win an Emmy in 1993. Nope, it wasn't for some imaginary category like, Best Show That Totally Should Have Never Been Canceled, either. It actually won the Emmy for Outstanding Writing in a Variety or Music Program.
The show may not have caught on in the early '90s, but thankfully, there are dozens of VCR -ripped videos on YouTube for us all to enjoy and get nostalgic about tracking.
It's tuna
Newlyweds: Nick and Jessica was really a three-season-long documentary about what happens when two super famous pop stars start singing their love songs directly to each other. The 2003-2005 show featured the marriage of Nick Lachey of 98 Degrees and Jessica Simpson of, uh, Daisy Duke and also singing. Unfortunately, the show is best remembered for Simpson's unfortunate inquiry as to what kind of meat was in a can of tuna, because why would they call it Chicken of the Sea! Chickens don't live in the sea! They're walking near and around the sea! And while they're there, some of the slower ones get trapped and canned! (Or something.)
If you fast forward through the series, you can basically watch a relationship fall apart. The entire plot, if you want to call it that, was centered on the the fabulous life shared by these pop stars and the trials and tribulations a drama queen and her king would come up with while they tirelessly auditioned sexy dancers and prepared for tours and records ... with a twist: Jessica Simpson is a dumb blonde. Sure, show made her a household name for a second, but basically as a synonym for stupid.
Changing your face probably won't make it famous
Long before the Botched doctors made fixing plastic surgery fails into reality TV gold, there were plenty of shows that actually encouraged this kind of shady work. I Want a Famous Face was on for only one season in 2004-2005 and featured twelve young people who were desperate to look like their favorite stars.
Of course, there is no magical fix that can totally transform anyone's face into a carbon copy of another face — no matter what Face/Off taught us — but that didn't stop the producers from putting this ghoulish show on the air.
Date My Mom
In 2004, MTV got this crazy idea to cut out the middleman in contemporary reality TV dating shows and allow the bachelor and bachelorettes to go directly to their potential future mother-in-law to determine whether or not they wanted to date their kid. (Sorry, straight chicks: they only opened this wormhole in timespace for cis men and homosexuals.)
Date My Mom may seem like a godsend to anyone who has ever experienced the sheer terror of having an awful mother-in-law, but couldn't it be problematic to decide to date someone based only on what their mom is like? The eager singles did not even get a picture of their potential dates. Instead, they had to go by the flattering descriptions that the mothers gave. And what mother doesn't say that their kid is the smartest and most beautiful?
After the contestant meets three different moms and goes on each "mom-date," he or she sees if they're the winner in typical reality TV fashion, at an gorgeous beach — the perfect romantic getaway for breaking two, possibly three hearts at the same time. Well, four hearts if they didn't end up liking the person they picked. Basically, everyone loses except for the moms, who all just get to go on fun dates with 18-to-24 year-old singles.
Are you ringing in the ears?
"Hold me closer, Tony Danza ..." Everyone is singing all of these lyrics wrong! Wouldn't it be hilarious to call them out and correct them? 1998's Say What was hosted by Matt Pinfield at the peak of the network's actual playing-of-music. Not only did the music television network play music videos, they had plenty of shows about music, too, even funny ones.
On Say What, Pinfield would highlight some commonly misspoken song lyrics and spell out the words to songs with lyrics that were either too fast or difficult to understand with a marquee of them across the bottom of your television screen like a karaoke video. Remember, this was before you could ask Siri to settle these dilemmas, so Say What really delivered a great service to us all. Say What would later morph into Say What Karaoke and then ... MTV basically stopped playing music. Woo-hoo!
Hey, can I host a game show in my basement?
Remote Control was hosted by Star Search winner Ken Ober and his loyal assistant Colin Quinn. Other comics, including Adam Sandler and Denis Leary, jumped in to help out occasionally, too. The show's narrative was based on Ober's fantasy of having his own show in his mom's basement. This would be a regular bit on the show, too, as "his mom" would periodically yell at them down the steps, as they typically do at their sons that still live in the basement ... or so we imagine.
From 1987-1990, contestants sat in La-Z-Boy recliners and would change "channels" using their remote controls to choose trivia questions from a series of hair-brained categories including "Celebrity Cellblock," "Dr. Blister," or "Flab TV," just to name a few. A Gen X Jeopardy! with jokes, basically, except the contestants endured the occasional pie in the face or even purple nurple from Quinn (though female contestants were spared). Ah, simpler times.