The Mysterious Death Of Maria Callas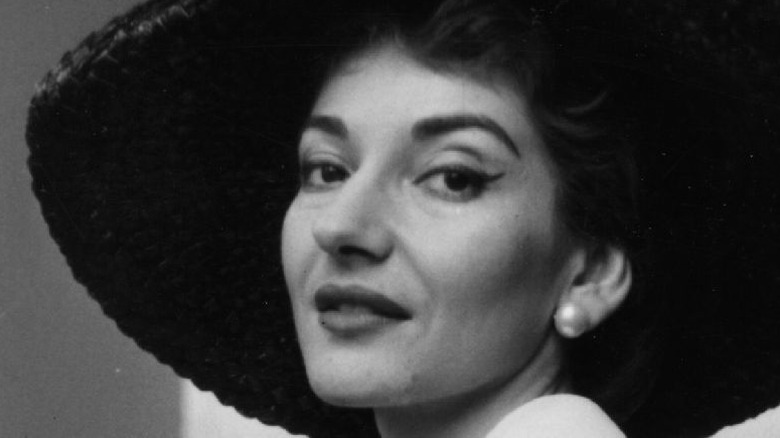 Weston/Getty Images
There was no other female soprano that could surpass Maria Callas when she was on stage. Unsurprisingly, she became the most notorious female opera singer in the 20th century. Callas captivated the public with her roles in operas such as "Medea," "Tosca," and "La Traviata" ( via Limelight Magazine). Most people don't know that her personal life had as much drama as one of her operas.
When Evangelia (Litza) Kalogeropoulos was pregnant in 1923, she decided to leave Greece behind and start a new life in the United States with her husband George. On December 2, 1923, four months after their arrival in America, Kalogeropoulos gave birth to Cecilia Sophia Anna Maria Kalogeropoulos (via Encyclopedia of World Biography). They changed their last name to Callas; yuears later, the girl rose to fame as Maria Callas.
Callas started to have piano lessons when she was seven years old. As a child, she loved to listen to her family opera records; her favorite song was "La Paloma." Her parents noticed her natural gifts, and Callas won several talent contests and became a popular singer on radio shows for children.
In 1937, her parents separated. Her mother decided to move back to Greece with her children and enrolled Maria in a famous Athens conservatory where the girl could study singing under Elvira de Hidalgo (via Biography). Callas was a dedicated student and was known for being a perfectionist. Callas made her first professional performance in Athens, with a small role in "Boccaccio." A few years later, she would become a star in Greece.
Maria Callas rose to fame in Europe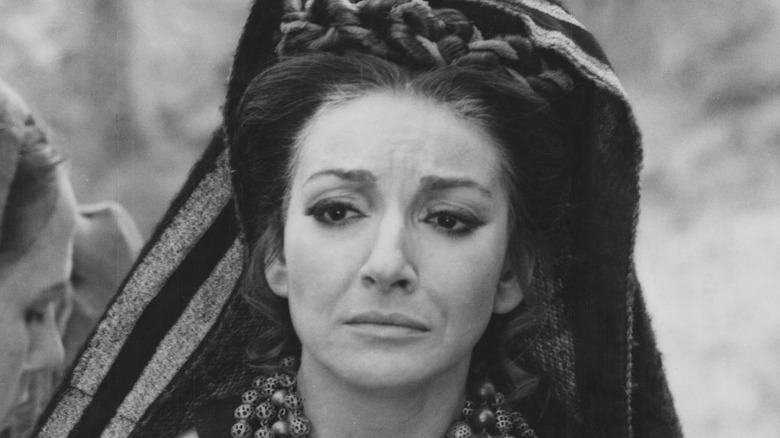 Keystone/Getty Images
World II had a significant impact on her career. Callas struggled to find roles; she moved back to New York, where she also struggled to work. When World War II finished in 1945, Hidalgo told Callas she should move to Italy to reach a new public. Callas made her debut in Italy in 1947, when she performed "La Gioconda" at Verona Arena (via Encyclopedia of World Biography). The Italian audience fell in love with Callas, who went to perform in "Tristan and Isolde," "Turandot," and "Norma."
In 1949, Callas married the wealthy industrialist Giovanni Meneghini. He became her manager and dedicated his life to Callas and her career. After their marriage, Callas made successful tours in Argentina, Brazil, and Mexico.
Callas made her debut in the United States at the Lyric Opera of Chicago in 1954. Ironically, she was already an established singer overseas when she was invited to sing in her home country. In 1958, Callas was fired by the manager of the Metropolitan Opera after she declined to sing "Lady Macbeth." Their feud last for years (via The Washington Post).
In the late '50s, Callas was living one of the best moments in her career. However, she could not say the same about her marriage. Callas and Meneghini divorced, and she started an affair with the shipping magnate Aristotle Onassis. However, Callas was involved in a love triangle that would break her heart. Onassis married Jackie Kennedy in 1968, but it didn't stop the magnate from pursuing Callas.
Callas' voice and career declined before her death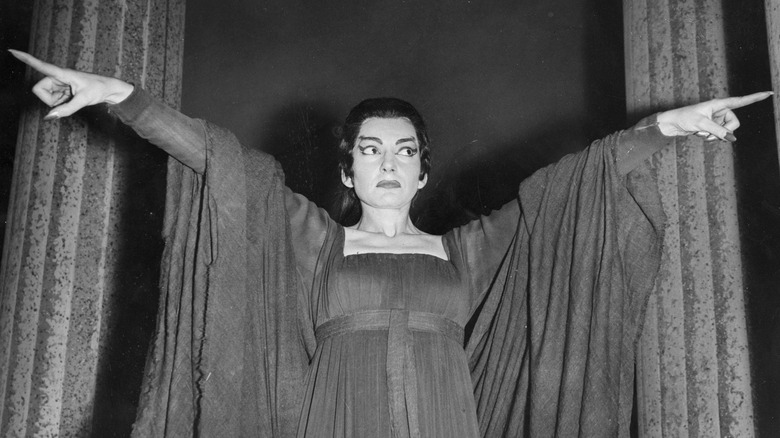 John Franks/Getty Images
Callas' voice started to change, and her career declined in the early 1960s. In 1969, Callas made her final performance in "Tosca." She gave a series of master classes at the Juilliard School of Music in New York (via The Washington Post).
In 2021, unpublished letters written by Callas would give details about her painful relationships. According to the singer, her mother tried to pimp her to soldiers during the Second World War and later blackmailed her daughter to keep her secret. Her father lied to her to get more money. Her ex-husband, Meneghini, also stole part of her money. Onassis was violent and drugged Callas (via The Guardian).
In her final years, Callas stepped away from the spotlight. In 1973, she moved to Paris, where she lived a reclusive life. In 1977, Callas was found dead in her Paris apartment. At the time, it was widely reported that she died of a heart attack; Biography simply states she died "suddenly and mysteriously." Film director and Callas friend Franco Zeffirelli said in 2004 that it was possible that she had been poisoned. According to a report in The Scotsman, he regarded her group of Greek friends as suspicious. "It's possible they filled her with substances that killed her," he said. No testing was done; her body was cremated immediately after her funeral. He also believed that her original will, splitting her estate between her maid, driver, and a retirement home in Milan, had been burned.