The Tragic Death Of Kansas Frontman Robby Steinhardt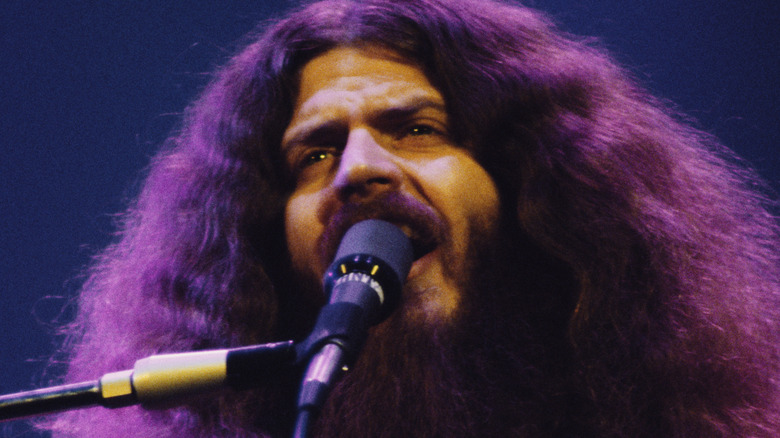 Michael Putland/Getty Images
Robby Steinhardt, an original member and frontman of the rock band Kansas, died on July 17 at the age of 71, reports Rolling Stone. The violinist and vocalist died of acute pancreatitis at Tampa General Hospital, according to his wife Cindy. She announced his death in a statement posted on her Facebook page. "It is with an extremely heavy broken heart that I have to announce to the world, we have lost one of the most incredible people of our time ... Robby Steinhardt has passed away," she wrote.
She says that Steinhardt was diagnosed with the condition this past spring and things gradually worsened as he developed sepsis. But soon, Steinhardt had seemingly recovered and his prognosis was promising. "Our final journey started May 13 when Robby was admitted into the hospital with acute pancreatitis. Later that night he went into acute septic shock and was placed on life support. Outlook was very grave as he wasn't expected to live through the night. Like the true fighter he is, he managed to spring back much to the amazement of his entire medical staff. Once again he cheated death and the road to recovery had begun," wrote Cindy.
Robby Steinhardt's health condition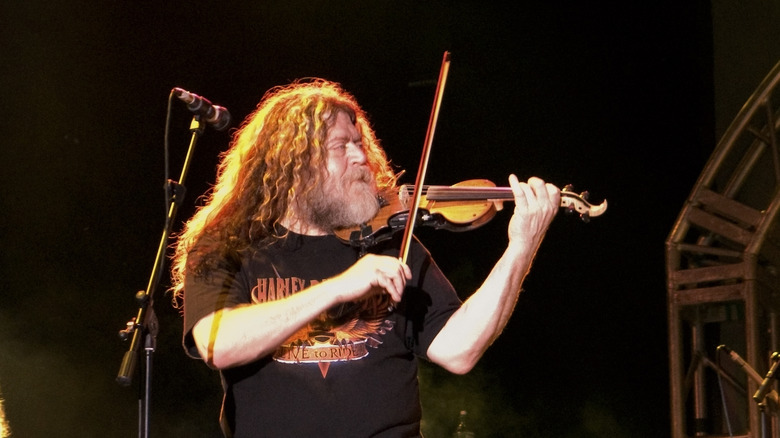 Shutterstock
Despite the initial hopeful outcome for him, things took a turn about two months later. According to his wife, his condition became complicated after he again developed sepsis and began experiencing the life-threatening symptoms it can cause. Unfortunately, Steinhardt didn't make it. He is survived by his wife and only child, a daughter named Becky.
According to the Pancreas Foundation, acute pancreatitis is a condition that starts in the pancreas and causes inflammation and serious abdominal pain. It is also a challenging condition to detect, while it also causes a gradual onset of symptoms. Its symptoms include constant and severe feelings of pains in the abdomen, fever, and nausea, and most cases of this condition will require immediate medical care. The Foundation also says that the mortality rate is currently 10%. Even though Steinhardt had recovered from the initial indicators of acute pancreatitis, the fight against it likely led to him getting sepsis, and the infection further complicated the illness.
The early life of Robby Steinhardt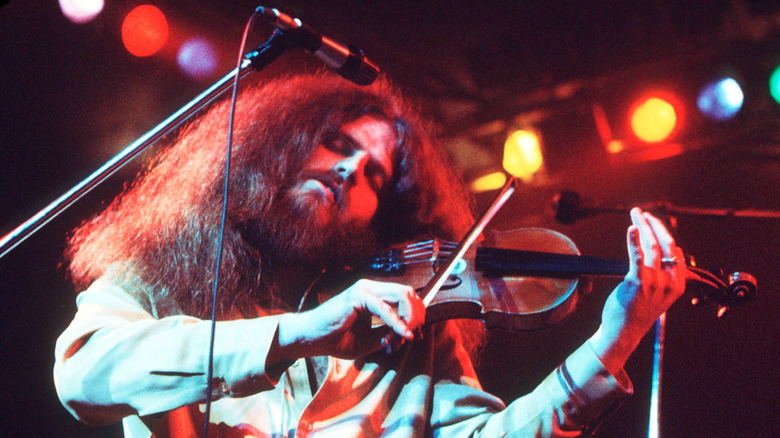 Michael Putland/Getty Images
Robby Steinhardt was born on May 25, 1950, in Chicago, Illinois. Per his website, when he was just four days, old he was adopted by a couple named Ilsa and Milton Steinhardt. The following year, the family relocated to the college town of Lawrence, Kansas. There, Steinhardt's father taught music and at some point eventually headed the music department at the University of Kansas. This was to the benefit of Steinhardt, who would later pick up an interest in music studies. During travels to Europe with his father, he was also classically trained in playing the violin. Soon he'd use his skills to be a rock violinist.
In Topeka, Kansas, in 1970, high school friends composed of guitarist Kerry Livgren, bassist Dave Hope, and drummer Phil Ehart founded a music group they called Kansas (via Louder Sound). In 1971, they added a new member and violinist to the band by the name of Robby Steinhardt. At that time the group had changed their name to White Clover — but the name Kansas kept on calling.
Steinhardt joins Kansas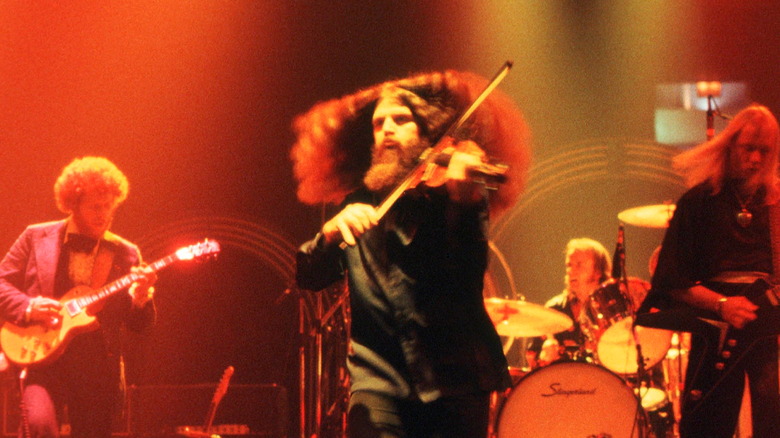 Michael Putland/Getty Images
In 1972, the band went back to its original name and added two more additional members — keyboardist Steve Walsh and a second guitarist, Rich Williams. Two years later, the six-member band released their self-titled debut album, according to their website. The band put out three albums before they finally scored their big break with their fourth album in 1976 titled "Leftoverture." It earned them their first top album, which landed at No. 5 on the rock charts, per Billboard. Their hit song, "Carry On Wayward Son," helped grow their fanbase and the song peaked at No. 11 in Top 100 songs in 1977 (via Billboard). 
It was only up from there for the band. They would land their first Top 10 hit the following year with "Dust in the Wind," and although they never got a No. 1 song, more than a dozen Kansas songs charted.
But by 1982, Steinhardt left the band after more than a decade with them. He'd later rejoin in 1997 before leaving again permanently to retire in 2006 (via Robby Steinhardt).
The loss of Robby Steinhardt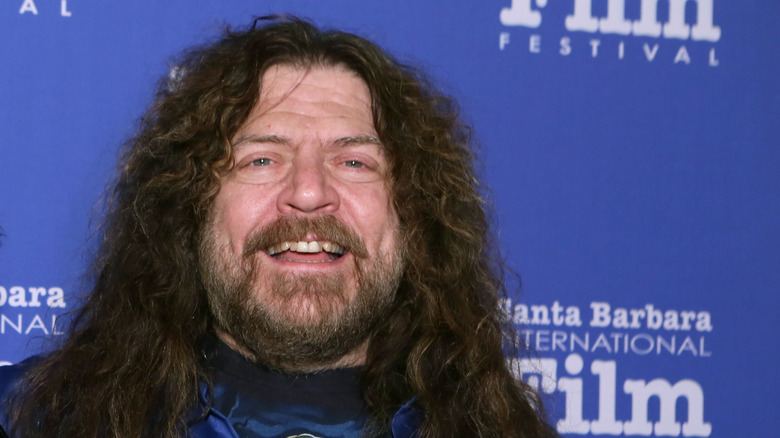 Rebecca Sapp/Getty Images
In 2013, he suffered a heart attack that kept him hospitalized. However, after recovering from surgery, he slowly returned to music doing small gigs. As of this year, Steinhardt was actually working on his first solo album. In his wife's Facebook statement, she says that the album was complete and Steinhardt had plans he was excited about to start touring again as soon as next month.
Steinhardt's former bandmates are also grieving his death. In a statement on the band's Facebook page, it said that Steinhardt's legacy with the band goes without saying. "The members of the band KANSAS, past and present, wish to express our deepest sorrow over the death of our bandmate and friend, Robby Steinhardt. Robby will always be in our souls, in our minds, and in our music. What he brought to us as bandmates, to the fans who attended our concerts, and to the sound of KANSAS, will always be heartfelt. We love him and will miss him always," the statement read.