What You Might Not Know About George Clooney's Near-Death Experience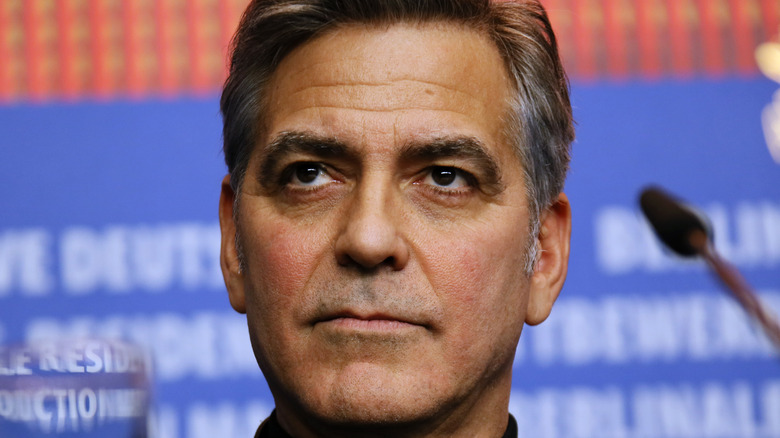 Shutterstock
George Clooney is one of the most iconic film stars in history. The Hollywood heartthrob was seemingly destined for greatness in the industry: according to Britannica, his father was a broadcast journalist and his aunt Rosemary Clooney was an acclaimed singer and actress. It wasn't until George was 21-years-old that he decided to seriously pursue acting, but one move to Los Angeles later and his legend would begin.
Decades later, he has a string of excellent movies and unforgettable characters to his name. In the "Ocean's" movies, for instance, he performed alongside fellow Hollywood heavyweights such as Julia Roberts and Brad Pitt, fitting right in with the best of the best and not falling foul of any formidable egos. As Clooney himself told GQ (via YouTube), "there was no actor in those scenes trying to steal scenes. They're all kind of actively trying to hand it to the other guy." It's a testament to Clooney's place among the crème de la crème of the acting world.
Many fans may not know, however, that an awful motorcycle accident almost brought a tragic and abrupt end to Clooney's stellar career. Here's what happened.
A lucky escape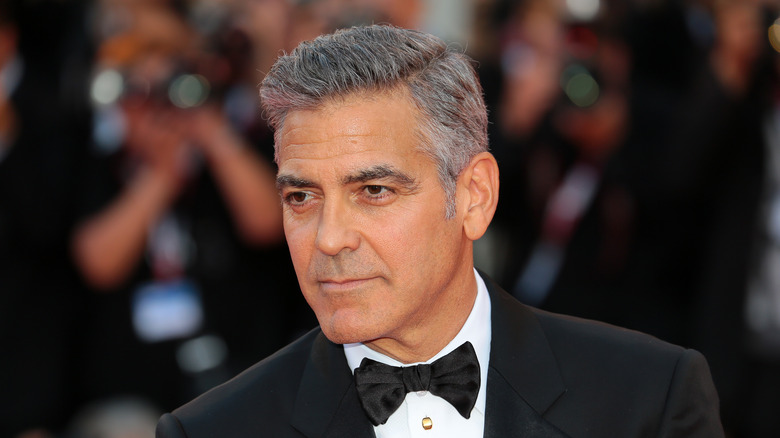 Shutterstock
"Catch-22" was a 2019 project of Clooney's, a miniseries also featuring the likes of Hugh Laurie and Christopher Abbott. Based on Joseph Heller's novel of the same name, it's the tale of a World War II bombardier in the United States Air Force, who is reluctant to perform his role in a series of deadly missions. Clooney plays Scheisskopf, a continually promoted officer.
During filming the year before, People reports, Clooney (an avid motorcyclist) was riding when he was struck by a car. Grant Heslov, a producer on "Catch-22," stated that the crash was "much worse than the press understood." His wife reportedly forbade him from ever riding again. "It was one of those conversations," Clooney said, "we were coming back from the hospital and she said, 'That's it.'"
According to Deadline, the collision occurred in Olbia, Sardinia in July of 2018. Clooney's motorcycle was struck by a Mercedes during an early-morning ride, and he was thrown over the top of it. Fortunately, he escaped relatively unscathed , reportedly only sustaining bruising and minor trauma to his pelvis. He was discharged from hospital quickly, though monitored for almost a month afterwards.
According to the actor (per The Hollywood Reporter), who also took the roles of director and executive producer on the show, the motorcycle accident haunted him. "If you get nine lives, I got all of them used up at once — so I can let go of motorcycle riding for a while," he confessed.