The Real Reason Beach Volleyball Players Wear Bikinis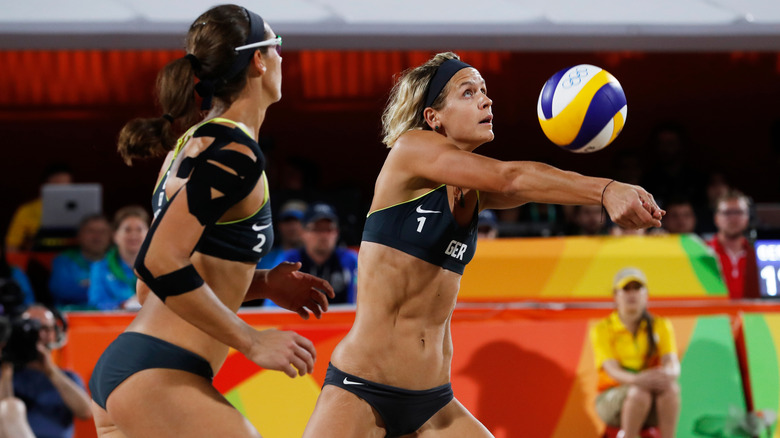 Shutterstock
Beach volleyball is a fiercely competitive sport. Imagine all the intensity of regular volleyball, but with the added challenges that come with playing outside in the heat and the extra resistance brought on by running through the sand. It's no wonder beach volleyball players have to focus on optimizing every aspect of their performance, including their outfits. However, as with other realms of public life in which women are told by others what to do with their bodies, this aspect of the game has been a controversial issue. In 2020, ahead of the Summer Olympics in Tokyo, the International Volleyball Federation updated its dress code to allow female players to choose to play in the uniform in which they are most comfortable.
For women beach volleyball players, the most standard athletic uniform is a bikini. And while some critics have claimed that having the women athletes play in bikinis, while men more commonly play in shorts and tank tops, is outdated and even sexist, others feel that the sport is played in bikinis because they are simply the best outfit for the task. According to Corinne Calabro, the communications director for USA Volleyball (via Insider): "The athletes are allowed to wear long sleeves, they're allowed to wear shorts, tank tops. But we've gotten a lot of athletes on record saying they prefer to wear a two-piece because there are less places for sand to hide. They don't view it as swimwear or anything like a fashion statement. For them, that's their uniform."
Some beach volleyball players find bikinis the most comfortable uniform for the sport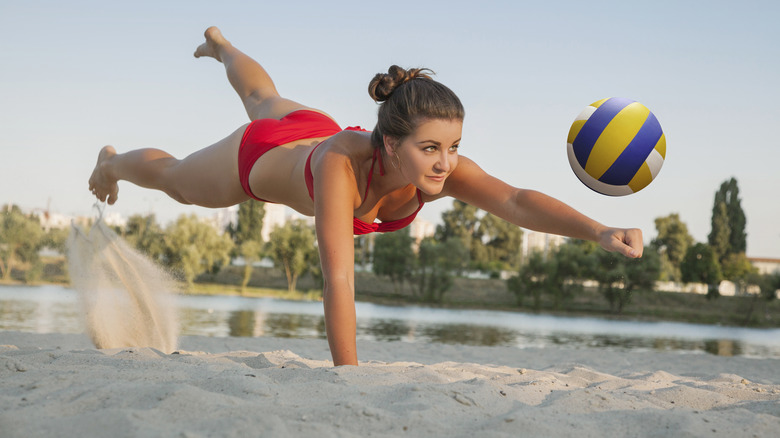 Shutterstock
Like all professional athletes, beach volleyball players don't want anything to prevent them from performing their best. So it's important for them to have the best gear, and avoid wearing anything that may be uncomfortable or distracting while they play. Like tracksuit bottoms or diving swimwear, beach volleyball players wear bikinis because it affords them a high range of motion, while helping prevent them from overheating or getting distracted by uncomfortable sand getting caught up in their clothing. "Playing in a one-piece was never comfortable for me. It was restricting and limited my movements," beach volleyball silver medalist Jennifer Kessy explained to Today. "I found myself adjusting my one piece all the time and while it was embarrassing, sure, it also took my focus off the match I was playing."
But while some players certainly feel bikinis are the best option for competing in beach volleyball, the most important thing is for players to be able to wear whatever athletic gear allows them to feel comfortable, focus on the game, and play their best. "It's totally a personal choice ... it's important to have the freedom to choose what works best for you. Players should be able to wear what they want and what makes them perform the best," Kessy said. She added that not only the fit, but also the type of fabric and even the color of the players' attire can have an effect on their performance.
Beach volleyball isn't the only sport with a bikini controversy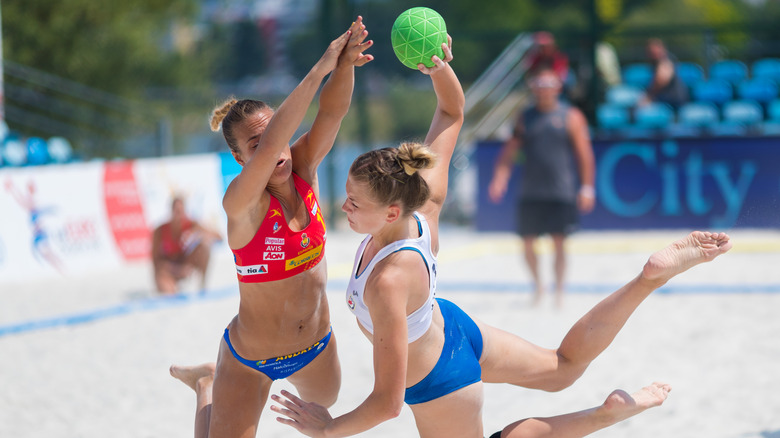 Shutterstock
Beach volleyball isn't the only international sport in which female players still have non-athletes telling them what they should and shouldn't wear when they play. Athletes in sports like track and field and beach handball are also getting criticized — by both men and women — for wearing what they're most comfortable in when they play. In July 2021, Paralympic athlete Olivia Breen was told by a female official that the shorts she wore were "too short and inappropriate," according to Today. Funnily enough, that same month, NBC News reported that the Norwegian women's beach handball team had been fined for wearing shorts instead of the regulation bikinis. In a photo posted to the team's official Instagram account, the shorts can be observed to not even reach the halfway mark on the players' thighs. 
Despite uniform regulations allowing male players to wear shorts that go no lower than four inches from the knee, female beach handball players are required by the European Handball Association to bear their abdomens and wear bikini bottoms "with a close fit and cut on an upward angle toward the top of the leg." But at home in Norway, they wear the form-fitting shorts for which they were disciplined. The country's Handball Federation President Kåre Geir Lio called the regulation "embarrassing." The team was fined 1,500 Euros (around $1,700) for the infraction. Like volleyball players, the Norwegian handball team only wanted to wear what made them most comfortable in order to optimize their performance in the game, but the rules for their sport still don't allow them to.