The Devastating Death Of Metal Church Singer Mike Howe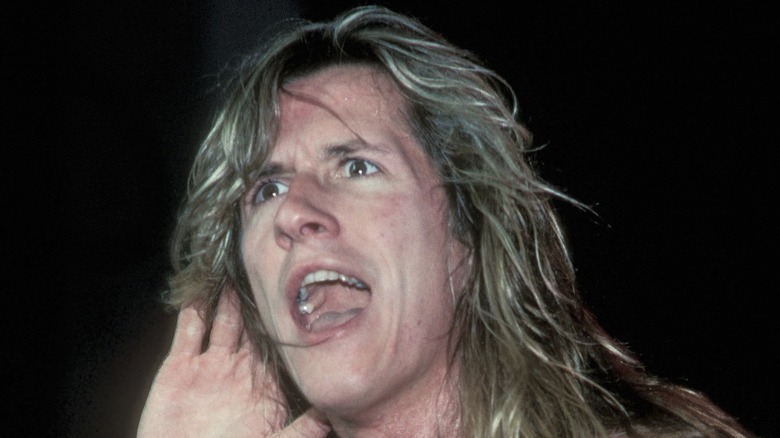 John Atashian/Getty Images
Mike Howe, the lead singer of the influential, long-running heavy metal act Metal Church, died on the morning of July 26 at his Eureka, California, home at the age of 55, as confirmed later that day on the band's official Facebook page. "It is with our deepest regrets that we must announce the passing of our brother, our friend and true legend of heavy metal music," the statement continued. "We are devastated and at a loss for words. Please respect our privacy and the Howe family's privacy during this most difficult time." An official cause of death has yet to be announced for the frontman.
Although Howe didn't join Metal Church until 1988, eight years after they formed in San Francisco, he left his mark on the group in a big way, appearing on three of their albums before they disbanded in 1996, according to New York Daily News. He opted not to rejoin when the band reformed just two years later, but returned in 2015 after a long hiatus from music and recorded another two albums with his old bandmates before his death. Howe also played for Los Angeles-based thrashers Heretic immediately before getting his big break with Metal Church.
Howe was retired from music in between his two stints with Metal Church
Once an established band breaks up, most members usually find employment with other groups or move on to other roles within the music industry, such as management and/or production. Not Mike Howe — in a 2020 interview with Loudwire, he revealed that he chose to retire from performing because he felt disillusioned with the business aspect of being in a band, including the many "outside forces that were ruining the band and my love of music." So instead of forming a new band or joining an existing one, he started working as a carpenter and moved to Nashville, Tennessee, with his wife. When Howe's wife got a teaching job at a university in northern California, he moved back to the Golden State but had no plans whatsoever of returning to music on a professional level — at that point, he was busy raising his two sons and working a full-time job.
Eventually, jamming with friends at home no longer cut it when it came to scratching that itch to perform. On April 30, 2015, Howe rejoined Metal Church, replacing previous vocalist Ronny Munroe (via Blabbermouth), but it took some time before he committed to his decision. "I didn't want to come back to Metal Church just for nostalgia," he explained. "It had to be for the right reasons. It had to be the best stuff we've ever written together or it just wouldn't be worth it to anyone, especially the fans."