Why Simone Biles Pulled Out Of The Olympic Gymnastics Team Final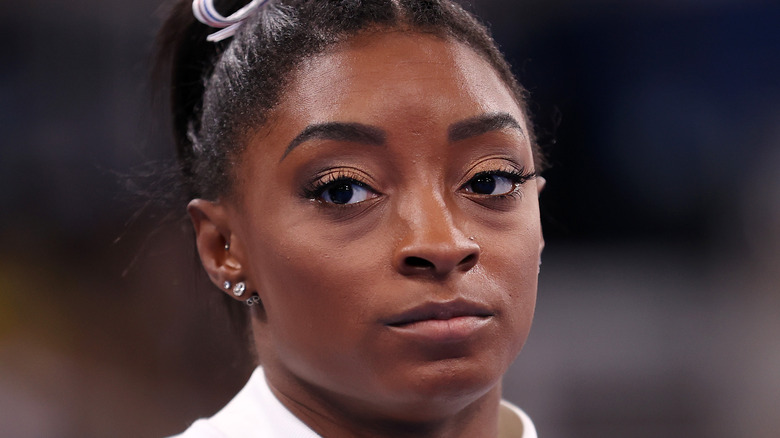 Laurence Griffiths/Getty Images
U.S. gymnast Simone Biles shocked the world on Tuesday, July 27, 2021, when she pulled out of the team gymnastics final at the Olympic Games Tokyo 2020 after having an uncharacteristically wonky landing on a vault that should have been second nature to her. According to USA Today, her unexpected departure from competition left her team without enough points to take the gold. The top spot was taken by the Russian team, which was allowed to compete despite the country's proven track record of state-sanctioned doping scandals in recent years.
"I think tonight they get a gold medal from me in fighting cause they never gave up and they just showed the world what they're capable of," she said of her teammates. So why exactly did Biles, widely considered to be the best in the world in her sport, pull out of the team final? Let's take a look into her reasons for withdrawing from the competition and see.
The stress was negatively affecting Simone Biles' performance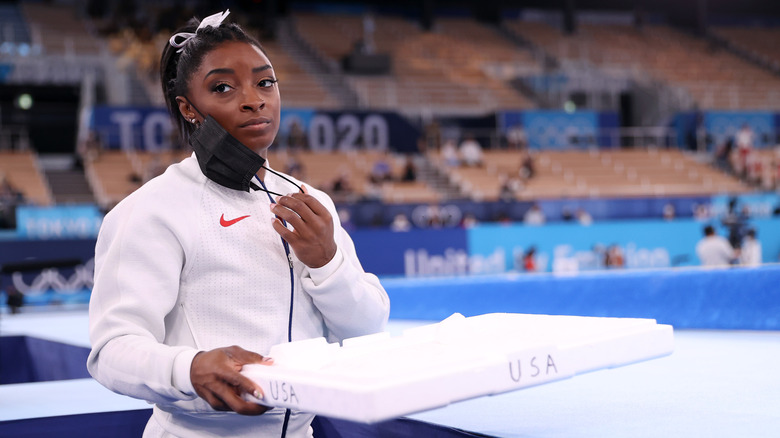 Laurence Griffiths/Getty Images
Despite having won four gold medals at the Rio 2016 games, Biles said she felt a pressure unlike anything she'd experienced in previous competitions. According to NBC, she told reporters that she "felt like it would be better to take a back seat" and let her teammates take over. "It's been a long week, a long Olympics process, a long year," she said. "I think we're a little too stressed out. We should be out here having fun and that's just not the case." 
She told the L.A. Times that the stress was negatively affecting her performance and safety. "I had no idea where I was in the air," she said of that vault that shouldn't have been a problem for her. She feared that without the focus required to perform at the level she is used to, she risked getting injured. But is this it for Biles this time around? There are still individual events in which she could compete, but as of the day of her withdrawal from the team, she was still unsure as to whether or not she would compete in those events.