The Devastating Death Of Slipknot Drummer Joey Jordison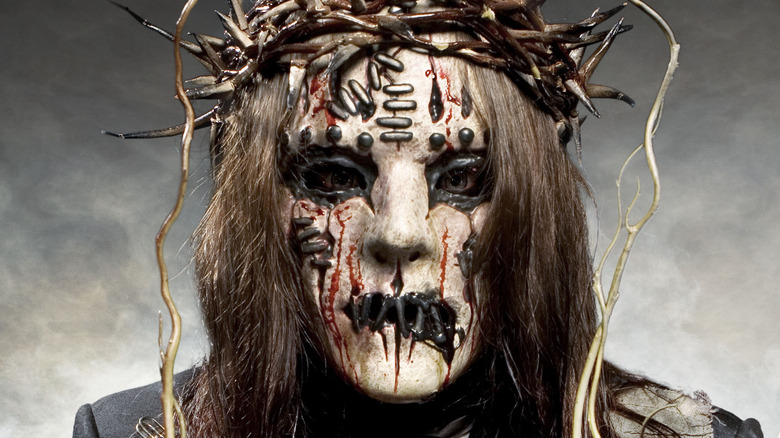 Photoshot/Getty Images
Former Slipknot drummer Joey Jordison's family announced on Monday that the band's co-founder died at the age of 46. "We are heartbroken to share the news that Joey Jordison, prolific drummer, musician, and artist passed away peacefully in his sleep on July 26, 2021," read a statement given to Variety. Nathan Jonas Jordison was born on April 26, 1975, and grew up in Waukee, Iowa. Jordison, along with bassist Paul Gray and percussionist Shawn Crahan, formed the heavy metal band in 1995.
Slipknot's style was a fusion of rap and death metal, and they were known for being aggressive, even for a heavy metal band. They performed wearing creepy masks and Jordison was a popular and visible member who co-wrote many of their songs. According to Rolling Stone, his "rattling rhythms and death-metal blast beats were a crucial ingredient to the band's sudden success." The band announced in 2013 that Jordison was leaving the band after almost 20 years. However, Jordison told Billboard in 2016 that he was fired. 
Joey Jordison continued to perform after leaving Slipknot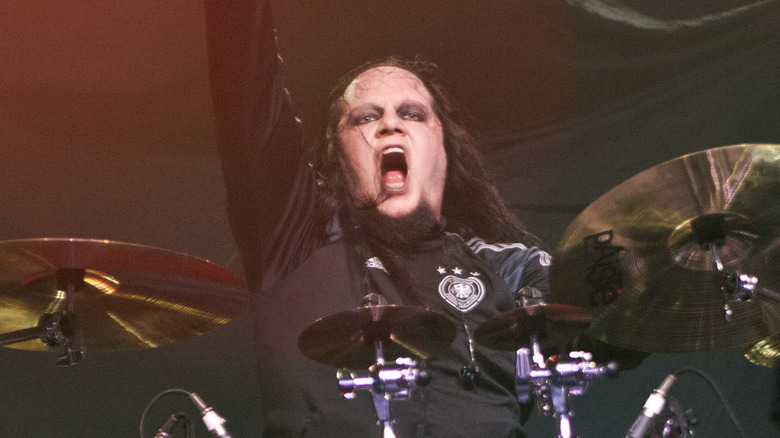 Jeff Hahne/Getty Images
In the same Billboard interview, Joey Jordison revealed that in 2016, he was diagnosed with transverse myelitis, a form of multiple sclerosis that led to the temporary loss of the use of his legs. Jordison claimed his bandmates mistook his condition for substance abuse. Speaking of his departure from the band in a Metal Hammer interview that same year, he said, "No band meeting? None. All I got was a stupid f—ing email saying I was out of the band that I busted my a– my whole life to f—ing create."
Slipknot had three Billboard Top 10 singles including "All Hope Is Gone," which reached number one on September 13, 2008. Jordison also won the Metal Hammer Golden God Award in 2016. He didn't let his Slipknot dismissal dampen his creativity. While still playing with Slipknot, he founded Scar the Martyr in 2013, was the guitarist for Murder Dolls, and was playing with Sinsaenum, a multi-national death metal group before his death (via Billboard).