The Least Popular KISS Album Might Surprise You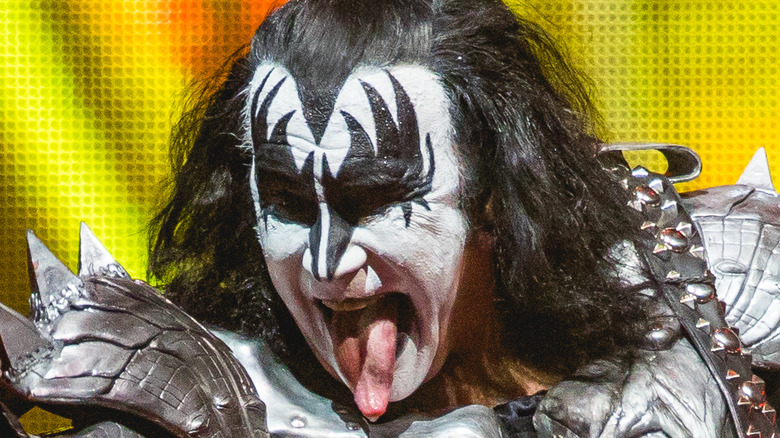 Shutterstock
You may love them for creating unforgettable hard rock songs with tons of hooks or hate them because of how they put their band name on everything under the sun. Regardless of how you feel about KISS, they've come a long way from the time they formed from the ashes of the improbably named Wicked Lester. Gene Simmons, Paul Stanley, Ace Frehley, and Peter Criss were superheroes to the fans who looked up to them back in the 1970s, and even when the latter two exited the band, they kept pushing forward and making new music on a regular basis. Unfortunately, not every KISS album was a winner, may it be with the fans, the critics, or both.
Considering KISS" nearly five-decade-long history, we took six of their albums from various points in their career — two each from the '70s, '80s, and '90s — and asked 598 respondents from the U.S. to tell us which of these albums they like the least. And since the poorly reviewed "Music From 'The Elder'" (two stars on AllMusic, for one) was not among the six albums we chose for this survey, we're going to get it out of the way — the fans we polled chose a completely different album as the least popular in KISS' discography. Which rather surprising album is this, and how did the other albums fare in our poll?
Many fans didn't like KISS' first makeup-free album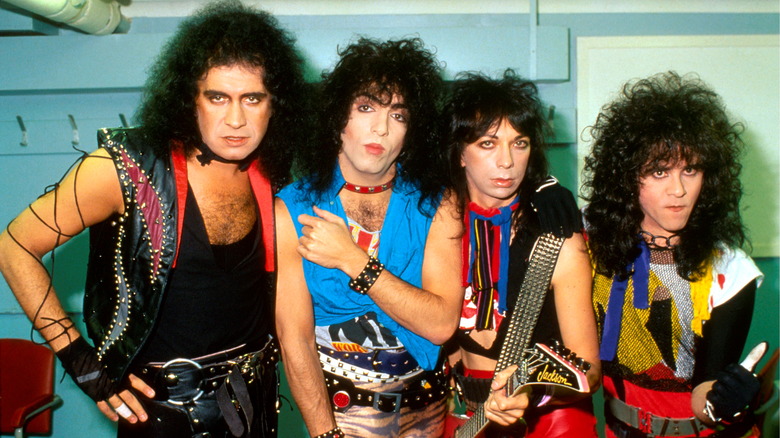 Michael Putland/Getty Images
With 27.76% of the vote, 1983's "Lick It Up" was our readers' choice for the least popular KISS album. This comes about as interesting, as this marked the band's first release where all members decided to present themselves as your average 30-something rock heroes rather than four dudes straight out of a comic book, complete with elaborate makeup and costumes. It also did quite well on the Billboard 200, peaking at No. 24 and reversing the downward trajectory that started in the late 1970s — that era with the members' simultaneously released solo albums and their divisive flirtation with disco on 1979's "Dynasty." But what could have made it so unpopular with KISS fans?
If we were to speculate, we could mention KISS' aforementioned decision to eschew the makeup or the fact that this was Vinnie Vincent's first — and only — album as original member Ace Frehley's official replacement on lead guitar. But if you come to think of it, there are several reasons why "Lick It Up" was such a shocking choice as the record that topped our survey of unpopular KISS albums. Louder, for instance, placed it just outside the top 10 in its ranking of all 29 KISS albums (live recordings and 1978 solo releases included), while many Redditors have a favorable opinion as well. Then again, if you look closely at that thread, you'll see a handful of users counting "Lick it Up" among their least favorites, so ... different strokes for different folks?
The rest of the survey: Post-1970s KISS was unpopular in general
Denny Keeler/Getty Images
If there was one general takeaway from our survey, it was that our respondents weren't big fans of KISS' post-classic-era recordings. Granted, they never became totally irrelevant from the 1980s onward, but it's hard to top the albums that gave us songs such as "Rock and Roll All Nite," "Detroit Rock City," and "C'mon and Love Me." Heck, let's even throw "I Was Made for Lovin' You" in there because it almost made the top 10 of Billboard's Hot 100. 
That said, the runner-up to "Lick it Up" was 1998's "Psycho Circus" (23.58%) — the album where the classic lineup finally reunited on record, albeit on just a handful of songs (via Ultimate Classic Rock). It wasn't bad, but "Dreamin'" is essentially KISS' attempt to cover Alice Cooper's "I'm Eighteen" with Paul Stanley on vocals. The misleadingly titled "Unmasked" from 1980 came in third at 16.72%, giving us a trifecta of post-1970s albums that missed the mark with a good percentage of respondents.
As for the rest of the survey? 1977's "Love Gun" was fourth with 12.71% of the vote, while 1992's "Revenge" proved that post-classic-era isn't always bad, as only 11.87% of respondents voted for it, putting it at fifth. Rounding things out was the 1976 release "Destroyer" with 7.36% — let's face it, there are far worse things to listen to than a band's drummer singing a piano ballad for the woman he loves.