The Sad Truth Behind Maria Callas' Relationships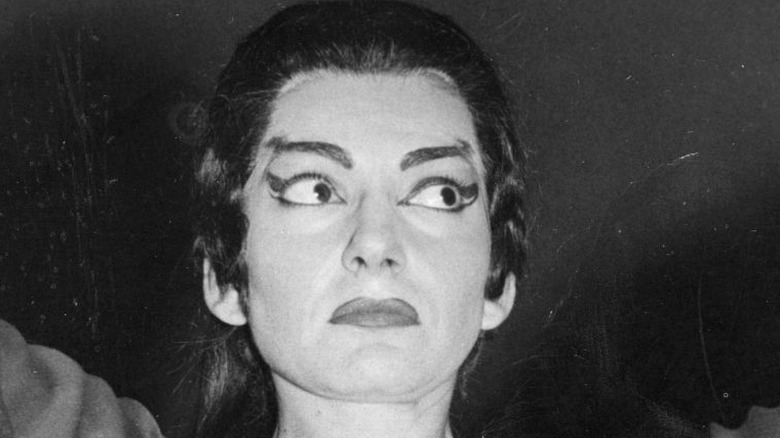 John Franks/Getty Images
Maria Callas, born Cecilia Sophia Anna Maria Kalogeropoulos on December 2, 1923, was quite possibly the most famous and most notorious female opera singer in the 20th century. Callas rose to fame in Italy after the end of World War II, when she performed operas such as "Medea," "Tosca," and "La Traviata" (via Limelight Magazine).
As an ironic example that life imitates art, Callas' personal life could inspire an opera. Unpublished letters from Callas, found by Lyndsy Spence, author of "Cast a Diva: The Hidden Life of Maria Callas," show an unknown side of the singer. Her mother often blackmailed her, and she had at least two abusive relationships (via The Guardian).
Callas' parents were Greek immigrants who moved to the United States a few months before she was born. Even as a child, Callas showed outstanding musical talent. Her favorite hobby was listening to her family's opera records, especially the song "La Paloma." Callas won several contests at school and often sang on radio shows for children. She also had piano lessons from the time she was seven years old (via Encyclopedia of World Biography).
In 1937, her parents, Evangelia and George Kalogeropoulos, separated, and her mother decided to move back to Greece with her daughters. There Callas had classes with Elvira de Hidalgo, a prestigious Spanish coloratura soprano, someone essential in her career.
Callas' tumultuous relationship with her parents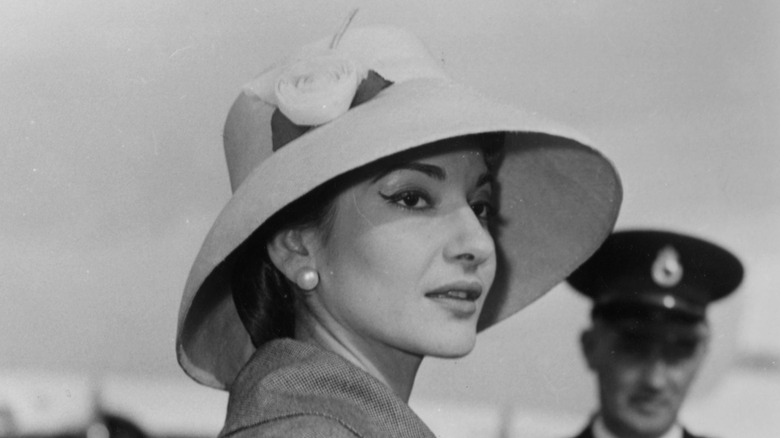 R. Powell/Getty Images
When Callas was 16 years old, she made her debut in Athens, with a small in "Boccaccio." Her first leading role came years later, in "Tosca." However, she rose to fame when she moved to Italy after the war (Encyclopedia of World Biography). Even so, life was far from perfect. According to biographer Lyndsy Spence, Callas resented her mother, who had worked as a prostitute during the war and tried to pimp her daughter to Nazi soldiers. When Callas became famous, Kalogeropoulos sold some stories to the press and blackmailed Callas.
Callas' mother wrote to her: "You know what cinema artists of humble origins do as soon as they become rich? In the first month they spend their first money to make a home for their parents and spoil them with luxuries ... What have you got to say, Maria?" (via The Guardian).
Sadly, her father, George Kalogeropoulos, wasn't better than her mother. He wrote a letter to Callas pretending he was dying in a hospital, but the singer found out he had a minor ailment. Callas wrote that she was fed up with her selfish parents and didn't want contact. "I hope the newspapers don't catch on. Then I'll really curse the moment I had any parents at all" (via The Guardian).
Maria Callas suffered in abusive relationships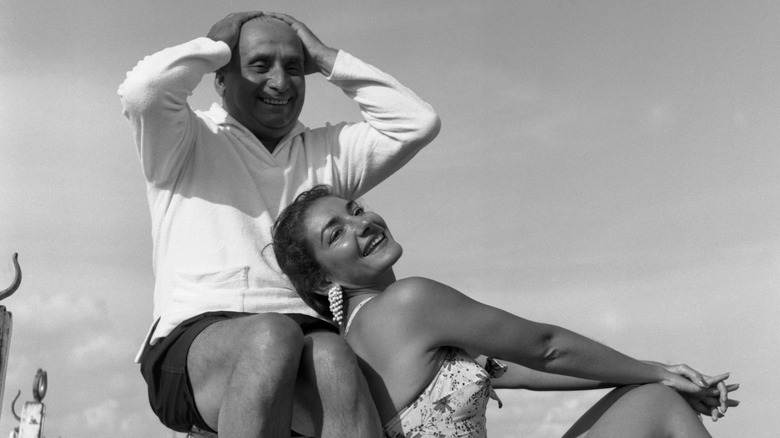 Archivio Cameraphoto Epoche/Getty Images
In 1949, Callas married Giovanni Meneghini, a wealthy Italian industrialist who served as her manager until they separated in 1959. Most people saw Meneghini as a dedicated husband, but it wasn't entirely true. As her manager, Meneghini had access to all her money, and he wasn't as rich as people thought. The singer said that he "passes for a millionaire when he hasn't got a dime." In one of her letters, Callas wrote: "My husband is still pestering me after having robbed me of more than half my money by putting everything in his name since we were married ... I was a fool ... to trust him "(via The Guardian).
In 1957, Callas met Aristotle Onassis, which would become her most famous relationship. Obviously, the affair between the shipping magnate and the most famous opera singer in the world received lots of attention from the media. However, their relationship had a dark side. In a letter to her secretary, Callas said she didn't want Onassis to call and torture her again. "There is also disturbing information from the diary of one of her close friends detailing how Onassis drugged her, mostly for sexual reasons – today we would class that as date rape," Spence said during an interview (via The Guardian).
Callas was involved in a love triangle that would break her heart. Onassis married Jackie Kennedy, widow of President John F. Kennedy, in 1968, but it didn't stop the magnate from pursuing Callas.