One-Hit Wonders Who Deserved More Than 15 Minutes Of Fame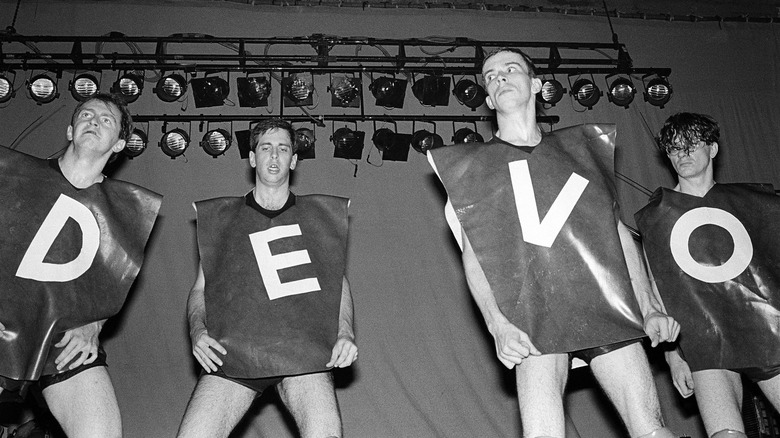 Ed Perlstein/Getty Images
For every dozen or so one-hit wonders who luck their way into the spotlight for a couple seconds, there's one who never should've been saddled with the label to begin with. These artists may be known for just one hit song — which, by the way, is probably one more than you've ever had — but due to bad luck, personal circumstances, or just plain getting robbed, they were denied much more impressive legacies.
Dwight Twilley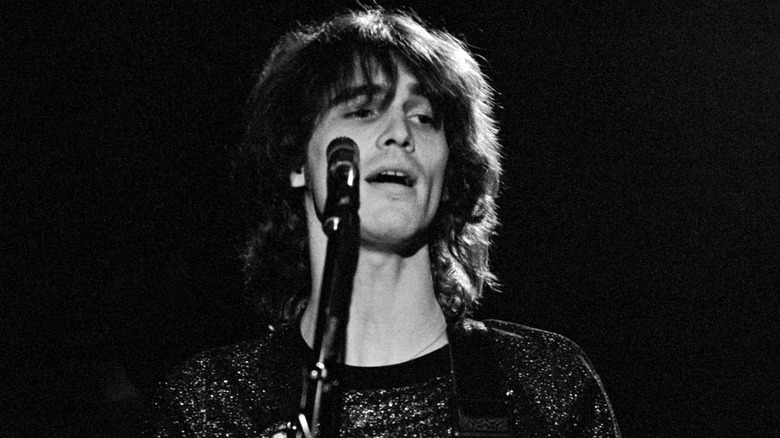 Mark Sullivan/Getty Images
The core of the Dwight Twilley Band formed in the late 1960s, when Tulsa native Twilley met vocalist Phil Seymour while the pair were still in high school. Their rockabilly-tinged power pop was partially shaped by Jerry Phillips, son of legendary Sun Records mogul Sam Phillips, and in 1974 they signed to small label Shelter Records, along with fellow regional unknowns Tom Petty and the Heartbreakers. For the rest of the '70s, the band banged their heads against the stubborn Billboard charts, while Petty's outfit slowly-but-surely became one of the most popular bands in the country. The 1978 album "Twilley Don't Mind" produced one minor hit, "I'm on Fire," and the way Twilley's luck went from that point on, he may well have been.
Seymour left the band after the album's sales tanked, and Twilley began recording on his own. His 1984 album "Jungle," released at the peak of the MTV era, seemed as though it might finally punch his ticket to the mainstream when its lead single, "Girls," became a breakout hit — largely due to an assist from Twilley's old buddy Petty on counterpoint vocal, and an R-rated version of the video that aired on the Playboy Channel. While the Petty-and-naughty-lady-bits strategy propelled the song to No. 16 on the singles chart, it unfortunately seemed to be the only strategy his label had, because Twilley disappeared from the public consciousness the moment "Girls" did.
His career now spans well over 40 years and dozens of albums, and his name has become synonymous in certain circles with talented artists who just can't catch a break. But he is a legend on the Tulsa music scene at least, which is a lot like being Emperor of Chuck E. Cheese.
Gary Numan
Christie Goodwin/Getty Images
If you're familiar with the 1979 chart-topping smash "Cars," you may have figured that a computer "Weird Science"-d Gary Numan into existence for the sole purpose of creating that song, after which he was sucked back into the virtual world. Not only is this slanderous and computerist, but it craps on the legacy of the man who invented industrial music — even if Numan himself is too shy to ever make that claim.
In fact, he says that his nerves and intense stage fright, while not only the reason for his "alien and robotic" stage persona, but are probably also to blame for stunting his career. Rather than follow up his supersmash with more supersmashes, he instead chose to go small, recording and performing for the last three decades for his tiny but devoted phalanx of fans — who call themselves "Numanoids," of course. But during that time, he's been invited to collaborate with the likes of Kanye West, Queens of the Stone Age, and freaking Prince, all of which he turned down.
By the way, that thing about inventing industrial music? We didn't say it — Trent Reznor did. This comment even led to a friendship, brief collaboration and several performances together ... and yes, they totally did a kickass metal-y cover of Numan's hit tune. Hey, we're not so good at parties, either ... maybe Trent Reznor can help bring us out of our shell, too!
Falco
When we say "Falco," you say "AMADEUS, AMADEUS! OHHHHHHH, AAAAAMADEUS!" over and over, like some kind of jackass. But, it's understandable — the Austrian rapper's monster No. 1 U.S. hit is so damn catchy, we're betting a lot of you just figure you don't remember the words anymore, and have forgotten that it wasn't even in English.
Speaking of which: how many Austrian rappers with huge No. 1 stateside hits can you name? You can make that list on one finger, and it reads "Falco." Also, do you know what the first U.S. No. 1 by a male rap artist was? No, we're not messing with you, it was totally "Rock Me Amadeus," and what we're getting at here is that Falco was one of the biggest overachievers in the history of pop. Beginning his rap career in the early '80s when American rap was considered a fringe fad, he penned the original version of the international hit "Der Kommissar" — the English cover of which went to #5 in the States — before dropping "Rock Me Amadeus" on our faces in 1986.
Despite tragically checking out in a car accident in 1998, he is still well-remembered in his native Austria, being that country's best-selling artist ever, with ridiculous sales of around 60 million. If you ask us, his more impressive legacy is that future rap powerhouses like Eminem, Jay-Z, and Drake were all forced to follow a trail blazed by a European dude rapping about Mozart while wearing a powdered wig.
Biz Markie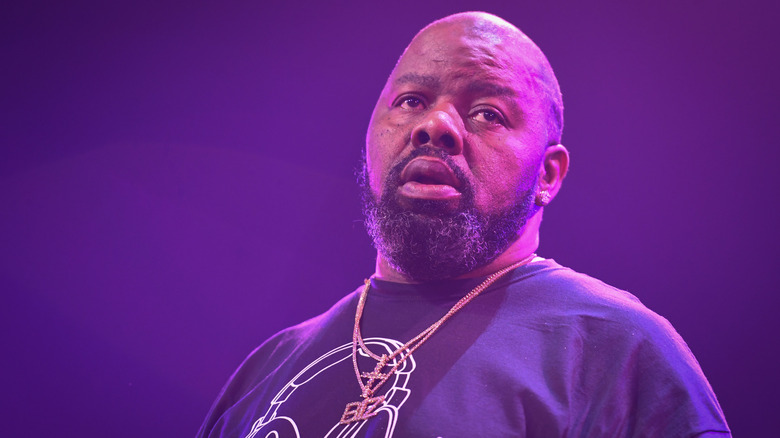 Shahar Azran/Getty Images
You probably remember Biz Markie — if you remember him at all — as the guy whose lady companions all run around with other guys while insisting they're just friends, perhaps after discovering that, despite being pretty good at rapping, he sings like absolute hell. But the Biz transcends this borderline-novelty tune for one simple reason — he's a founding member of the Juice Crew, and if that name doesn't ring a bell, every current rapper is waiting in line to punch your face.
They're most famous for being involved in one of the first-ever beefs, known as the Bridge Wars, with Bronx crew Boogie Down Productions (and pretty much getting killed in said beef). But they also bred legends like producer Marley Marl and MCs Big Daddy Kane, Craig G and Kool G Rap, and the comedic leanings of the Biz made him a grounding force in this collective of total badasses. "Just a Friend" may have been the only time he came within shouting distance of chart success, but his late '80s and early '90s albums are considered classics by fans. One of them undeniably changed rap forever, for better or worse: 1991's "I Need a Haircut" was at the center of the court case which forced artists to clear all their samples. His next album, "All Samples Cleared!" was met with a response of "Ha ha, Biz. Ha bloody ha."
Thomas Dolby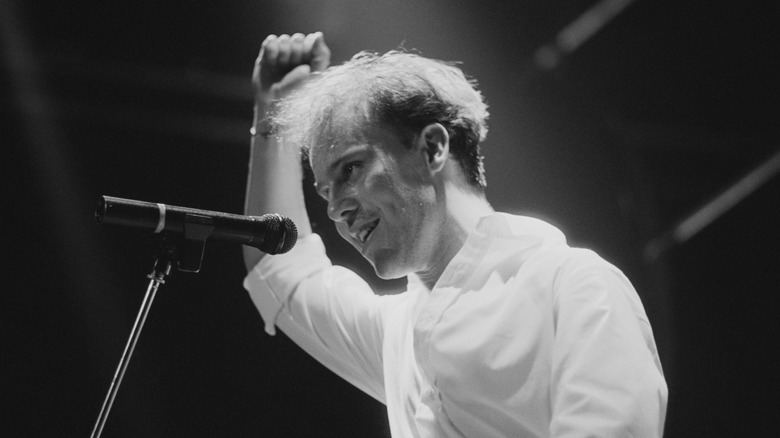 Erica Echenberg/Getty Images
Thomas Dolby enjoyed a brief reign as King of All Geeks in the Spring of 1983, as his hit single "She Blinded Me With Science" peaked at No. 5 on the U.S. charts. His musical mad scientist persona may have seemed like a carefully crafted fit for the golden age of New Wave, but it's no persona — he really is some kind of freaking mad scientist, and he's been finding ways to get into your ears for decades.
For starters, his work has appeared in a truckload of films, TV episodes, and video games, and he's been a session player for the likes of David Bowie, Stevie Wonder and George Clinton. Then there's his side career as a Silicon Valley entrepreneur, which saw him found a company that created part of the technology that lead to the ringtone explosion of the early 2000s. While doing all that, he also served as musical director of the TED Conference for nearly two decades, but retired in 2012 ... to become a professor at Johns Hopkins University. And he's still not too full of himself to pull out an awesome live rendition of the tune that everyone makes fun of him for. We're assuming he teaches a course at JHU titled "How to Outright Kill It at Everything."
Benny Mardones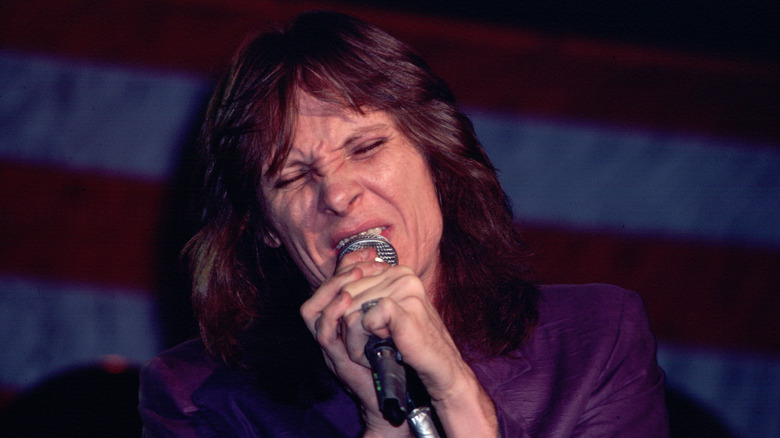 Gary Gershoff/Getty Images
In 1990, practically every musical legend alive gathered for a tribute to Roy Orbison, the revered rock warbler behind '60s hits like "Only the Lonely" and "Crying," and also the fifth Traveling Wilbury. Onstage were heavyweights like George Harrison, Jeff Lynne, B.B. King, Bob Dylan — and a guy named Benny Mardones, who took the spotlight for a solo rendition of Orbison's 1962 hit "Running Scared." Nobody in the crowd might have known who the hell Benny was or what he was doing there, but everyone on stage sure did.
Mardones was the guy behind the monster 1980 single "Into the Night," a power ballad that's been called one of the best rock love songs of all time — so good that, when Mardones threw it on his little-heard 1989 self-titled album, it charted again. Unfortunately, Mardones' career was derailed by the same thing that sunk lots of promising music careers in the '80s: mountains and mountains of cocaine. He credited the birth of his child and a move to Syracuse, of all places, with saving his life. He retained a dedicated fan base in Central New York to this day, where fans have the good grace not to bring up the fact that his beautiful hit ballad has some ... pretty creepy lyrics.
Goodie Mob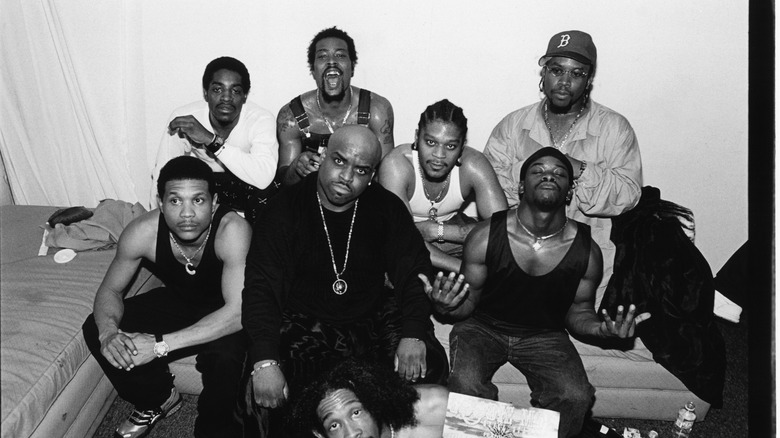 Catherine Mcgann/Getty Images
Casual fans of Outkast have heard them refer early and often to the Dungeon Family, but you may not know what this means. It refers to a collective of Atlanta-area artists who were all attempting to make national waves in the 1990s, and Outkast wasone of their premier acts. The other was Goodie Mob — for awhile, it was a toss-up as to which of the groups would attain superstardom first.
Goodie Mob's idiosyncratic, tag-team rapping backed by production outfit Organized Noize — watch the Netflix documentary, it's awesome — debuted on the 1996 single "Cell Therapy," a surprise hit that prompted one producer to proclaim them the next Public Enemy, at a time when that was a good thing. But although their 1997 sophomore album sold reasonably well, Outkast began absolutely crushing it the following year with the release of "Aquemini," and the Mob's label was a tad disappointed when they were unable to follow suit. The group was dropped after the 1999 album "World Party," also losing one of their more valuable members — Cee Lo Green, who would go on to keep one-hit-wondering on his own, and as a member of an awesome but unfortunately named duo. A 2013 reunion went mostly unnoticed, as the Mob insist on making "hip-hop for adults," and apparently nobody wants that.
Big Country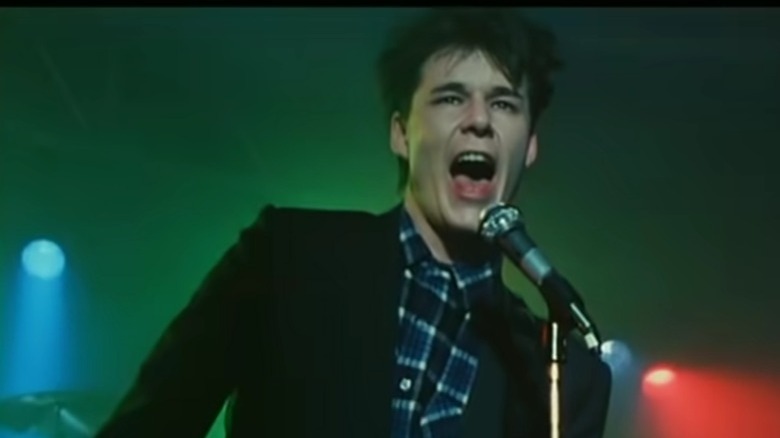 Big Country/YouTube
Big Country formed in 1981 after the demise of the Skids, a new wave-y punk outfit that had some success in the U.K. in the late '70s. Frontman Stuart Adamson gave the new band a familiar face and voice, but Big Country's sound was unlike much of anything that came before it. It was genius, really — being from Scotland, the band thought it might be interesting to take traditional instruments like fiddles and bagpipes, and stick them where most of the electric guitars should be. As it turned out, they were right.
Legendary producer Steve Lillywhite, who had worked with pretty much everybody who ever rocked, polished this sound to a fine luster on Big Country's debut record, 1983's "The Crossing." Lead U.S. single "Fields of Fire" got some airplay and did well on MTV, but the follow-up "In a Big Country" scored the band their only top 40 U.S. hit and went on to secure its status as an iconic tune by appearing in commercials all the freakin' time. The song is still fondly remembered, but apparently featured all the bagpipes Americans were ever willing to hear. Big Country's seven subsequent albums performed decently in the U.K., but the band was all but forgotten in America until Adamson sadly died by suicide in 2001. Perhaps the most shocking thing about the whole story is that a band with a name that sounds for all the world like a redneck-themed professional wrestler, couldn't find lasting success in the states.
Harold Faltermeyer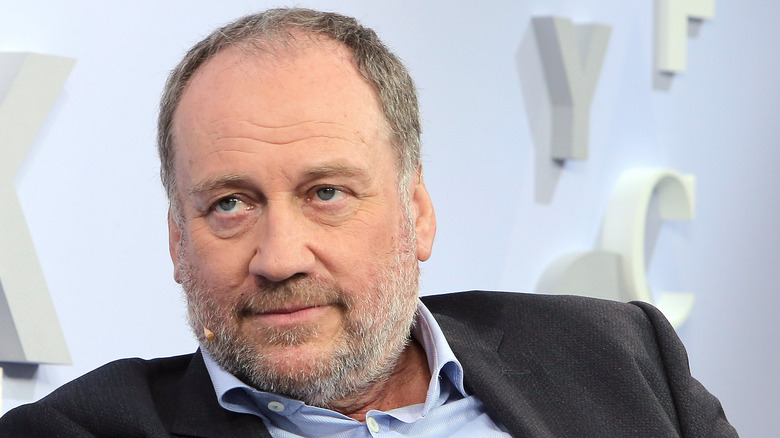 Hannelore Foerster/Getty Images
If the name Harold Faltermeyer rings a bell, it's more than likely because that was the name of your high school math teacher. But in the early '80s, when synths were beginning to rule all pop music, Faltermeyer was the ruler of all synths, and he is responsible for at least one piece of music that we guarantee is etched deep into your brain. Listen to the first three seconds, and the entire song will be stuck in your head for three days. This is our promise, and our threat.
Faltermeyer is the composer of "Axel F," the theme to "Beverly Hills Cop" and the single catchiest synth-pop instrumental not performed by Herbie Hancock or associated with Ferris Bueller. He began his career by helping electronic music pioneer Giorgio Moroder with his arrangements, and he was recruited for the Hollywood machine by mega-producers Don Simpson and Jerry Bruckheimer, after they heard his kickass keyboard-playing on Donna Summer's hit album "Bad Girls." "Axel F" was one of his first efforts for film, and it shocked everybody involved by becoming a massive pop hit.
He would go on to contribute similarly catchy to tunes to craploads of '80s movies including "Fletch," "The Running Man," and "Tango and Cash," but further chart toppers failed to materialize — even "Top Gun Anthem," featuring Billy Idol's guitarist Steve Stevens, failed to make a dent in the charts. Faltermeyer took a two-decade break from Hollywood to be a family guy, but returned to score Kevin Smith's 2010 film "Cop Out." He may not have the name recognition he deserves, but he can always take solace in the incredibly deep discography of awesome artists he's worked with, and his boatloads of money. And two Grammys. Poor guy.
Midnight Oil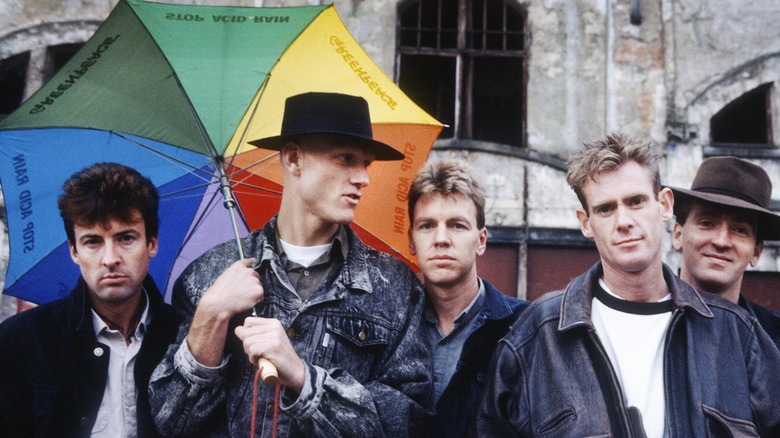 Gie Knaeps/Getty Images
Imagine U2 if they were Australian, ten times more political, and not led by one of the most punchable men in all of rock. You are now picturing Midnight Oil, one of the most beloved bands Down Under this side of Men at Work, and also one of the most awesome, politically charged rock bands of all time.
With their aggressive pub-rock-meets-hardcore-punk sound, and the borderline-terrifying presence of towering, bald, angry lead singer Peter Garrett, the band quickly became known for its fierce live performances and incendiary politics. Even their sole U.S. hit, 1987's "Beds Are Burning," was a protest song, decrying the theft of lands from native Australian peoples — which makes the fact that it registered in the states at all pretty damn impressive. "The Oils," as they're known in Aussieland, kept up touring and recording until their breakup in 2002, but they've recently found a purpose to reunite — an orange, endlessly tweeting purpose. Trump, in case you needed another hint.
Oil's announced their intention to launch a world tour in 2017, and if you're skeptical of the ability of an aging political rock band to enact any change, you may want to think twice before dismissing the Oils. During the band's hiatus, Garrett put his money where his mouth is: He ran for elected office in Australia and won, serving as Minister for Environment Protection, Heritage and the Arts, and as Minister for School Education, Early Childhood and Youth after that, for a total of nine years. Picture Bono doing that. You can't, because Bono is a punchable blowhard.
Devo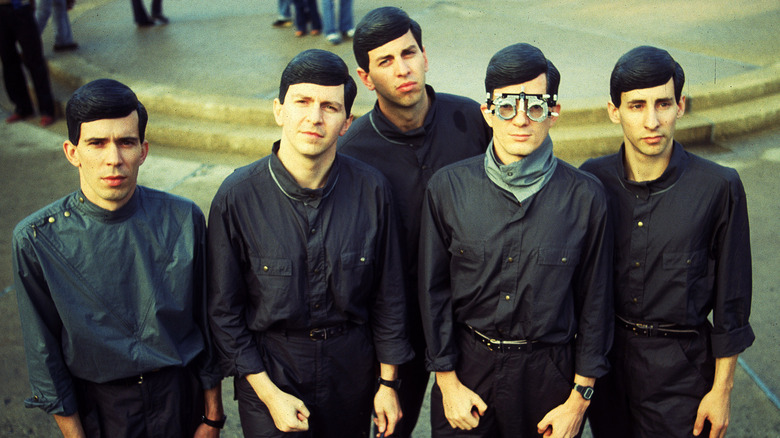 Paul Natkin/Getty Images
If you're a fan of '80s music, or are at all familiar with synthesizer-based pop, then there is an insanely catchy intertwined bass and synth line that pops into your head upon hearing the words "Crack that whip!" This is thanks to Devo, a singularly adventurous outfit whose 1980 single "Whip It" became a No. 14 U.S. hit in 1980 and garnered yet more attention after the advent of MTV thanks to its jaw-droppingly weird music video. It was the band's only significant hit — but this is only because Devo, the very definition of "art rock," was not exactly designed for the mainstream.
Formed by Mark Mothersbaugh and Gerald Casale while still in college, the band's motif of "de-evolution" (encapsulated by the title of their 1978 debut LP, "Q: Are We Not Men? A: We Are Devo!") was expressed through their complete deconstruction of every element of pop music. Their robotic vocals, near-metronomic rhythms (courtesy of drummer Alan Myers), and insane visual aesthetic confounded casual fans and critics — but just call them ahead of their time. Their artsy, technology-driven approach to their craft was at the bleeding edge of the New Wave movement. "Whip It," which incidentally is a killer tune, was among the first hit songs to feature a synthesizer lead — and Devo proved to be a massive influence on future critical darlings like Radiohead and LCD Soundsystem. Mothersbaugh went on to a sterling career as a composer for film and television, and a few lineup changes notwithstanding, Devo continues to de-evolve to this day.
Little Peggy March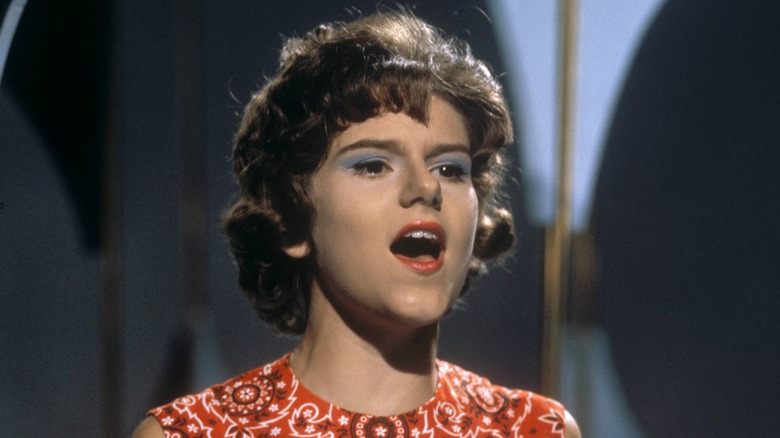 David Redfern/Getty Images
The name Little Peggy March might not immediately ring any bells, but the name of her lone hit song certainly should: "I Will Follow Him," which topped both the pop and R&B charts in the spring of 1963. Born Margaret Battavio, the English vocalist — who came across her professional moniker by way of an oh-so-clever cross-referencing of her stature and her birth month — was only 14 years old when she was signed to a recording contract with RCA, and just 15 when her debut album "I Wish I Were a Princess" and its smash single became all the rage among her high school-age peers. Her would-be rise to fame, though, came at an inopportune time. In 1964, a bunch of mop-topped Brits calling themselves The Beatles led a takeover of the U.S. airwaves by their (and March's) countrymen, in the process ushering in a new age of innovation and creativity in rock that left comparatively traditional warblers like March in the dust.
March never had another hit record of any stripe after that year — at least not in the states. As her fellow Brits invaded the country, she in turn staged an invasion of Europe, going on to record a number of successful albums in German, Spanish, Italian, and even Japanese. She even represented Germany in the legendary Eurovision Song Contest in 1969 and 1975 (placing second both times), and in 1985, she finally achieved another U.S. hit — as the co-writer of "When the Rain Begins to Fall" by Jermaine Jackson and Pia Zadora.
Elvin Bishop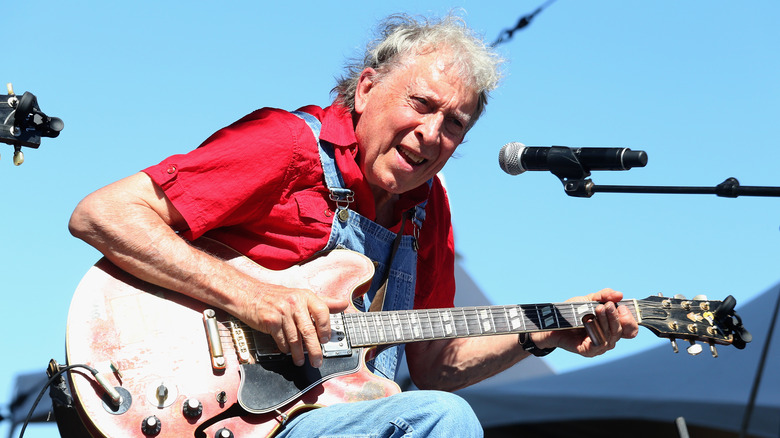 Gary Miller/Getty Images
The descriptors "One-Hit Wonder" and "Rock and Roll Hall of Famer" don't often intersect, but then, Elvin Bishop has not had the most conventional career path. As a member of the Paul Butterfield Blues Band, Bishop — an ace guitarist whose South Side Chicago blues bonafides are evident in every note he plays — helped to inspire generations of rock artists to embrace the genre's bluesy roots. While the outfit didn't make the biggest impact on the Billboard charts, their impact on their fellow artists was far greater. Bishop recorded four albums with the band before relocating to the Bay Area to embark upon a solo career, one that went relatively unnoticed but for one, monster smash hit song.
This would be the 1976 single "Fooled Around and Fell in Love," a ridiculously soulful number featuring a stellar lead vocal from singer Mickey Thomas. The tune spent a whopping 17 weeks on the Billboard chart, peaking at No. 3, became a staple of classic rock radio, and gained yet more exposure when it was featured on the (totally awesome) soundtrack to Marvel's "Guardians of the Galaxy" in 2014. Bishop has continued to record blues records ever since but has never again sniffed that kind of chart success; the same, however, cannot be said for Thomas. Owing partially to the success of Bishop's lone hit, he was later invited to join Jefferson Starship, which later became simply Starship before contributing some of the most universally despised massive hits of all time in "We Built This City" and "Nothing's Gonna Stop Us Now."
? and the Mysterians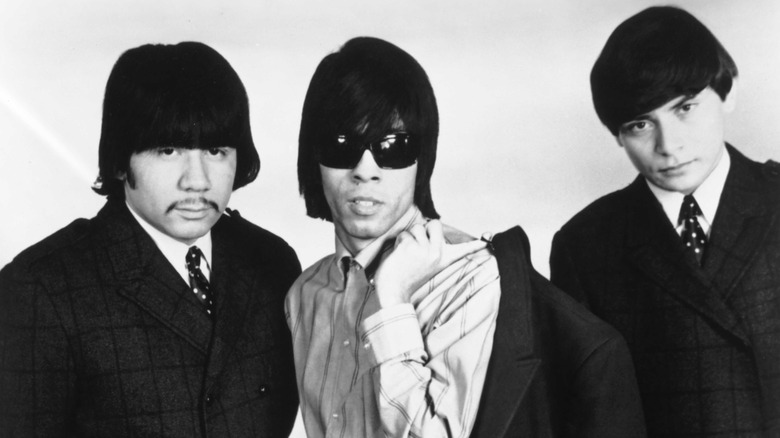 Rb/Getty Images
It would be tough to find a band name more evocative of a mystifying enigma than ? and the Mysterians, nor a band more suited to the moniker than the one who took it on. From its outset, the Michigan outfit seemed determined to labor in obscurity; they took their name from an obscure Japanese sci-fi movie, and many of the fans who jammed out to their one major hit, "96 Tears," could have been forgiven for not knowing that the band was uniformly Mexican-American, an extreme rarity on the '60s rock scene. With that one song, though, the band advanced a singularly unique lo-fi, fuzzy sound that would prove to have a lot of legs.
Speaking of which, famed music journalist Legs McNeil has credited the 1966 tune with being the first garage punk song, and it would indeed be a challenge to find an earlier example of a song fitting that description. While they continued to bang their heads against the pop charts into the '70s, mainstream success stubbornly eluded them — but the band has continued to be a steady live presence to this very day, and citing their status as pioneers, lead singer Question Mark (yes, that is his legal name) openly lobbied for a Rock and Roll Hall of Fame induction in a 2019 interview with MLive. "Iggy Pop and the Stooges are already in there, and Bob Seger," he said, "but they're not looking at who influenced those bands" (via mlive.com).
Buffalo Springfield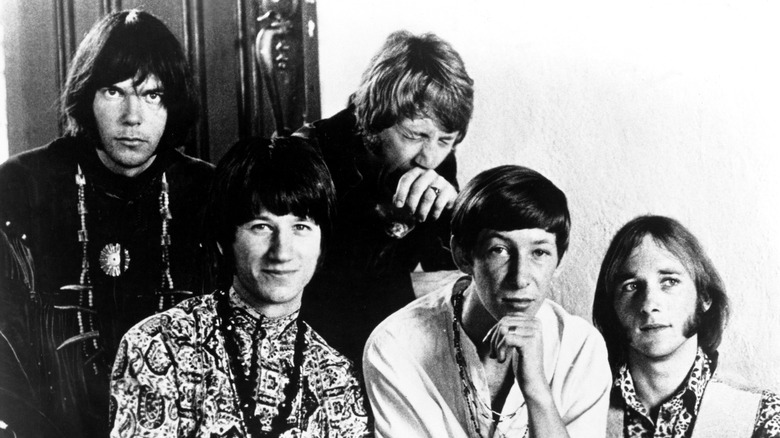 Michael Ochs Archives/Getty Images
Released during the Summer of Love in 1967, Buffalo Springfield's "For What It's Worth" is instantly evocative of '60s counterculture; you may not know it by its title, which is not featured in the lyrics, but you certainly know it by the chorus "Stop, hey, what's that sound / Everybody look what's going down." The tune came smack in the middle of the band's extremely short run; they only released three albums in two years between 1966 and 1968, with its members going on to other things after its demise. But aside from that one iconic top 10 hit, it's those other things that make Buffalo Springfield noteworthy, for it was nothing short of a breeding ground for amazing artists.
For starters, the band's guitarist and pianist was Neil Young, whom you may have heard of. When he wasn't dropping classic albums with his band Crazy Horse, he was teaming up with fellow former Buffalo Springfield members Stephen Stills, whose folk-rock outfit Crosby, Stills and Nash occasionally tacked Young onto the end of their moniker. Guitarist Richie Furay and bassist Jim Messina would go on to form Poco, who scored three top 20 hits and whose members Randy Meisner and Timothy B. Schmidt would go on to be key members of The Eagles; Messina would later form a partnership with singer-songwriter Kenny Loggins, who inexplicably dominated movie soundtracks in the '80s. Due to their influence on '70s album rock and the fact that pretty much all of them are legends, Buffalo Springfield was inducted into the Rock and Roll Hall of Fame in 1997.
Nick Lowe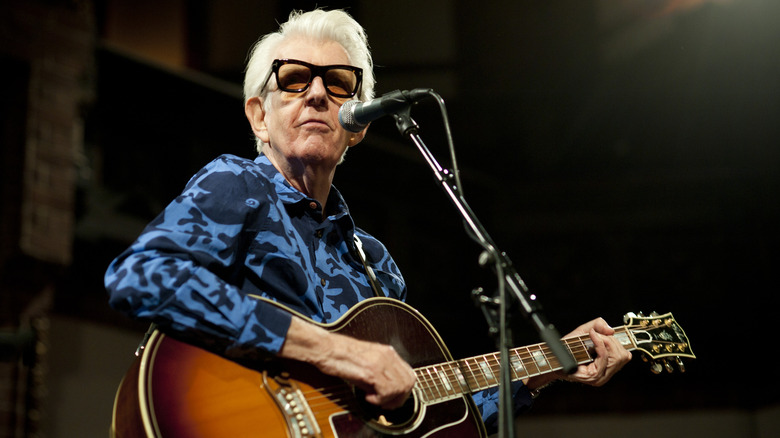 Martyn Goodacre/Getty Images
Nick Lowe is a man possessed of a quirky way with words. In the U.K., he scored a top 10 hit with the amazingly titled, thoroughly awesome tune "I Love the Sound of Breaking Glass," and in the U.S., his only top hit came from his third album, 1979's "Labour of Lust," which followed a pair of 1978 efforts titled "Jesus of Cool" and "Pure Pop for Now People." That lone hit in the U.S. was "Cruel to Be Kind," an upbeat tune about a guy whose girlfriend insists that her crappy treatment of him is actually a sign of her undying love, which peaked at No. 12 on the charts.
Aside from his incredible sense of humor, Lowe deserves a ton of credit for his stellar work as a composer and producer. He's notched credits for the likes of Dave Edmunds, Johnny Cash, Elvis Costello (whose first four albums were produced entirely by Lowe), The Pretenders, and The Damned. It may not surprise you to learn that his lone brush with pop stardom came very close to not even happening. Speaking with The Guardian, Lowe remembered his response when Columbia Records executive Gregg Geller expressed interest in releasing "Cruel to Be Kind" as a single: "Oh yeah, you like that, Gregg? Great. But I've got a better song here about a woman who was eaten by her dog."