The Tragic Story Of Britain's 1919 Race Riots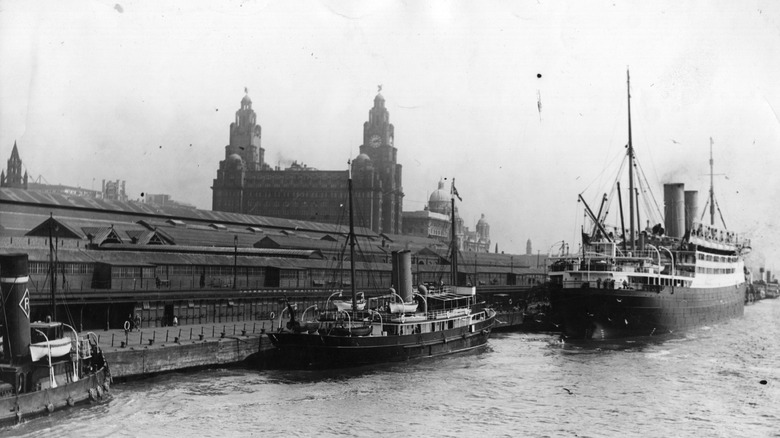 Hulton Archive/Getty Images
In the United Kingdom, history teachers will proudly tell British schoolchildren of the experiences of Black American soldiers stationed in the country in World War II — that they were warmly welcomed by both British military personnel and the civilian communities in the towns and cities they frequented. These tales were a far cry from the soliders' experiences of their home country, where Jim Crow laws still segregated society and racial tensions ran high (per The Conversation). But in the telling of such stories, the U.K. is guilty of overlooking the racial prejudices existent in its own society, and of whitewashing some of the darkest moments of its own history, when racial tensions led to rioting, violence, and murder.
As described by BlackPast, in 1919 the U.K. was just emerging from a postwar economic downturn. Many major towns and cities — including Liverpool, pictured above — saw a huge surplus of unemployed former servicemen and working-class workers amid a significant job shortage and clamor for housing, which was also in limited supply. Sadly, the U.K.'s poor economic circumstances led to increased racial tensions. In particular, many white Britons suffering hardship reflexively blamed Black and minority communities — whose populations had increased in the country in previous years when demand for workers was at a peak — for the downturn.
From Liverpool to London: Six months of race riots
Starting in January 1919, the U.K. saw mass race riots erupt sporadically in Barry, Cardiff, Glasgow, Hull, Liverpool, London, Newport, South Shields, and Salford as groups of the disgruntled white working-class turned their frustrations on their local Black and minority communities. According to The National Archives, vandalism and street-fighting became commonplace as the rioting crowds increased.
According to BlackPast, riots became especially intense in the port city of Liverpool, where rioters turned against the city's large and historic Afro-Caribbean population, as well as the homes and businesses of local Arab and Chinese residents. In the most notorious incident of the 1919 riots, rioters attacked a 24-year-old sailor named Charles Wotten (also known as Charles Wootton), who was thrown into the river and showered with rocks and bricks by a mob. His dead body was later recovered from the river by police, and in the days that followed, crowds of up to 10,000 roamed the streets seeking out and attacking the city's Black and minority residents (per the Liverpool Echo).
By the end of August, five people had been killed and some 250 arrested, while many more had suffered severe injuries. But racial tensions continued into the 1920s when the British government began to instigate a policy of repatriation of its Black and minority citizens, who were increasingly described as "aliens" by ministers and the press. In fact, rioting continued into the 1920s, with 3,000 people removed from the country by 1921.