The Truth About Ric Flair And Hulk Hogan's Feud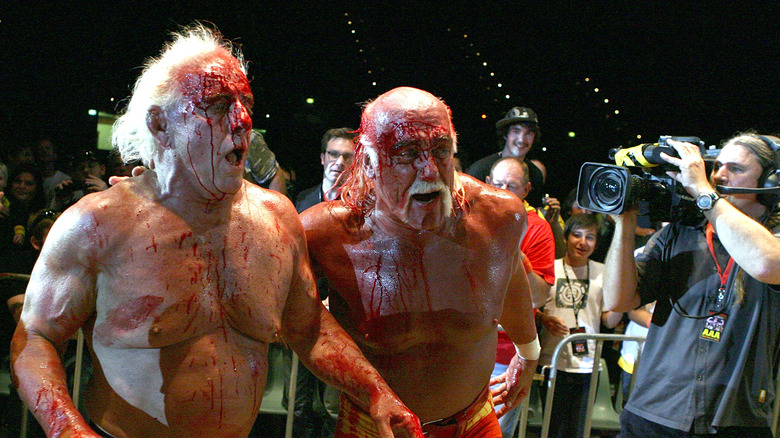 Paul Kane/Getty Images
Now that the world is dealing with Ric Flair leaving the WWE, fans are taking a look back into the legendary wrestler's storied career. He spent a whopping three decades with the WWE, but his career includes stints with several other promotions, including the NWA and WCW (and SportsKeeda is spreading rumors that he'll go to AEW now). Throughout that career, Flair had some seriously entertaining feuds with greats like Sting, Randy Savage, and Ricky Steamboat.
However, not all of Ric Flair's rivalries were showstoppers. The Sportster listed the five best and five worst feuds of the wrestler's career, and some of the names on there might surprise you. Among his worst were with wrestlers you've most likely never heard of, like Eric Bischoff, Ronnie Garvin, and Arn Anderson. But one name sticks out among the worsts: Hulk Hogan. We know what you're thinking. Really? Two unstoppable forces like Ric Flair and Hulk Hogan didn't do well into the ring together? How would such a thing even be possible? Let's take a look into what went down between Flair and Hogan and try to figure out why they had no spark together in the ring.
Ric Flair and Hulk Hogan's feud suffered from bad timing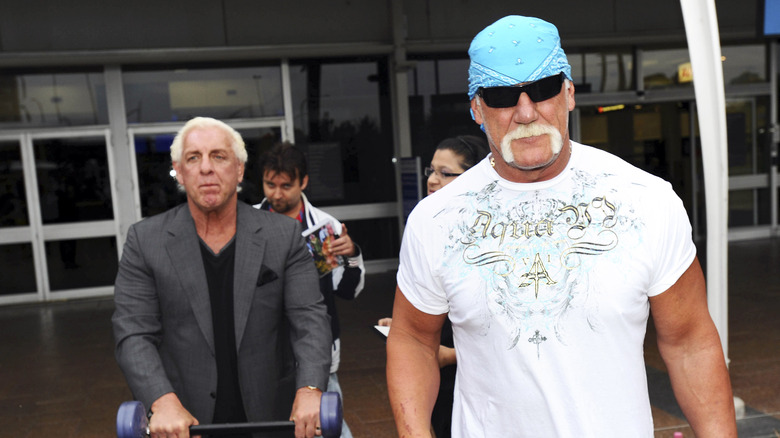 Peter Carrette Archive/Getty Images
In the 1980s, one name dominated the WWE (called the WWF back then). Hulk Hogan was an absolute superstar, helping the sport on its journey to becoming the worldwide behemoth it is today. Ric Flair was the superstar over at the NWA, and the world was just dying to see him wrestle Hogan. According to The Sportster, magazines like Pro Wrestling Illustrated fantasized about a matchup between the pair of legends.
Then in the early '90s, Flair appeared to be giving the fans exactly what they wanted when he moved on over to the WWE. After Flair won a World Title at the Royal Rumble, the stage was set for the most epic showdown of pro wrestling history. Or, was it? The WWE apparently didn't think so, and so the promotion decided against matching the two up. Fans were forced to wait until the two were both in WCW, but by that time, it was too late. The feud had petered out before it had even gotten started. Still, no harm done to either wrestler's career. Both will be forever remembered for their epic contributions to the sport of pro wresting.