The Truth About Ric Flair's Final WWE Match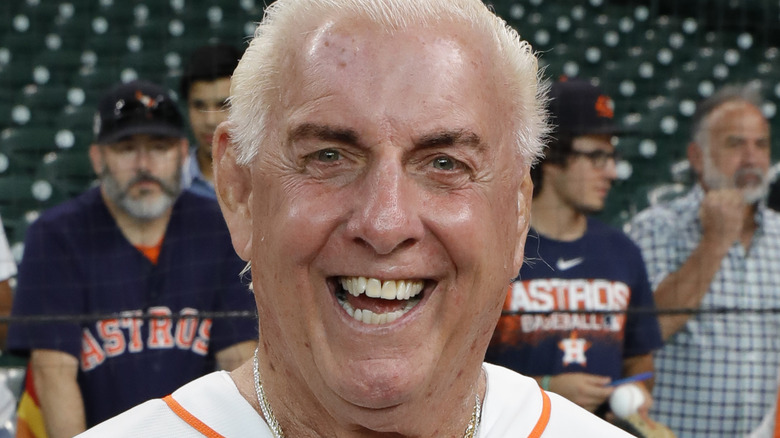 Bob Levey/Getty Images
WrestleMania 24 ended with one of the most iconic moments in the history of professional wrestling. The year was 2008, and Ric Flair was nearing the end of his stellar 3-decade run with the world's biggest promotion. According to the WWE, he was inducted into the Hall of Fame the day before — the first-ever active wrester to earn the distinction. (Four years later, he went on to be inducted again for his time with The Four Horsemen in WCW, becoming the promotion's first-ever repeat inductee.) The fans didn't know if tha WrestleMania bout with fellow legend Shawn Michaels would be his last, but they knew it was a possibility. For Flair had made a deal with WWE owner Vince McMahon: if he lost, he had to retire.
As talkSPORT notes, The Nature Boy held his own against The Heartbreak Kid, but in the end Michaels finished Flair off with a classic Sweet Chin Music, but not before improvising one of the most moving moments to ever take place in the squared circle. "I'm sorry," Michaels said to his childhood idol. "I love you." Then he booted his hero in the chin. Michaels told Stone Cold Steve Austin in 2015 what it was like to kick his idol into retirement. "You have to understand, ... I was in there in body, but inside it was the 15-year-old kid who watched him every Saturday. It was, 'Thank you for giving me this honor, and I love you for it.'"
The truth about Ric Flair's final match ever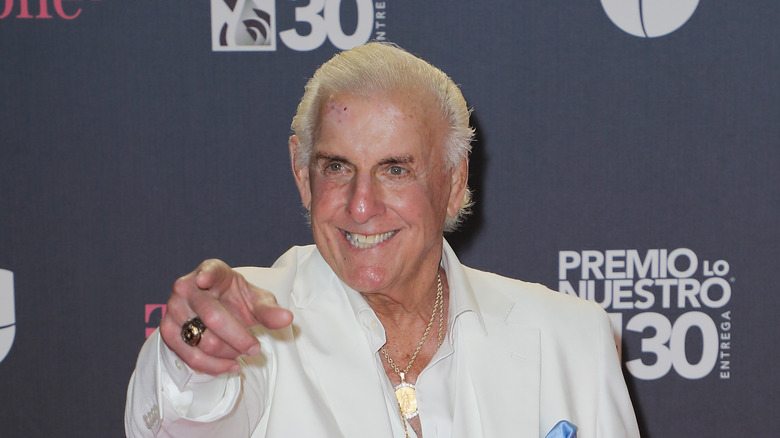 Alexander Tamargo/Getty Images
That would have been an excellent moment on which to have ended a legendary career in the ring, and Ric Flair knows it. But unfortunately it wasn't. He told talkSPORT that Michael's profession of love "wasn't rehearsed, that wasn't even discussed. That was just raw, pure emotion. He knew that I didn't want to leave. ... I wish that I had never wrestled again and that was my last match."
Flair regrets continuing to wrestle because the final match of his career was such a dud that it earned an entry on Wrestle Crap. The website that compiles "the very worst of pro wrestling" notes that Flair moved to TNA (now Impact Wrestling) and got back in the ring. The only thing Flair's final match had going for it was that it was to be a showdown with one of his greatest rivals: Sting. But Flair was sluggish and clumsy. At one point he fell right on his head jumping from the ropes. In the end, he was finished off with Sting's signature Scorpion, and an injury he incurred during an attempted superplex ended up making the decision for him that this had been his final match.
But despite his lackluster final bout, Ric Flair's legendary career in pro wrestling will never be forgotten. It might not even be over. He left the WWE in August 2021, but rumor over at SportsKeeda is that he could be contemplating a move to AEW.