What You Didn't Know About The Sonny And Cher Comedy Hour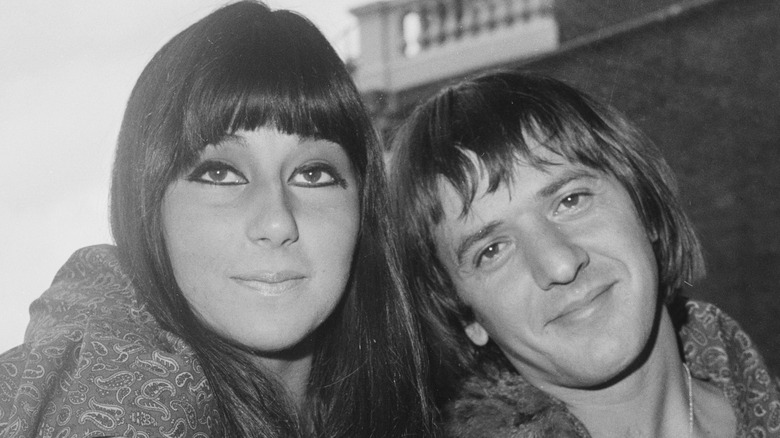 Douglas Miller/Getty Images
The 1960s were a tumultuous decade with the Vietnam War, the assassinations of both President John F. Kennedy and Martin Luther King Jr., and the counter-cultural revolution in both music and style. Midway through the decade, a pop-rock hippie duo burst onto the national scene with a sound and look that not only propelled them to fame and fortune but helped lighten up the seriousness of the era, Encyclopedia.com reports. The duo, comprised of Salvatore "Sonny" Bono and Cherilyn "Cher" LaPierre, would become known as Sonny and Cher.
They first met in 1963 when Cher was just 16 and Sonny was a married-but-separated 27-year-old man, per Biography. Two years later they were an international sensation thanks to "I Got You Babe" and other hits they made together, including "The Beat Goes On." While they weren't romantically involved in the beginning, they eventually hit it off, fell in love, and were married with a baby by 1969. But by the end of the decade, their careers had faltered, so they moved to Las Vegas and developed a husband-wife lounge act that featured playful bickering between songs (via History).
Sonny and Cher's troubled marriage
Michael Ochs Archives/Getty Images
The nightclub show didn't just revive Cher and Sonny's careers — by 1971, it provided the impetus for what would become a top-rated television variety show. The show began as "The Sonny and Cher Comedy Hour" and ran off and on for the next six years in various iterations. While the first version of the show was a massive success, their marital life wasn't — they were having problems with Sonny's extramarital affairs. At one point, Cher said, "One woman, or even five, was not enough for him," per Biography. By 1972, Cher was having her own affair, but their careers were so intertwined that the couple didn't think divorce was an option.
During "The Sonny and Cher Comedy Show" run between 1971 and 1974, both stars were living separate lives behind the scenes, despite still remaining together. According to an account in Biography, the couple lived together in the same mansion but each had a new partner staying with them. Afraid of the impact on their successful TV program, it wasn't until 1975 that the pair officially divorced. At that point, each star had their own variety show, although both were ultimately canceled (via IMDb). The pair teamed up again in 1976 for the short-lived "Sonny and Cher Show," which ran for just one year. The quick demise of the show ended the almost 15-year run for the hot entertainers and paved the way for their separate and successful solo careers — Sonny in politics until his death in 1998, and Cher with her music and as an Oscar-winning actor.