The Real Meaning Of Guns N' Roses' Absurd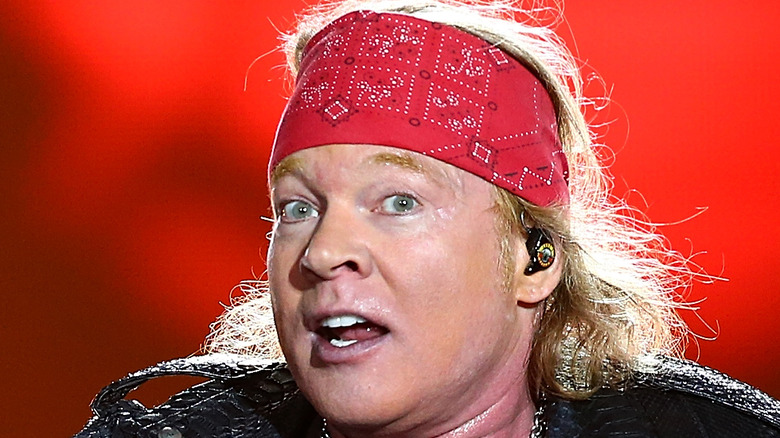 Paul Kane/Getty Images
Guns N' Roses is one of the big name heavy metal bands to come out of the '80s. The rock band rose to popularity in 1987 with their hit single "Welcome to the Jungle." They continued to score hits on the music charts heavily into the early '90s, but that shortly fizzled out. After their 1993 album "The Spaghetti Incident," the band would take until 2008 to release their next project, titled "Chinese Democracy." In between that time, notable members of the band, such as Slash and Duff McKagan, left and came back again. And most of the time since then, Axl Rose was the only original member recognized as the face of the band. Despite performing reunion shows and officially reuniting as a band in 2016, Guns N' Roses hadn't released any new music. But that 15-year hiatus has come to end with their latest song.
Guns N' Roses recently released a new single (posted on YouTube) called "Absurd," with the letter R reversed in the writing of the song title. What does this all mean?
Absurd was originally recorded with a different title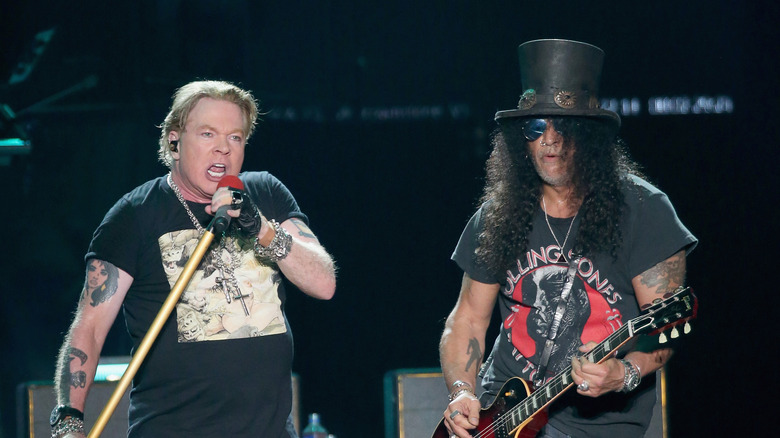 Gary Miller/Getty Images
Currently on tour, Guns N' Roses officially debuted "Absurd" to a select number of concert fans when they performed it at Fenway Park on August 3, per WCSX. The fast-paced head-banging track is profanity-laced, but not exactly new. It actually references an unreleased song the band recorded more than a decade ago. Their song "Silkworms" was recorded during their "Chinese Democracy" era but was never distributed and didn't make it on the album, per Genius. They did however perform it in very rare instances.
A quick review of the lyrics for "Absurd" and "Silkworms" shows the slight touch-up of the original song (via AZ Lyrics). Most of the lyrics remained the same, save for a few additions and the chorus, which now consists of Axl Rose shouting the word: absurd.
According to Merriam-Webster, the definition of absurd basically means something that is too stupid to make sense. The tone of both songs is pure condescension to whoever Rose is talking about in it. And surprisingly enough, the entire original chorus can actually be summed up with the one word.