Here's How Allyson Felix Just Made Olympics History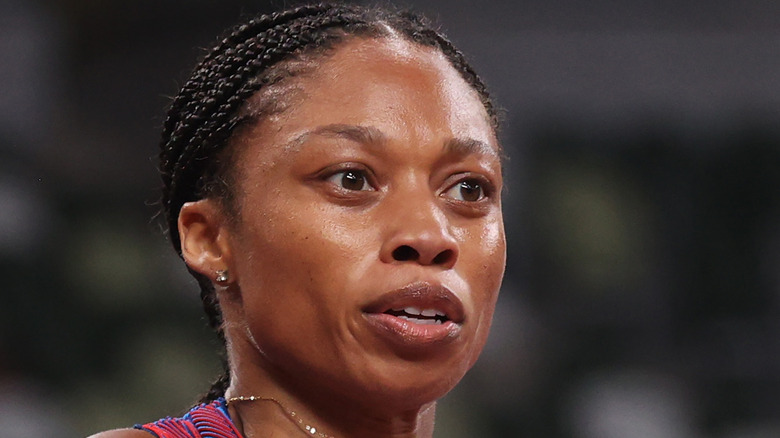 Christian Petersen/Getty Images
American sprinter Allyson Felix just made history at the Tokyo Olympics. The California-born athlete won bronze in the women's 400 meter race final on August 6, per NBC. She came in third, clocking 49.46, behind Dominican Republic's Marileidy Paulino, and The Bahamas' defending gold medalist, Shaunae Miller-Uibo. While Felix didn't get the top prize, she is No. 3 in the world and the win makes her the most decorated woman in track and field after earning her 10th Olympic medal. The accomplishment is a historic feat, considering that she once shared that title with Jamaica's track superstar, Merlene Ottey. But now she stands alone in that regard as this will be her final Olympic's appearance. Her first (and last) Olympic bronze medal joins her collection of three silver and six gold medals, per Team USA.
After a life-threatening pregnancy and a sponsorship controversy, this is a thrilling comeback for the Olympian, who has competed in every Olympic Games since 2004. In November 2018, she gave birth to her daughter Camryn. Despite being a world-class athlete with access to the best of the best health providers, Felix faced a health risk a lot of Black mothers encounter and had to have an emergency C-section at 32 weeks as a result of preeclampsia (via "Today").
Allyson Felix's comeback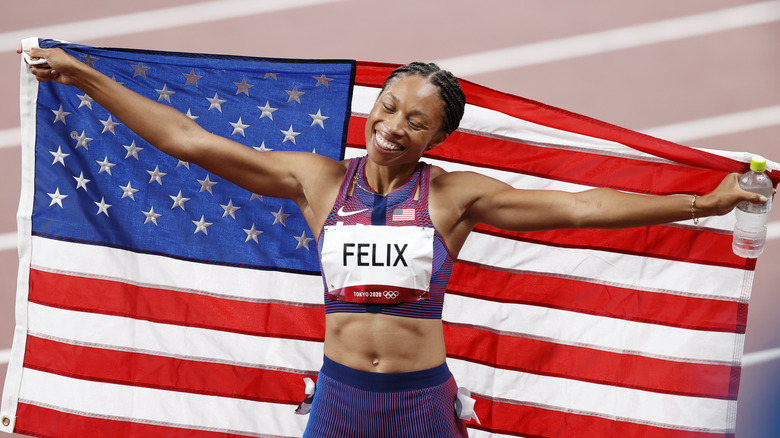 Fred Lee/Getty Images
However, she returned to the track, and almost a year after giving birth she made history. In October 2019, Felix surpassed Olympic runner Usain Bolt's number of World Championships in the sport (via People Magazine). That achievement came with a stressful challenge though. Earlier that year, Felix blasted Nike and brought to light her treatment under the company's maternity policy. In her New York Times op-ed, she exposed the company's unwillingness to maintain her pay and contract, stating that Nike was being unfair to mothers for reducing her pay during maternity leave. It later forced the company to reevaluate and update their policy. Although she is seen wearing Nike at the Tokyo Olympics, the ordeal likely led to Felix launching her own brand with the shoe line company Saysh One, a shoe that she debuted and wore during the race, reported Bloomberg.
After qualifying for the Olympics for the first time as a mother, Felix had different fears as an athlete this time around. It meant time away from her daughter, knowing she'd be training for her final Olympics, and possibly not coming out on top despite high expectations that she would. At times the athlete wasn't sure about returning to track, but told Olympics she wanted to set an example of beating adversity for her daughter. 
On her way to more history
Patrick Smith/Getty Images
At 35 years old, not only did she earn the title as the woman with the most Olympic medals in track, she set more Olympic history in Tokyo. Her bronze medal win tied her with Olympic great Carl Lewis for the most Olympic medals won by an American track and field athlete. Lewis has 10 Olympic medals — nine gold and one silver, winning his last in 1996.
But now she has him beat. After winning gold in the women's 400 meter relay on August 7, Felix officially surpassed his record — a title that Lewis once held for over two decades (via Team USA). She is now the most decorated American track and field runner (USA Today).
Lewis, who recently made headlines for having some harsh criticism for the U.S. men's track and field relay team (via USA Today), had congratulated Felix's tie with him ahead of her relay race on his Twitter page. "Congratulations @allysonfelix. 35 never looked so good. What an amazing career and inspiration. Now on to the relay."