The Heart-Wrenching Death Of Guitarist Tim Audette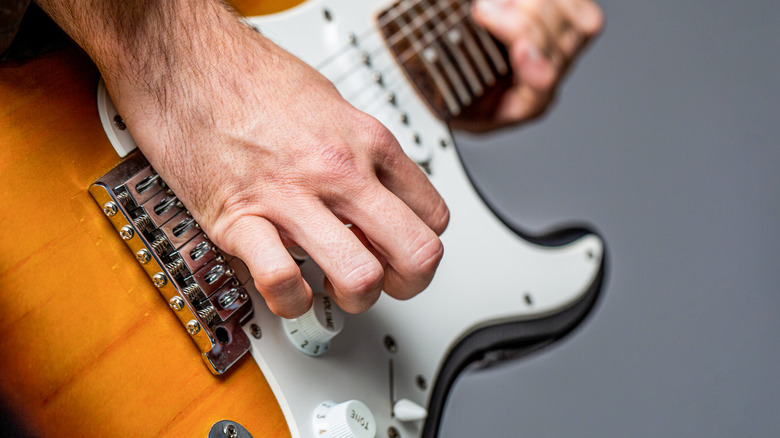 Shutterstock
Guitarist Tim Audette, formerly of the band F**k the Facts, has died, per the band's Facebook page. In a statement, the band says Audette's cause of death was his long-term experience with multiple sclerosis. "We are saddened to share the news that former FTF guitarist Tim Audette recently passed away after fighting a long and courageous battle with M.S.," the post read.
Audette joined the band in 2001 and stayed for two years before departing in 2003. He was replaced by guitarist David Menard (via Discogs). The band says that despite Audette coming into the group with a different style of guitar playing, he was always willing to learn new things that they presented.
"Even though he had a much more traditional metal background, Tim always embraced every wild idea that was brought to the table, and had a big part in the [sic] all the music that we created and released during his period in the band. We are lucky to have known him and shared so many adventures together," the statement read.
It is unclear when Audette was diagnosed with the disease and how long he was dealing with the disease. According to Healthline, the illness is not fatal and severe cases of it are very rare.
Tim Audette's journey with the band and dealing with multiple sclerosis
Per the National Multiple Sclerosis Society, multiple sclerosis is an illness that is still the subject of intense research because experts have not yet determined its causes. Its symptoms include muscle weakness, poor vision or loss of sight, dizziness, and tremors (via National Center for Biotechnology Information). The band noted that Audette experienced MS for several years, and while it's not considered a deadly disease, it does decrease life expectancy by seven years, per the National Multiple Sclerosis Society.
F**k the Facts is a Canadian grindcore band formed in the province of Quebec in 1999. Its founder, Topon Das, initially started it as a solo project, but by 2001, the band was fully complete with six members. It originally consisted of Das and Audette as guitarists, bassist Shomir Das, vocalists Mel Mongeon and Brent Christoff, and drummer Matt Connell (via Discogs).
In his brief stint with the band, Audette is credited on the band's 2001 project "Mullet Fever" and their 2003 album "Backstabber Etiquette." He left the group after the latter project.